Kim Kardashian's Will Includes Instructions On What To Do With Her Hair, Because Of Course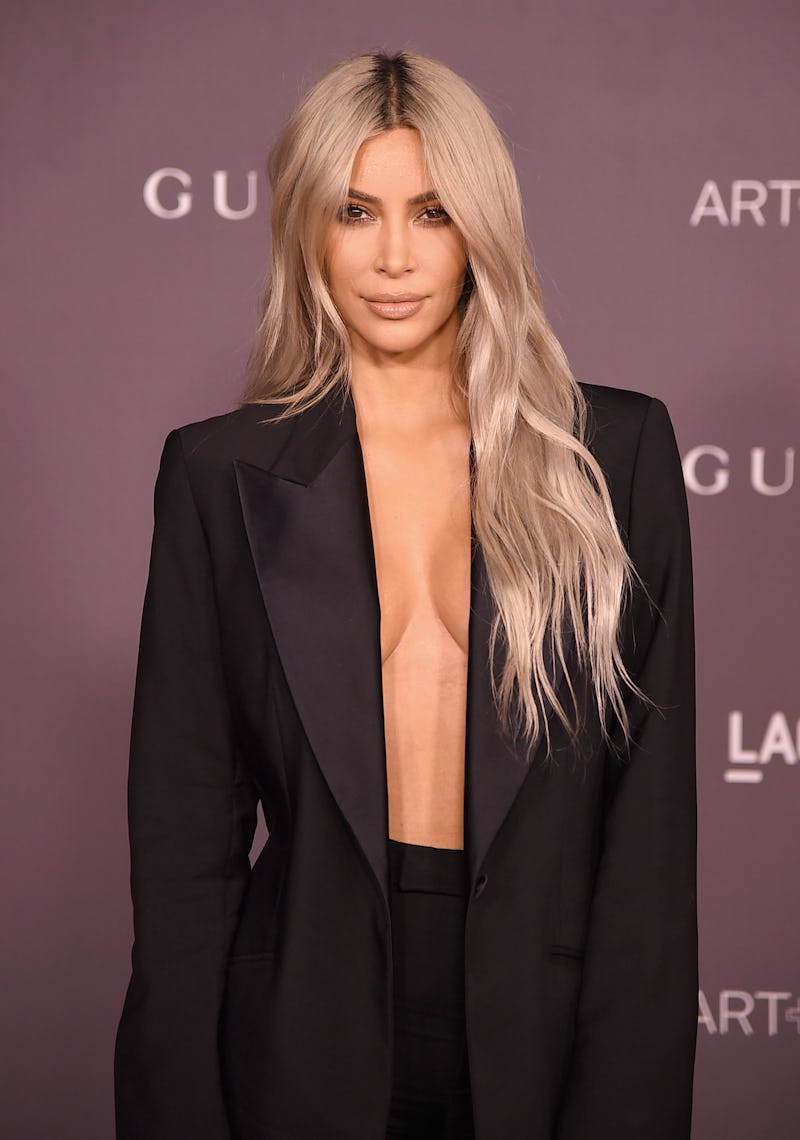 Kevin Winter/Getty Images Entertainment/Getty Images
It's no secret that Kim Kardashian Wear loves beauty. She has her own makeup and fragrance lines and even sells her own Kimoji merch. But it turns out that she's even more obsessed with her look than you thought. According to the latest Keeping Up With The Kardashians episode, Kim K has her hair styles specified in her will. Yes, you read that right. You never ever see her without her hair done — even if she can no longer communicate.
According to KUWTK, Kardashian actually has a clause in her will that insures that she will always have her hair done at all times not matter what condition she may be in.
"I put it in my will that I have to always have my hair done if I am like, cannot talk to myself or like, communicate," Kardashian says in the clip.
Yes, Kardashian wants to look good at all times. She will always have her hair done, even if she can't physically communicate with her glam squad. Some call is dedication. Others call is narcicism. You decide.
Kardashian didn't say exactly who would be in charge of her hair or which styles she specified, but I'm sure that will be revealed somewhere around KUWTK Season 34. Stay tuned. It will likely be the one right after we find out who Kylie Jenner's baby is on the child's 18th birthday.
The commitment doesn't stop there, either. The social media star vowed to always keep her mom's hair looking great as well. "So I will make sure that your hair is always done if you don't know your name. You'll have great hair," Kim continued in the episode.
Because it's not love until your vow to have a glam squad come do your parents' hair even if they are unable to verbally communicate. Kris Jenner can rest easy knowing that Kardashian is choosing her hairstyle.
There was no word on who will run their Instagram accounts. But that's probably a top priority in the will, too.
If you couldn't already tell, Kardashian takes her hair very seriously. She's constantly changing it up form long, Cher-like locks to blonde bobs. She loves to go back and forth between the two colors. The social media star is know for her phases of hairstyles, too. First she goes short, then extra-long, and who could forget the Great Boxer Braid Fiasco of 2016.
When she commits to a look, she does it whole-heartedly. Unlike Jenner, who likes to wear wigs around, Kardashian takes the permanent plunge with her hair updates. Heck, she even spent $500 to get platinum hair in 2015. So it only makes sense that she would want to keep the tradition alive for her entire life — even if she can't physically do it herself.
Bottom line: It takes a lot of planned out time and dedication to look like Kim K every single day — even if you are Kim K.
Kardashian didn't mention what other beauty-related clauses are in her will, but something tells me that North West will have to continue on the KKW empire. Things might change but one thing is for sure — Kardashian's hair will look good forever.