Kim Kardashian Just Shaded Lindsay Lohan On Instagram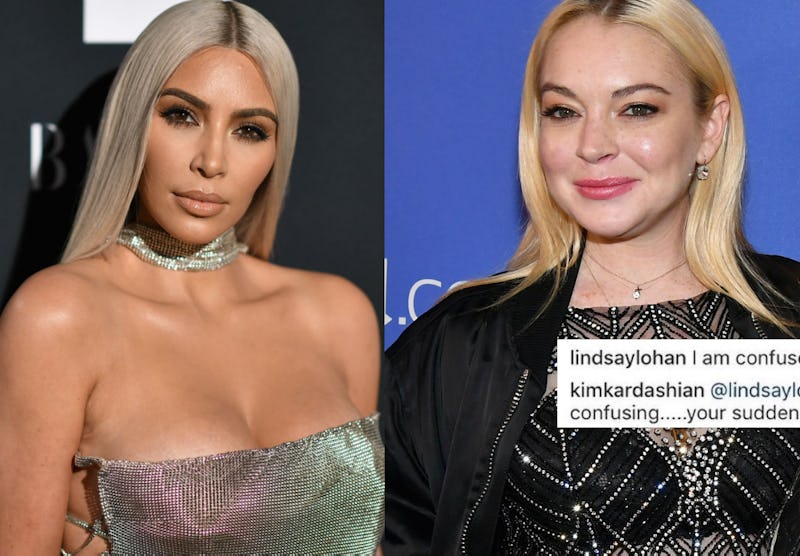 Dimitrios Kambouris/Getty Images Entertainment/Getty Images; Slaven Vlasic/Getty Images Entertainment/Getty Images; perezhilton/Instagram
After debuting her new cornrows via Snapchat on Jan. 29, Kim Kardashian shaded Lindsay Lohan for a comment Lohan made about the mogul mom-of-three's hairstyle. Perez Hilton shared a photo of Kardashian's new 'do on Instagram with the caption, "Kim K's new look. Thoughts????" Lohan's comment was just one among hundreds, but Kardashian took notice, and clapped back with the quickness.
In response to Hilton's post, Lohan wrote, "I am confused." Not exactly a major diss, per se, but it certainly wasn't a glowing compliment, either. "@lindsaylohan you know what's confusing," Kardashian replied. "[Your] sudden foreign accent." Ouch. That one had to sting a little. Word to the wise: do not come for Kim Kardashian, lest you want to be roasted in a very public way. Back in 2016, Richard Lawson of Vanity Fair first picked up on Lohan's "sudden foreign accent" during an interview between the actress and a Turkish reporter.
Wojciech Kulesza, an academic psychologist who studies accents and other formers of verbal mimicry, told Vanity Fair that Lohan "[was] making herself as the person with whom she [was] speaking with." Kulesza then went on to explain the motivation behind the development of Lohan's seemingly indiscernible accent. "Liking is not the only goal," he said. "Mimicry—imitating behavior—is described as unconscious tendency to create bonds with others, a social glue which bonds us to other people. It seems it is imprinted in our nature."
Lohan, for her part, attempted to explain the new accent as well, telling the Daily Mail in 2016 that, "It's a mixture of most of the languages I can understand or am trying to learn," she said. "I've been learning different languages since I was a child. I'm fluent in English and French can understand Russian and am learning Turkish, Italian and Arabic." Clearly, Lohan was, in 2016 — and likely still is now — well-aware that people have been questioning the origin of her accent. Kardashian, however, doesn't seem to have been satisfied with either explanation of Lohan's "sudden foreign accent," and decided to dredge the issue back up with her swift and pointed dig.
LiLo probably didn't intend for her comment to stir up an ugly celebrity beef, but it looks like Kardashian isn't holding back with this one. Honestly, though, I kind of feel like Lohan's comment was the result of her saying the wrong thing, in the wrong place, at the wrong time — and wasn't necessarily deserving of that way-harsh clap-back.
Almost immediately after Kardashian debuted her new hairdo on Snapchat with the caption, "Bo Derek braids," fans started slamming the star for both cultural appropriation, as well as for failing to credit African Americans with being the actual originators of the cornrow hairstyle. Back in 2015, actress Bo Derek — who was credited by People in 1980 for making cornrows a "cross-cultural craze" — came to the defense of another reality star who decided to sport the 'do: none other than Kardashian's younger half-sister, Kylie Jenner.
"It's a hairdo! That's all it is," Derek told The Cut in 2015. "No, seriously, of all the important racial and cultural issues we have right now, people are going to focus on a hairstyle? No, no. I'll save my efforts toward important racial and cultural issues."
Kardashian has yet to respond to the backlash about her braids, but Lohan's comment clearly rubbed her the wrong way. Poor LiLo probably hasn't even had time to figure out what hit her, but I pity the fool who decides to go in on Kim next. Between her recent response to Lohan and that Lamar Odom burn she dished out a few weeks back, it looks like Kardashian is dead-set on picking off the haters in 2018.