Kim K Channels Jackie O In A Vintage-Style Photoshoot Featuring North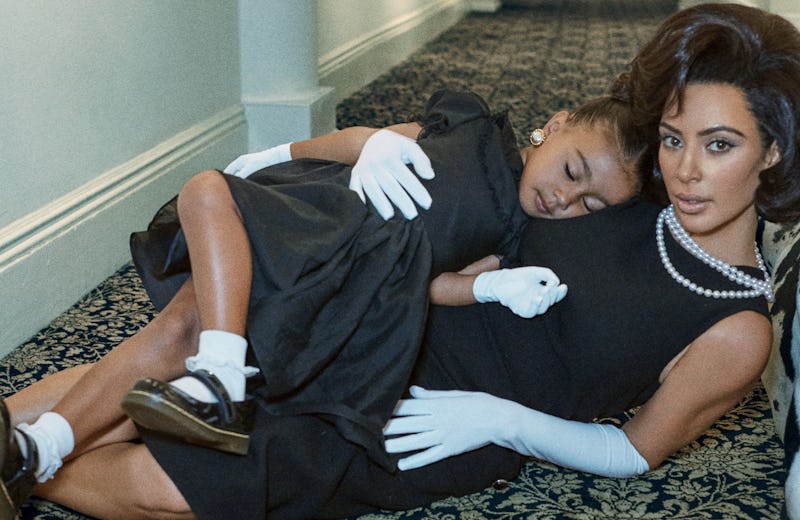 via Interview
The list of things Kim Kardashian West and Jackie Kennedy Onassis have in common is relatively short. Both women go by three-name monikers, and their first name and last initial. Both are known for putting family — and especially their children — first. And both women are noted for their respective (albeit very different) styles.
Seeing Kim K replicate Jackie O's image on the cover of Interview, then, is a bit unexpected given their few parallels. But once you see these gorgeous images, you will be here for the transformation. Trust me.
Interview just released its September issue, which features Kim Kardashian West, accompanied by her daughter North, for the cover. The theme of the shoot, which was photographed by Steven Klein, follows the cover's claims that Kim K is "America's New First Lady." Kardashian West is giving off some major Jackie O vibes, sporting the first lady's iconic hair and fashion.
The gorgeous photoshoot is accompanied with an interview conducted by author and trans rights activist Janet Mock. In her conversation with Mock, Kim K discusses celebrity, reputation (I see you, Taylor Swift), and last year's devastating robbery in Paris. North also gets her time in the Interview spotlight, answering questions from famous friends including Millie Bobby Brown and Britney Spears's sons.
Check out the beautiful homage for yourself.
That's a classic vintage look, if I ever saw one.
In the interview, Kardashian West talks about her budding beauty empire, KKW Beauty. While she is no stranger to criticism, the star does talk about how feedback and moderate displeasure with her recent beauty releases has impacted the future of the brand.
"There were a couple of opinions that other people might not have loved to hear, but they were really important for me as learning tools," she says to Mock. "I'm truly listening to these people and watching everyone's tutorials on YouTube, and watching all these makeup artists use my products. I'm like, 'Okay, we gotta fix that, guys. That's something I really did not think about.'
"I take their advice to heart. I want to do better."
Here's looking at you, teeny contour sticks and bad brushes.
Mock and Kardashian West go on to discuss about how the star is raising a mixed black girl in a world of racist beauty standards. The mom says she is "very conscious" of the fact that her daughter is black, and works to support her exploration of that identity.
"Kanye always has his family around and people who look like my daughter—that's important to me," she says. "She's obsessed with her curly hair, and if she finds someone who has the same hair, she runs to them and is like, 'You have curly hair like me?' And we get to talk about it."
Love her or hate her, these are some incredibly gorgeous looks from Kim K.
America's First Lady, indeed.