Kim K Joins The 'Ocean's Eight' Cast... Sort Of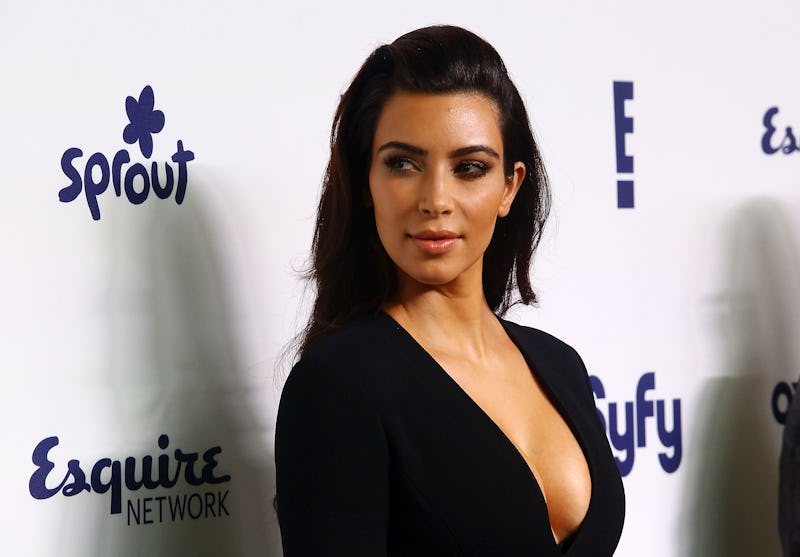 Astrid Stawiarz/Getty Images
Kim Kardashian and Kendall Jenner will be playing the roles they were born to play: themselves, of course. Jenner and Kardashian filmed cameos for Ocean's Eight. You know, the woman-led entry into the Ocean's Eleven franchise starring the likes of Sandra Bullock, Cate Blanchett, Anne Hathaway, Mindy Kaling, Sarah Paulson, Awkwafina, Rihanna, and Helena Bonham Carter? Yeah that one.
According to New York Magazine, Kardashian and little sisters Kendall and Kylie, were all photographed outside the film's set on Monday night. And they were dressed to the nines (or should we say eights?) in long, white gowns. It sounds like Kylie might have just been there for moral support, though, since Kendall and Kardashian were the only sisters donning fancy clothes.
Last week, Page Six reported that something was happening at the Metropolitan Museum of Art that looked a whole lot like the Met Gala. Obviously, this led to some confusion, considering that it's only January, and the Met Gala is held in May. Apparently, Ocean's Eight meticulously recreated the famous fashion event for one "crucial scene" that Page Six reports was crafted "down to the place cards, VIPs, and couture gowns." I guess they forgot to mention "down to the Kardashians."
Actually, to say that this Met Gala scene is "crucial" might be an undersell. The film, directed by Gary Ross and penned by Ross and Olivia Milch, revolves around a heist that's been staged at the annual event. In order for the film to pull this off, things had to be believable, and, in order for the Met Gala to be believable, Kardashian and Jenner had to be there.
Following a difficult couple of months for Kardashian, the scene — and fake gala — have the star returning to some of the things she does best: being in front of the camera and on the red carpet. The stint isn't much of a time commitment, so for someone as busy as Kardashian, it's the perfect way to get back into the swing of things. Plus, she gets to be part of a huge, highly anticipated film. Any way you look at it, the gig seems like a win.
Kardashian and Jenner will be in good cameo-company, too. Alexander Wang and Zac Posen, as well as Vogue editor-in-chief Anna Wintour, will all be involved in the scene. So, it looks like we'll be privy to not one, but two Met Galas in 2018, when Ocean's Eight hits theaters.