Kim Kardashian's 2016 Met Gala Dress Could've Been Totally Different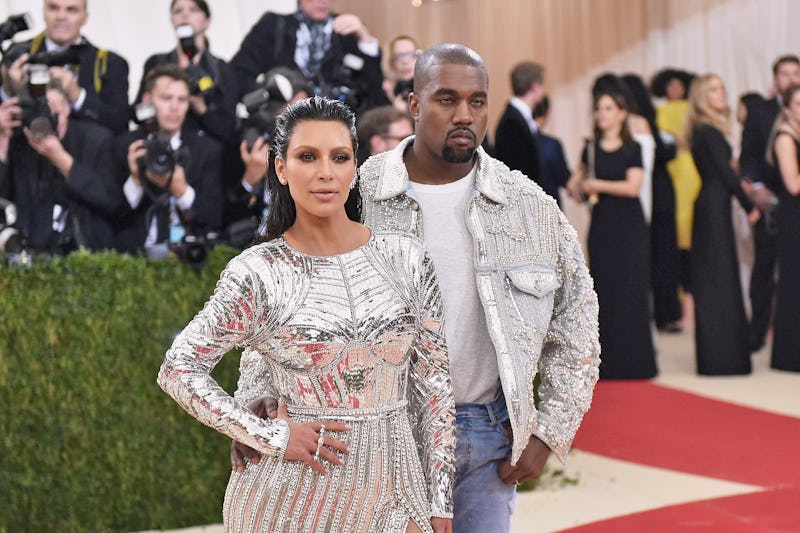 Mike Coppola/Getty Images Entertainment/Getty Images
In case you forgot, Kim Kardashian's 2016 Met Gala look was straight fire. Created by Olivier Rousteing, her silver Balmain gown pretty much embodied the year's "Manus x Machina: Fashion In An Age Of Technology" theme: futuristic, edgy, and sexy. So while we're busy forecasting what everyone will wear to the 2017 Met Gala, Kardashian took the time to remind us how fab her ensemble last year was, lest we forget.
As it turns out, the eye-catching, shattered glass-effect dress could've looked pretty different, and the final decisions were made literally less than 24 hours before her red carpet moment. Kardashian landed in NYC at midnight the night before the Met Gala and her fitting with Rousteing was at 1 a.m. (!!!), she shared in a post on her website. "We ended up staying until 4 a.m., until we got the look that we felt fit the theme. We got creative with it by cutting skirts in half and taking tops off of dresses to get the perfect final look," she said.
And while the final look was obviously stunning, her other options weren't too shabby either. She shared photos and sketches of the other potential looks, and in true Balmain form, they were all show-stopping.
On one dress, the top featured out-of-this-world bejeweled shoulders and sleeves, while the bodice featured the columns of diamonds that ended up on the bottom of her dress.
In another one, pearls took the center stage (it probably would've been perfect for a mermaid theme).
But while the actual pieces are pretty stunning to look at, the sketches detailing Rousteing's vision for her look are also gorgeous.
To see all of the photos, you'll have to subscribe to Kardashian's app and website. If you're not a subscriber, let's just take a minute to appreciate the look that made it all the way to the red carpet last year. The final result was definitely the right call, IMO, and I think it's her best Met Gala look to date.
Of course, tonight's look could change set an even higher bar, and I personally can't wait to see the ensemble she shows up in — no shame.