Kim Kardashian's Birthday Video For North West Is Overwhelmingly Cute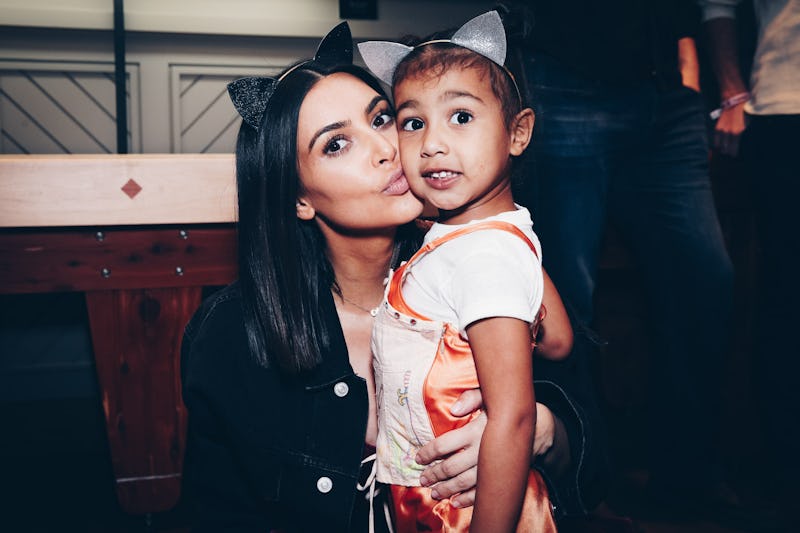 Handout/Getty Images Entertainment/Getty Images
How is it possible that North West is already four years old?! It seems like just yesterday, Kim Kardashian was expecting her first baby, and now that baby is a full fledged big kid. And now, her mom is celebrating the milestone in the way her family usually does: with a video tribute. On Thursday, Kardashian shared a birthday video for North, and it's seriously the cutest thing you have ever seen or will ever see. I don't care how many adorable baby videos you've watched on YouTube or how many times North has been adorable herself in the past. This one tops them all.
The video is basically just a collection of Kardashian's cutest Snapchat and Instagram posts of North over the past year, plus a few clips we've never seen before. This girl really seems to love the camera — especially when the filters mean she gets to pretend she's an angel. And just like her mom, the camera loves her right back. She's so photogenic it's insane, and she's only four.
This is just a clip, but you need to see the full version on Kardashian's website. It's so worth it, and I cannot stress this point enough.
And even though I would be remiss if I did not mention the short clip of North dancing as a bumble bee, I have to admit that the cutest part of the video is anytime she and her mom are in it together. I love North promising that she'll love and live with Kardashian forever, even though we all know her destiny is to eventually become the ruler of the free world.
On this day four years ago, I was anxiously awaiting the first photos of this beautiful little girl, and here she is. She's already grown up into such a sweet and gorgeous tot, and it only gets better from here.
Since we are all super into celebrating all kinds of important holidays lately, the birth of this amazing kiddo needs to be one of them. Happy North West's birthday to you and yours. May we all celebrate with a nap, designer clothing, and a flower crown Snapchat filter.