Kim K Channeled Wonder Woman On The Red Carpet & You NEED To See The Massive Cuffs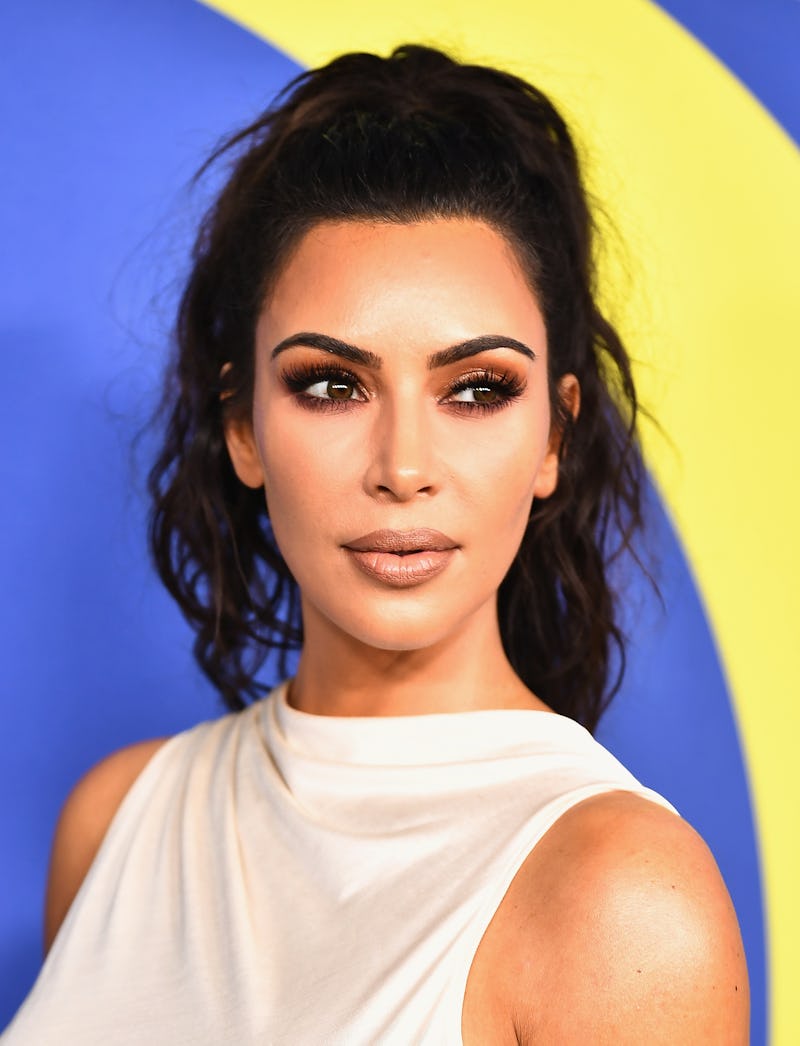 Dimitrios Kambouris/Getty Images Entertainment/Getty Images
Kongrats are in order. Kim Kardashian nabbed the first-ever CFDA Influencer Award. The CFDAs are pretty much like the Grammys or the Oscars of the fashion world, where the top-tier fashion industry game changers and wave makers are recognized. At the Council of Fashion Designers of America ceremony last night, June 4, in Brooklyn, Kardashian rocked a two-piece outfit that was very Kim K. It was ultimately a hybrid of her style past and present — and it demonstrated the makeup mogul's fashion evolution.
Kardashian opted to rock a sleeveless, neck-covering crop top with a knot on the side and a clingy, floor-sweeping skirt. It showed off her midriff. She paired the cream-colored ensemble with gold, Wonder Woman-like cuffs on each wrist. Those bracelets extended halfway to her elbow and were certainly a nod to one of our favorite crime-fighting superheros.
As any Keeping Up With the Kardashians diehard or even a kasual Kim K. fashion watcher is well aware, the reality star has been rocking athleisure-inspired attire as of late — you know, neutral-toned crop tops and second-skin leggings in the minimalist Yeezy aesthetic.
Her 2018 CFDAS outfit was a glam 'n' custom Rick Owens ensemble. PEOPLE reports that Kardashian admitted that she was going for sexy and comfy. Obviously, she succeeded.
Here's the entire look from the front. The subtle ruching in the skirt was a sweet touch.
From this vantage point, you can see the open back of the crop top. You can also see how the fabric clung to her curves.
The reality star and entrepreneur wore her black locks swept off her face in a high, messy, textured, and totally beachy ponytail. Her signature smoky eyes and nude lip were also in full effect with a twist. She went with a copper-toned shadow and her signature statement lashes. She switched things up a bit by going with a darker lip shade. It also had more of a creamy x matte look, rather than being totally glossed out.
Kardashian finished the look with long, early '00s-style, and acrylic-looking white nails. Think Gwen Stefani as a "Hollaback Girl." It was a complete and coordinated presentation.
Those cuffs, though! They could stop and deflect bullets a la Wonder Woman. BTW, can we take a second to marvel at her big sis Kourtney Kardashian? That chic pantsuit mimicked a starry night sky!
According to PEOPLE, KKW nodded to her husband Kanye West during her speech. She called him her "best stylist," since he influenced her and helped design her looks. He has often been credited with the her "makeover" and for elevating her status from trend-following reality star to a fashion icon and influencer.
There's no denying that Kardashian has exerted her influence on the fashion + beauty realms. She single-handedly put contouring on the map and made it a trend. She has rocked naked dresses for what feels like forever. Even thought she opted to crop (top), it was anything but ordinary.
The outfit did have a bit of a goddess vibe. The ivory hue popped against her eterna-bronzed and glowing skin. It was a draped and a thoroughly Kim K. take on the maxi trend. It was a gorgeous way for her to usher in the summer, too.
While this attire did look like something the superstar could have worn to a seaside soiree in her native California, she dressed it up with the accessories. Those gold bracelets upped the high fashion ante tenfold. Yes, the gloriously messy ponytail had a casual feel. But if it was sleek, shiny, and straight, it would have felt too much like her gilded, Met Gala look in 2018.
Like so!
Overall, her 2018 CFDAs look showed us that Kardashian plays by her own rules… just like she always has. Leave it to Kim K. to rock a crop top while accepting a major fashion award.