Kim Kardashian's Family Easter Photo Is Surprisingly More Relatable Than Glam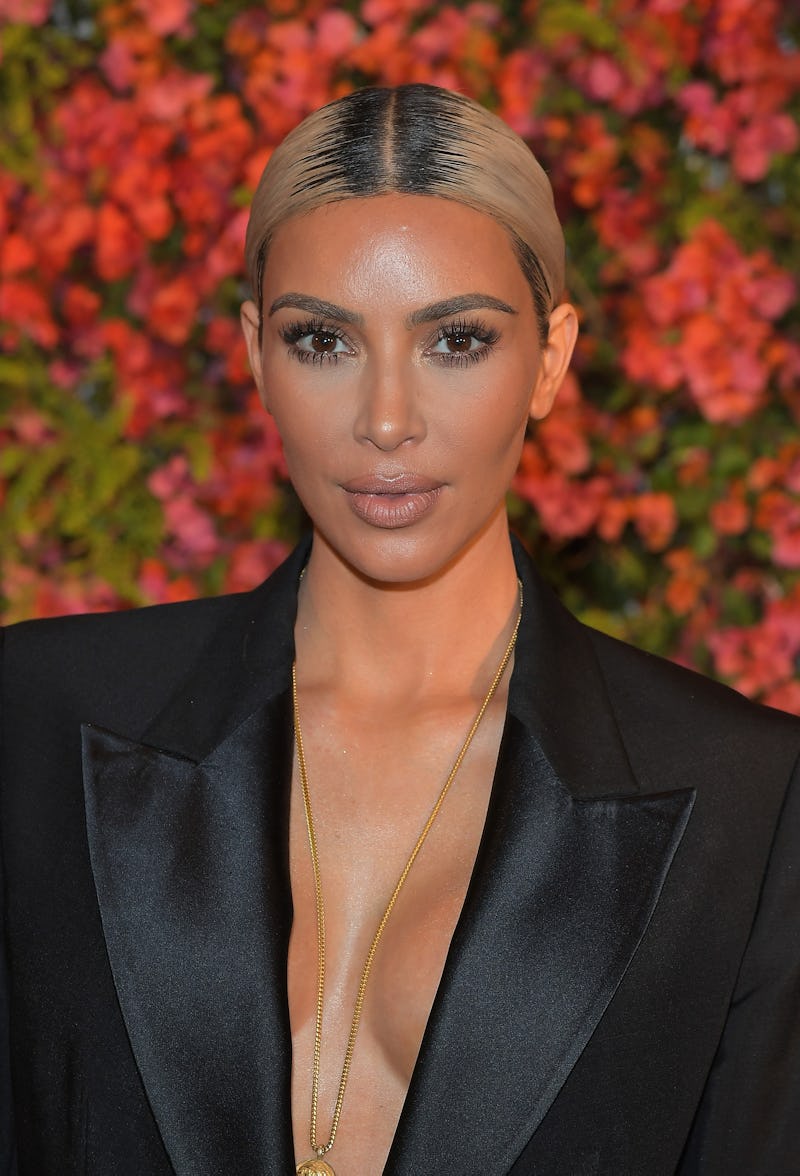 Charley Gallay/Getty Images Entertainment/Getty Images
Since Kim Kardashian welcomed her third child earlier this year, photos of Chicago have been few and far between. But now, we have a new one to add to the list. Kardashian posted a family photo from Easter on Instagram Wednesday night, and it sounds like it was quite a challenge getting everyone in the picture in the first place.
It's hard to tell what's better: the photo itself or the caption. In the photo, Kardashian is holding Chicago and posing with Kanye West, North, and Saint. The only person who actually looks happy in the picture is North, who's smiling and flashing a peace sign at the camera. Everyone else pretty much looks miserable... except for Chicago, who seems to be passed out cold.
"I don't think you really understand how hard it is to take a good family pic," Kardashian wrote in her caption. "This was all we got before all three kids started crying. I think I cried too."
Honestly, can you blame her? Right now, Kardashian is raising a newborn, a 4-year-old, and a 2-year-old, and she's married to a man who only truly looks happy when he's eating ice cream. It's amazing this photo happened at all, so who cares if they're all smiling and looking at the camera? That part was probably impossible anyway.
You don't necessarily have to be a parent to understand what a miracle this picture is; if you've ever tried to take a picture with children, especially children under five, you can probably get that this is a massive feat — even for someone who has built a career on taking the perfect Instagram photo. There are so many variables at play in a photo like this one, so Kardashian deserves some kind of award for making it happen in the first place.
Later, she added a little more insight into what was going on:
Yep, that sounds about right.
Although Kardashian said that more Easter pics are coming to her app, she also shared another photo of Saint meeting a baby chick. He's smiling in that picture (and he's adorable, more photos of Saint, please), so clearly, plenty of family fun moments were had that day, even if they weren't caught on camera at the exact moment Mom wanted everyone to pose together.
From everything else the family has shared from Easter, it seems like it was a pretty awesome day for everyone involved. All of Kylie Jenner's Snapchat videos and photos were seriously jealousy-inducing for the rest of us who weren't invited to Kris' party. There were so many yummy, pastel colored snacks, and everyone was there, including baby Stormi (who I'm assuming probably wouldn't have been up for a family photo, either, so it's cool, Kim). Seeing her and Travis Scott with their daughter was seriously adorable.
But seeing moments like Kardashian attempting to take a family photo is why we all love her and her family, right? Her Instagram might usually seem flawless, but so much of her career has been built on showing what's real, like she does on Keeping Up With The Kardashians. Speaking of which, is there any chance the E! cameras were around, filming her attempt to get that family photo to happen? That's going to be gold.
Even if this photo isn't quite what Kardashian was looking for, it's real — and it's still totally suitable for framing. Knowing her, there will be plenty of opportunities for magazine-worthy family pictures in the future, but for now? This is pretty close to perfect. And anytime she wants to share more photos like this, her followers will be totally game. Any photo of her family is a good photo, isn't it?