'Ocean's Eight' Could Hit Close To Home For Kim K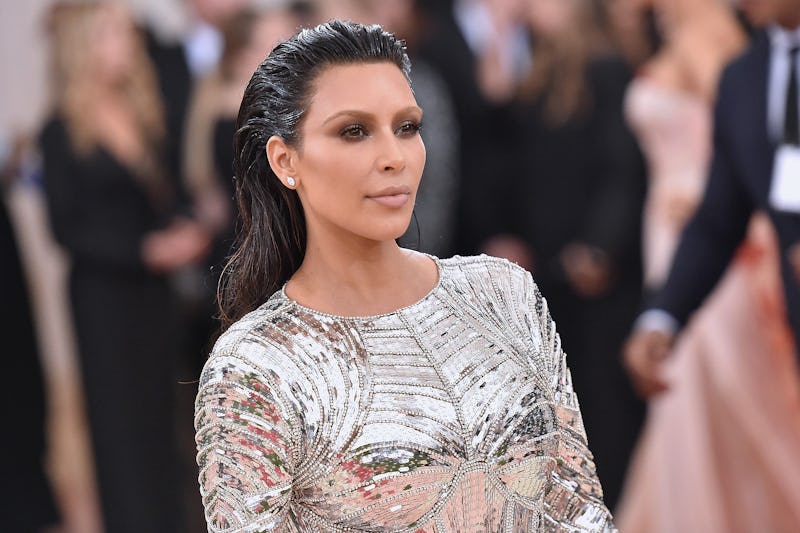 Mike Coppola/Getty Images Entertainment/Getty Images
Although it was previous noted that Kendall Jenne and half-sister Kim Kardashian will cameo as themselves in Ocean's Eight, People magazine reports that the Met Gala scene they will be a part of focuses on a jewelry heist. (Bustle has reached out to Warner Brothers Pictures for comment, but did not receive a response at the time of publication.) While the list of celebrity cameos continues to grow, Deadline reports the main eight stars (played by Awkwafina, Cate Blanchett, Helena Bonham-Carter, Sandra Bullock, Anne Hathaway, Mindy Kaling, Sarah Paulson, and Rihanna), plan and execute a heist somewhere in New York City.
As People reports, designer Dennis Basso posted on Instagram that the film is recreating the Met Gala, the ultra-fancy, costume ball held each May at which Kardashian and Jenner have become regular attendees. Page Six reports fashionista Anna Wintour and designers Alexander Wang and Zac Posen will also make couture cameos in the film.
Despite all of the excitement mounting over the film, a jewelry heist plot would also be significant because it hits close to home for Kardashian. The reality TV star was held at gunpoint and robbed of millions of dollars worth of jewelry on Oct. 3 in Paris, France and went on a much-needed social media hiatus shortly after. Nevertheless, the Kimoji creator and her supermodel sibling were pictured on set on Monday, Jan. 16 at the Metropolitan Museum of Art in stunning white, floor-length Givenchy and Elie Saab gowns, respectively, according to E! News. Although being shaken to the core after her harrowing ordeal, Kardashian appears to be moving forward.
The 36-year-old mother of two has tip-toed back into the public eye — most recently traveling to Dubai to serve as a model for her personal makeup artist Mario Dedivanovic's Masterclass, according to Us Weekly. It's nice to see Kardashian gradually going back to business as usual. Hopefully, she can take her cameo in stride and continue to heal herself.