Kim Kardashian Shared More Details About Using A Surrogate On 'KUWTK'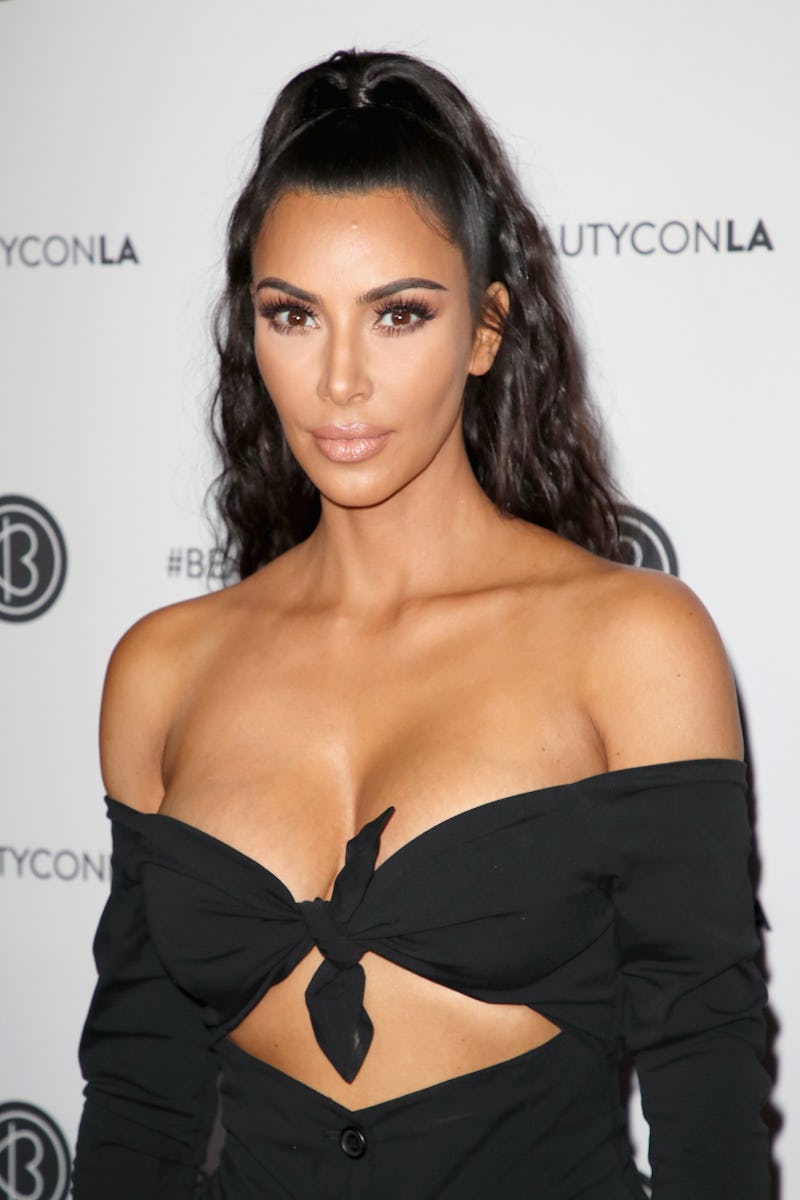 David Livingston/Getty Images Entertainment/Getty Images
Kim Kardashian's pregnancy struggles have been no secret to anyone who watches her show. It became clear soon after son Saint's birth that if she and Kanye West chose to have more kids, her body's lack of cooperation with her previous two children could make another pregnancy a struggle. Ultimately, she had daughter Chicago via a surrogate, and Kim's comments about surrogacy on Keeping Up With The Kardashians show she definitely doesn't consider herself less of a mother for going that route. And nor should she.
During this week's episode of KUWTK, Kim, Khloe, Kris and the girls' grandmother, MJ, all fawn over the newest addition to the family, MJ asks Kim how she feels about welcoming the baby even when she didn't carry her to term herself. "Honestly, [now that] it's done, I think it was the best decision I ever made," Kim replies. "I think it was so an amazing experience. I would recomend it for anyone. I am like, the biggest fan of surrogacy."
Kim also reveals that she was worried about possibly not having the same connection to Chicago as she does with her other children, Saint and North, since she actually gave birth to them. That's an understandable fear, and one you probably can't quite comprehend until the moment hits you. But of course, Kim said none of that mattered when she was face to face with her new daughter.
"It's crazy how ... instantly when the baby came out, there was no weird feeling that I was so nervous about, [like] 'am I gonna feel the same way?'" Kim tells the camera. "It was the same exact feeling [as with the other kids]. That was instantly a relief for me, because that's what I was most nervous about, and I just feel lucky that I've had such a good experience with surrogacy."
She also elaborates in the episode why the name Chicago was chosen for the little girl. "Kanye's originally from Chicago and the city is really connected to his memory of his mom," she says. Prior to the birth, she and Kourtney also discuss the other kids' reactions to the name, and speculate on how the public at large will react to it.
"I told the kids her name today," Kourtney tells her sister. "Mason goes, 'What? I thought you were gonna say Emily or something.'" Oh, Mason — with names like North and Saint to live up to, obviously something more interesting than "Emily" was coming down the pike. "Everyones gonna be like, "Oh my god! That's the craziest name,'" Kim says. "And everyone will go crazy. And then they'll get used to it." Kim, it would've taken a lot to surprise the public — in the scheme of celebrity baby names, Chicago is pretty tame.
Kim and Kanye certainly aren't the only celebrity couple to have children via surrogacy, but they are perhaps the ones who have had the most scrutiny surrounding their pregnancy. Rather than avoiding the curiosity, Kim leaned into it. Their surrogate mother was shown on the reality show, always with her face obscured to protect her privacy, and that, coupled with Kim's candid comments really gave fans a unique view of the situation.
"The moment I laid eyes on my baby, I was so in love," Kim continues in Sunday's episode. "I'm just so excited ot have this addition to my family." Surrogacy certainly isn't an option that's affordable or realistic for many women — being Kim Kardashian likely opened a lot of doors that might not have presented themselves otherwise. But Kim's remarks about the worries she faced show that motherhood is never simple, no matter how you make it happen.