Aww, Kim Kardashian May Have Given Chicago A Super Meaningful Middle Name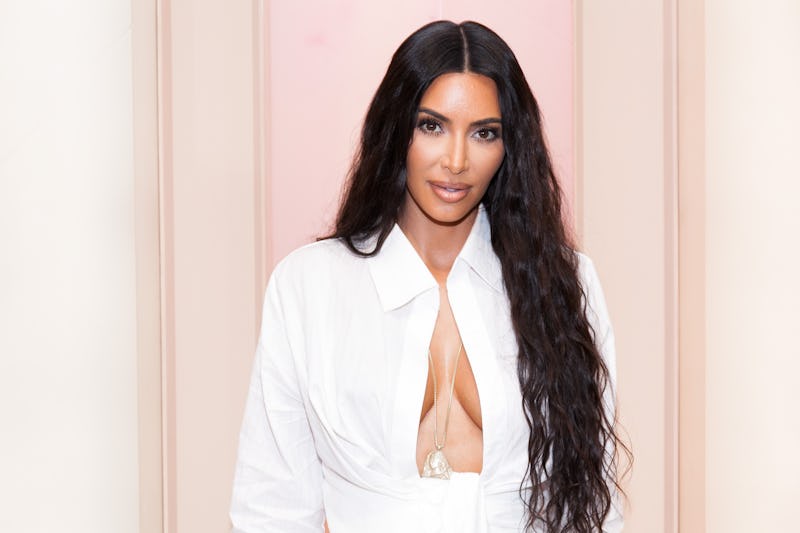 Presley Ann/Getty Images Entertainment/Getty Images
Kim Kardashian posted yet another adorable photo with her youngest child, Chicago West, on July 2. But the most interesting thing about it may be the caption. Based on her Instagram photo, Kim Kardashian's daughter Chicago may have a middle name. The cutest part of all? The mother-daughter duo may be totally twinning with the possible middle moniker. (Bustle reached out to Kardashian's rep for comment and clarification, but did not receive an immediate response.)
Kardashian and her daughter posed together in the heart-filled snap. And you can definitely tell that Chicago is her daughter, since she's already got her selfie game down. Interestingly, she captioned the photo with, "Chi Noel," along with a few heart emojis. Based on this caption, could it be that Chicago's middle name is Noel? It would buck tradition if Kardashian and her husband, Kanye West, decided to give their youngest a middle name, as their other children, North and Saint, both do not have one, per Romper.
It would make sense if Noel is indeed the little one's middle name, as it's the same name that Kardashian herself boasts. It would be incredibly sweet if both of them got to sport the "Noel" name. Or maybe the inclusion in the caption doesn't point to Chicago's middle name, at all. Until Kardashian clarifies what the caption symbolizes, fans can only speculate as to what it really means.
Even though there's a sweet connection, it would still come as a bit of a surprise if her daughter's full name was Chicago Noel West, especially since it was previously reported that she didn't have a middle name. According to TMZ, who obtained the birth certificate for the newborn, there was no middle name listed. Of course, it's totally possible that the famous parents changed their minds when it came to their daughter's full name and wanted to give her another moniker. As Romper noted, it is possible to add to a birth certificate at a later date. Maybe they went that route for Chicago?
As previously stated, North and Saint also do not have middle names, as TMZ also reported. In both cases (and in Chicago's), there was no specific reason given for the omissions. Considering the fact that this is pretty much an established Kardashian trend at this point, it would be interesting if Chicago bucked this naming tradition with her own additional moniker.
Additionally, when Kardashian finally revealed her youngest child's name in January, there was also no mention of a middle name. The reality star unveiled the name, of course, on Twitter. She simply wrote, "Chicago West" and linked to a page on her personal site which included details about her baby. But, there was no "Noel" mention to be found.
Kardashian has never revealed why she has forgone giving her kids middle names. It's not as though it's traditional amongst either of their families (the Kardashian/Jenner siblings all have one, as does Kanye, per W Magazine). But it could be a trend that's gaining traction, as far as her sisters are concerned. Kylie Jenner's daughter, Stormi Webster, does not have a middle name, according to E! News. Khloé Kardashian's little one, True Thompson, also doesn't have one. Although, also according to E! News, she didn't rule out giving her one later, as she told her fans on her app.
It's possible that the reality star just included "Noel" in the caption for a little fun. But, maybe Kardashian went against the grain once again by actually giving her daughter a middle name. And, if she did, "Noel" is probably the most special and adorable choice imaginable.