Kimye's Third Child Might Already Be On The Way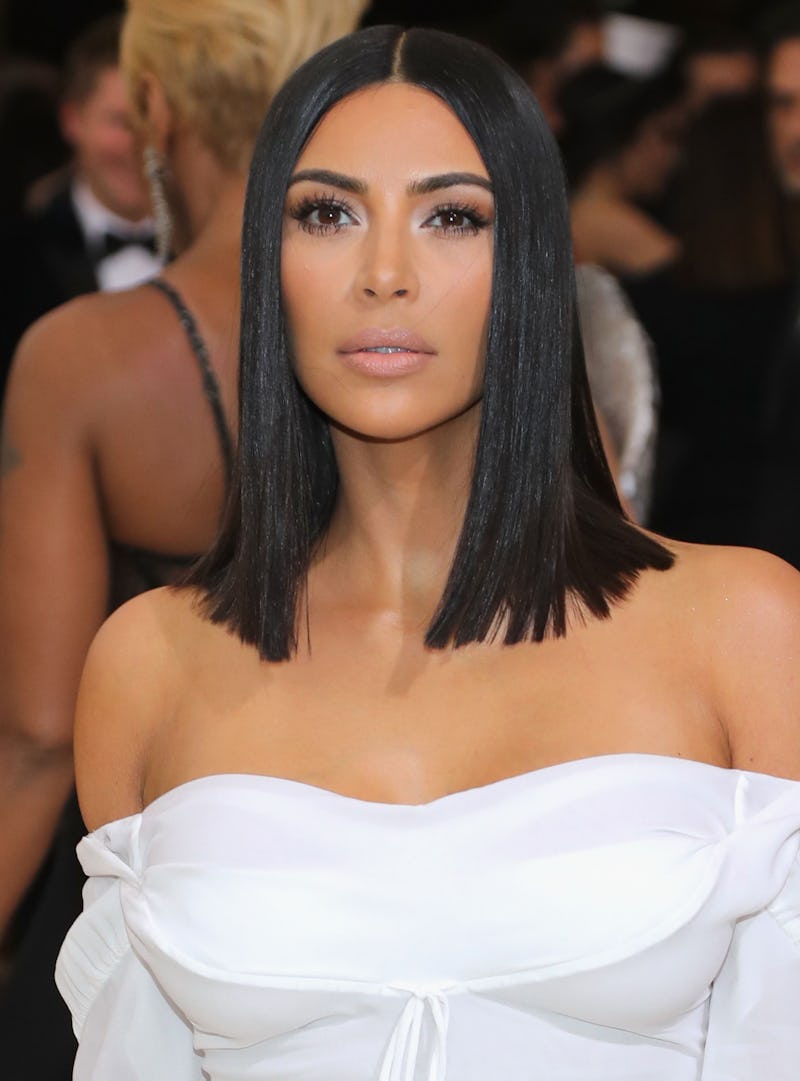 Neilson Barnard/Getty Images Entertainment/Getty Images
Kim Kardashian wants a bigger family. The star spoke out this year about her desire for more children, as well as her own fertility struggles. But now, there may be good news for the Kardashian-West family. According to Us Weekly, Kardashian's surrogate is reportedly three months pregnant, so baby number three could be here by next year. Bustle has reached out to reps for Kardashian and Kanye West for comment, but did not receive a response at the time of publication.
The couple reportedly hired a surrogate in June, and made a formal announcement of their plan to expand the Kardashian-West family. Kardashian has been candid about her desire for more children on Keeping Up With The Kardashian's, and opened up about her health obstacles. In an episode of the show back in November 2016, the reality-star consulted with a fertility specialist named Dr. Wong, who told her that another pregnancy would be high-risk, and surrogacy should be a serious consideration. Kardashian was hesitant, and wanted to try and conceive on her own. After a surgery to try and make carrying another child more realistic was unsuccessful, surrogacy became a more realistic option for the star.
"I've come to the conclusion in my mind that I can't carry another one. So now I want to explore surrogacy," Kardashian told mother Kris Jenner on KUWTK back in April. This decision came after a blog post where she detailed the trials of placenta accreta, a serious condition where the placenta does not detach from the uterus during childbirth, as well as other complications during childbirth.
If the US Weekly report is true, Kim K will welcome her third child in January 2018. That means the stars will begin the new year with a new family member, but it's unclear if the baby will be a Capricorn or an Aquarius. The gender of the baby is also unreported, but either way, the Kardashian-West kids can look forward to a new sibling. The couple have two children North, 4, and Saint, who is almost 2. Kardashian, who loved growing up with many sisters, has been vocal in the past about wanting a big family of her own.
According to TMZ, the stars have reportedly agreed to pay the surrogate $45,000 in 10 monthly installments of $4,500. This is in addition to a deposit of $68,850, which will be paid to the agency. The famous couple also reportedly have wellness rules for their surrogate to adhere to, including a standard ban on drinking, smoking, drug use, and precautionary measures, meaning no hot tubs or saunas, raw fish, or handling cat litter. The surrogate will also reportedly be compensated $5,000 if there are multiple children, and $4,000 if she loses reproductive organs.
In the past, Kardashian's friends and family have been floated as potential surrogates. This includes her sister Khloé, mother Kris Jenner, and friend Chrissy Teigen. However, surrogacy can be complicated, and the couple has to be completely comfortable with the person. In the past, Kim K has spoken of her hesitations about surrogacy on KUWTK, and it's unlikely she would move forward with the process without complete trust and confidence in the person.
Fans should be happy for the star, who admitted that she wanted a larger family after her traumatic robbery in Paris last year. "I'd just love nothing more than to expand my family and just know that I have this world at home that's safe," she said on KUTWK. In January, that family might just have one more member. Kardashian and West may have a new baby to celebrate, but the rest of the world can rejoice about a bright future of adorable family pics on Instagram.