This Lisa & Kim 'RHOBH' Reunion Moment Is So Awkward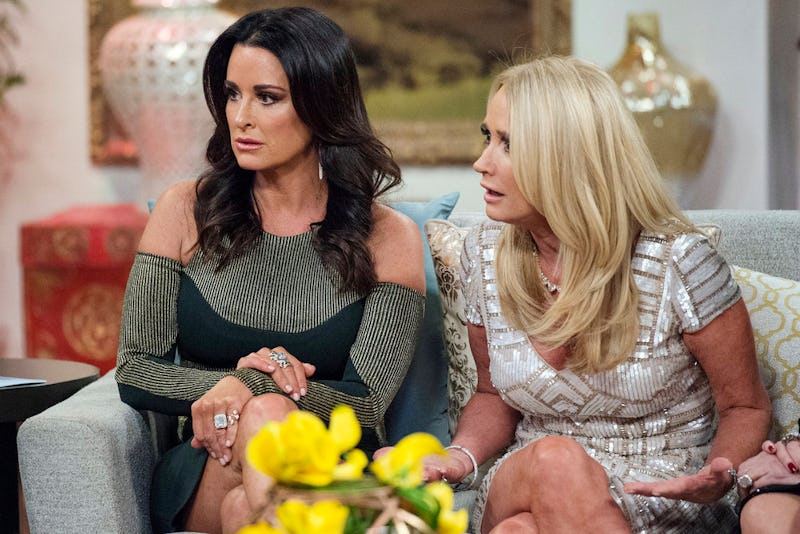 Nicole Weingart/Bravo
The Real Housewives of Beverly Hills Season 7 has been quite the whirlwind and included even more drama between Kim Richards and Lisa Rinna. Despite Lisa trying to bring some peace to their relationship (before wanting to discuss Kim's arrest) by giving Kim a bunny for her impending grandson, it's something Kim clearly didn't want. In a sneak peek from next Tuesday's reunion, Kim Richards gives Lisa Rinna her bunny back. For real, she literally hands over the bunny, which was meant as a baby gift for Kim's daughter's son.
Andy Cohen asks Kim a fan question wondering about the bunny. To that, Kim turns around on the sofa, reaches behind it, and pulls out the bunny. By the way, the bunny is still wrapped in the plastic like when Lisa first gave it to Kim. "I brought the bunny, because I never gave it to my grandson," she says to Lisa. "Because it didn't feel like it had good energy, sorry."
Kim then goes onto say that maybe when Lisa is "in a better place" she can give the bunny back to her. As Lisa Vanderpump points out, it kind of seems like Kim is saying that there is "still hope for the future" between the two. Though, Eileen Davidson is less pleased with Kim's actions and declares, "What do you think returning the bunny at the reunion means? Send it back in the mail." The return of the bunny gets to Lisa too, because she starts to cry. To that Kim says, "You don't have to cry over it." Andy tries to question Lisa about her tears and she simply replies, "I don't need to explain myself."
The moment is as awkward as it sounds. Trust me when I say you may cringe even a little bit while watching it, and no matter how you feel about what Lisa said about Kim during Season 7. I'm not the only one who felt super uncomfortable — Kyle Richards does too. Her facial expressions and body language say it all.
She Can't Even Look
It's almost like she's preparing herself for the the still packaged bunny to come flying out from behind the couch.
She Jumps Back
Either she is genuinely surprised or just trying to refrain from getting involved altogether by literally backing away from the bunny.
She Keeps Biting Her Nails
She is legit so uncomfortable right now and doesn't know what to do.
She Refuses To Make Eye Contact
It's like she's a student in a classroom avoiding eye contact with the teacher so she doesn't get called on.
Unlike Kyle, Andy is loving every single minute of this moment. I mean, just look at his face.
He expressed just that during Tuesday's Watch What Happens Live With Andy Cohen and said, "This is kind of amazing." He then repeated after watching the clip, "Just so you know, it's amazing."
I have a feeling fans are going to either agree with Andy and think this moment is "amazing" or will feel extremely uncomfortable like Kyle.