'RHOBH's Lisa Rinna Can Be So Cringeworthy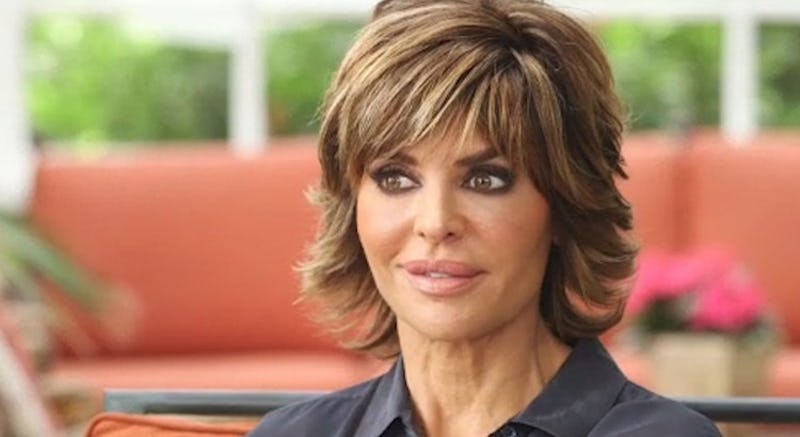 Bravo
For as many over-the-top dramatic moments there are on the Real Housewives franchise, there are just as many that make viewers shield their eyes. If you watch the Real Housewives of Beverly Hills, then you know that star Lisa Rinna has the most cringeworthy moments ever. More often than not, the former daytime soap opera star cannot keep her mouth shut. As her Season 6 tagline said, "My lips were made for talkin', and that's just what they'll do." I'm all about someone speaking their mind and standing their ground, but not at the expense of someone else's feelings.
It might not be Rinna's intention to hurt anyone when she starts gossiping or bringing up touchy conversations, but sometimes that's what ends up happening. Whatever the case, she is certainly one Housewife who makes me scream at the TV when I'm watching, all while covering my eyes because it's too hard to watch. If there is ever a Bravo award for "The Most Cringeworthy Housewife," Andy Cohen can automatically hand it on over to Rinna.
Let's take the time to check out 11 (yes, 11) of the times Rinna made you want to crawl underneath your bed and never come out again, because she is that capable of making viewers cringe.
When She Brought Up Munchausen Syndrome
Unfortunately, Munchausen syndrome was the theme of Season 6 thanks to Rinna. Remember when she sat down with Kyle Richards and Lisa Vanderpump to read them the definition of Munchausen syndrome in relation to Yolanda Hadid's Lyme disease? Did she start those rumors herself? According to Rinna, no. However, she admitted to taking part in a conversation about it, which led to this extremely awkward scene with Kyle and LVP. It should have never even become a topic of discussion.
When She Called Yolanda A Manipulator
Season 6 was the season for Rinna to slam Hadid so hard it hurt to watch. For example, while sitting on the beach with Eileen Davidson, Rinna had the nerve to say the following about Hadid: "I believe we are painted in a corner because of that sickness." She also said, "Maybe she uses that sickness to her advantage in a lot of ways." Then, things got even worse, when Rinna declared, "She scares the sh*t out of me, 'cause I think she's more manipulative than anybody."
This all stemmed from Rinna becoming irritated over the fact that Hadid had lunch with Brandi Glanville and Kim Richards the same day she was supposed to attend a dinner at Erika Girardi's. However, Hadid didn't end up going to the dinner party, because she didn't feel well. According to Rinna, if Hadid knew she had this prior commitment, they maybe she shouldn't have gone to lunch, which in turn, led to Rinna calling her a manipulator.
When She Brought Up Kim's Arrest
And the cringeworthy Rinna moments rolled over into Season 7. During Kyle Richards' game night, Kim and Rinna got into yet another argument. While discussing "pantygate," Rinna didn't like what Kim had to say and said directly to her face, "Let's talk about your arrest. Why don't we do that?" Why, Rinna? Why? What did that even have to do with your conversation? She takes it way too far all the time.
When She Didn't Trust Yolanda
Throughout Season 6, Rinna made it clear that she did not trust Hadid. In one episode, she even said during her private interview, "When it comes to Yolanda, I know I can be really over-the-top, but I never know what I'm gonna get." She then said, "I don't trust her — at all." Why? Because her lunch with Glanville and Kim bothered you that much?
When She Brought Up That Yolanda Photo
Yes, the lunch between Glanville, Hadid, and Kim turned into the event of the Housewives century. During that same time Rinna said she didn't trust Hadid, she also brought up (again!) the photo of her having lunch with the former RHOBH stars and not coming to Girardi's dinner. "It got me," she told Hadid. "I didn't understand why you would cancel that dinner and not come and be with them." Hadid responded, "I don't know how that would affect you or make you cry." It turned into something major when it definitely didn't need to.
When She Said Yolanda Should've Called Her
After Hadid and Rinna discussed Rinna bringing up Munchausen, all of the women sat down to talk in Season 6. Rinna got wind that Hadid might not be comfortable with her still and wanted to see why. What made things worse and even more awkward is when Rinna said that Hadid should've called her if she had another issue with her. Hadid said it best when she responded with, "Are you kidding me? After all the sh*t you put out into the universe, I have to call you to see if there's any issue?"
When She & Eden Talked About Kim
The fact that Eden Sassoon and Rinna are even talking about Kim's sobriety and current status is mind-boggling. They both made some big statements, but especially Rinna when she boldly said, "I would probably say she's mostly sober right now." Whoa, "mostly sober"? Really? She then also brought Kyle into the mix and declared, "Kyle's her enabler."
When She Defended Bringing Up Munchausen
Rinna basically made it sound like her bringing up Munchausen wasn't that big of a deal, because it was like when Kim brought up Harry and suggested bad things about him. Both what Kim said and what Rinna said about Hadid were untrue, so who cares, right? No, Rinna. No.
When She Texted Kim
At the Season 5 RHOBH reunion, Kim revealed that Rinna sent her some nasty texts. One read, "Be very careful or I will f*ck you up." Another one said, "You need to get wise." And she sent a different text saying, "Your behavior and the way you treat people is not OK. You are nasty and you need to be stopped now."
Neither of them have been very nice to one another, though. I mean, Kim said to Rinna at this reunion, "I bet if we look her up she probably has a record of abuse or a record of, what's it called, like when you hurt somebody, like batter?" Is that forgivable? No, it's not. These two really should just say away from each other.
When She Watched Eden & Kyle's Talk
In Season 7, Sassoon, Rinna, and Kyle went to lunch. This is where Sassoon decided it was a good idea to discuss Kyle's family's history with addiction and also Kim. It was something Kyle did not want to discuss, and rightfully so. She doesn't even know Sassoon that well. It became super uncomfortable when Rinna just sat there and watched. Did anyone else want to yell at her, "Say something!"? She literally sat there silently and it made me squirm.
When She Hugged Kim At Dorit's
In Season 7, and after the disastrous fight they had at Kyle's game night, Rinna and Kim came face to face once again at Dorit Kemsley's birthday party for her husband, PK. As soon as Kim came near her, Rinna was very friendly and even gave her a hug. Kim received it well and there was no drama, thankfully. Yes, it was good to see Rinna take the high road and not bring up what happened, but at the same time it was also uncomfortable watching them hug knowing how they feel about each other.
Oh, Rinna, you really make me cringe sometimes.