Twitter Had A LOT Of Feelings About Kim Wanting To Become A Mortician On 'KUWTK'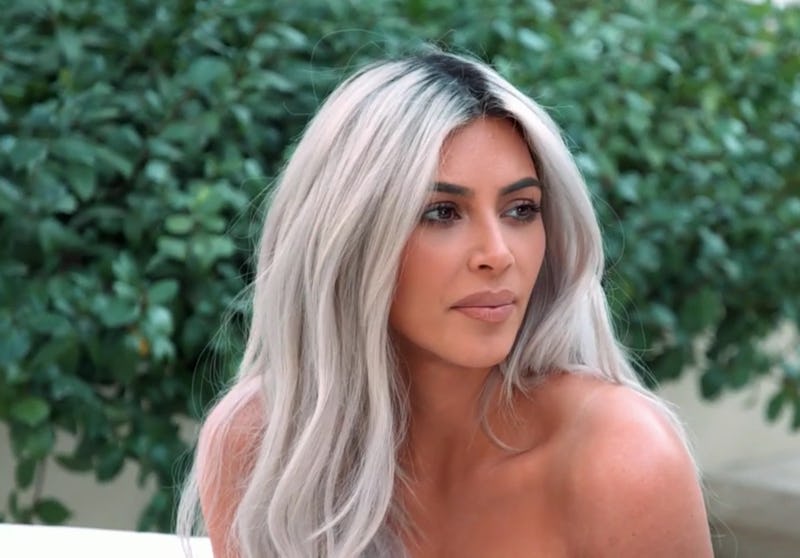 E!
Kim Kardashian and the makeup industry go hand in hand these days. Her popular beauty line, KKW Beauty, has been a focus of the family's reality show in the past, but in the latest episode of Keeping Up With The Kardashians, the mogul's interests take a much more... interesting turn. Kim Kardashian tried to be a mortician on this week's KUWTK, and to be honest, she's probably got a market if she ever actually wants to make a business of it.
Early in the episode, Kim tells Khloé and Kourtney that a friend of hers just attended a funeral, and notes that the person who passed away looked like a totally different person due to the makeup that the funeral home put on them for the service. She doesn't love the idea of someone's family thinking they don't look like themselves as they put them to rest. "Death is a natural part of life," Kim tells the camera. "I'm totally at peace with my father's passing and I just want the same thing for other people. So to remember someone not looking like themselves, I would hate for that to be the case."
So naturally, she takes a peculiar, yet ultimately understandable, interest in what goes down as a mortician prepares a body to be seen at a funeral. It's kind of a depressing way to start the episode, but hey! Things get weird sometimes when you're with the Kardashians, and the best thing to do is just roll with it. And also, as Khloé points out, it kind of makes sense for this to pique Kim's curiosity. "As bizarre as this is, Kim knows makeup like the back of her hand," she says.
Twitter was all over the storyline, and some fans were even saying they want Kim and her makeup artist, Mario, to do their makeup when they die.
Some also totally empathized with Kim's interest in the subject. It's something most people will have to deal with at one point or another, and Kim's reasoning for wanting to learn more seems sincere. Some fans even said they learned a little something during this weekly visit with the Kardashians.
And a lot of people were just happy to see a kind of silly, light-hearted story play out in a season that has so far featured a lot of animosity between the sisters. As serious as the actual subject matter of, you know, death, is, it's obviously a funny thing to watch Kim go through this crash course, and fans weren't taking it too seriously.
In the episodes's first jaunt into mortuary makeup, Kim literally asks Kris to lay down and play dead while she practices some techniques. "I was gonna say this might feel a little cold, but you're dead, so it doesn't matter," she tells her.
Then, to make things even more real, Kim and Mario visit an actual funeral home, where professional Los Angeles-based mortician Amber Carvaly gives them more details about the process, and allows them to practice on an actor who pretends to be dead on the table. Kim, who even put on scrubs for the lesson, seems to have lost interest in doing a dead woman's makeup, which is understandable. Instead, Mario impresses everyone with his skills, and gives Kim a renewed confidence that she will look glamorous even in the most morbid of situations. "I'm really grateful for the experience, and I'm really glad Mario came along," she says. "Because I know if — when — the day comes, I'll be in good hands."
You truly never know what you're going to get when it comes to Kim Kardashian, and this episode drives that point home even further. But judging from the reactions on social media, she's cultivated a fan base that will follow her to the very end — literally.