Kimberly Guilfoyle & Don Jr. Apparently Already Hear Wedding Bells In Their Future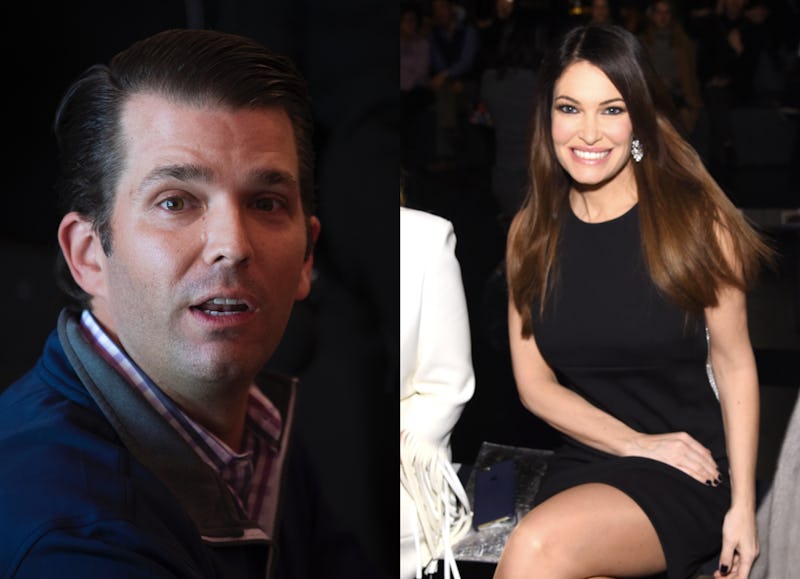 Jamie McCarthy/Getty Images Entertainment; Drew Angerer/Getty Images News/Getty Images
Amongst the rumors surrounding Fox News host Kimberly Guilfoyle's recent departure from the cable news network are reports that the The Five host has already hinted she's ready to take a serious step in her relationship with the president's eldest son. But will Guilfoyle and Donald Trump Jr. get married? Sources close to them have said the couple is talking about a possible wedding.
A spokeswoman for Fox News tells Bustle the network has "parted ways" with Guilfoyle, whose carer at the network spanned more than 10 years. Although Fox News hasn't elaborated on the details behind Guilfoyle's hasty departure — on Friday, Katie Pavlich co-hosted The Five — the Huffington Post's Yashar Ali reported she wasn't leaving voluntarily. According to Vanity Fair, Guilfoyle was already discussing marriage with Trump Jr., which may have raised some ethical concerns with network executives.
According to the magazine, "a source close to Guilfoyle" said her relationship with Trump Jr. had gotten "very serious" and the couple were "talking about a possible wedding in the future."
Even Guilfoyle, who has been married twice before, has recently appeared to hint at the possibility of a long-term future with the president's eldest son, telling Breitbart Radio that she felt she'd "finally got it right this time" in reference to her relationship with Trump Jr.
Multiple news outlets, including Vanity Fair , the Hill, and CNN have said Guilfoyle plans to help Trump Jr. campaign for Republican candidates in the run up to the 2018 midterm elections. "Having @kimguilfoyle on the trail campaigning with @DonaldJTrumpJr for Republicans this fall is a win for the entire GOP," Trump Jr. spokesman Andrew Surabian tweeted on Friday, in what could be considered a loose confirmation of the news. "Kim is one of the most influential voices in the #MAGA movement and knows how to light up a crowd."
Further fueling rumors is the fact that Guilfoyle hasn't been shy about lavishing praise on her new beau, telling Breitbart Radio she thought Trump Jr. was "incredibly bright," "hard working," and "a compelling political voice." She also appeared to hint that he may be looking to follow in his father's political footsteps.
"I think he is the number one up-and-coming political figure for sure on the right," she said. "He actually puts the time in and the effort to understand the base because he is the base," she continued. "He gets out there and actually talks to the real people, the men and women that have been forgotten and left behind in this country — he understands them, he relates."
Trump Jr. and Guilfoyle were first linked together romantically in May, just two months after Trump Jr.'s wife Vanessa had filed for divorce. By June, the couple had confirmed their relationship, filling their respective social media accounts with couple selfies.
On the Fourth of July, Guilfoyle shared a photo of her and Trump Jr. that had reportedly been snapped during what she called "an incredible afternoon" spent at the White House. More recent snaps from Guilfoyle's Instagram show the couple recently vacationed together in Europe.