Kimberly Guilfoyle's National Tree Lighting Photos Show She & Don Jr. Are Going Strong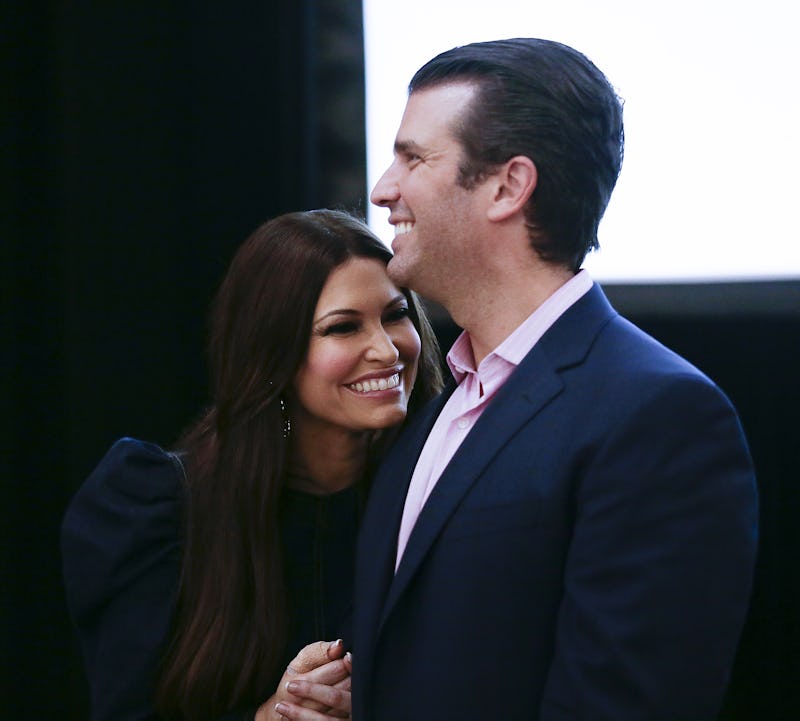 Bob Levey/Getty Images Entertainment/Getty Images
On a cold Wednesday evening, one person outside of the Trump brood joined the president and his family for the 2018 National Christmas Tree Lighting ceremony. And Kimberly Guilfoyle's photos on Instagram from the event, alongside her beau Donald Trump Jr., seemed to send a message for all roving eyes: Guilfoyle and Trump. Jr's relationship appears to be going strong.
On Instagram, Guilfoyle shared a photo of herself cozied up with Trump Jr., replete with emojis like the Christmas tree, gift box, American flag, and, of course, a heart. She wrote that she had a "wonderful" time that Wednesday evening and tagged the president, Melania Trump, Trump Jr., his brother Eric, and a few others.
The former TV pundit — who now works at the pro-Trump nonprofit American First Policies — also shared images of herself sitting close to Trump Jr.'s younger sister, Tiffany Trump, plus selfies in the chilly capital that night.
Guilfoyle has known to speak freely about her affection for Trump Jr. In August, the former Fox News anchor told The Washington Post that she and Trump Jr. were "best friends."
That summer, she also said that she wanted to "merge" their families together to form "The Donberly Bunch," a play on the title of the the popular American family sitcom, The Brady Bunch.
So far, Trump Jr., who officially parted ways with his former wife, Vanessa Trump, in March, has not shared any 2018 National Christmas Tree Lighting photos on his otherwise frequently-updated Instagram account. The president's son and Vanessa filed for divorce this past spring.
In their official statement, the former couple stated, "After 12 years of marriage, we have decided to go our separate ways. We will always have tremendous respect for each other and our families. We have five beautiful children together and they remain our top priority. We ask for your privacy during this time."
Reports of Trump Jr. and Guilfoyle dating surfaced in May, and the couple became official around June. In July, Guilfoyle went on Breitbart Radio and showered her boyfriend with praise.
"I think he is the number one up-and-coming political figure for sure on the right," Guilfoyle said that month. "He actually puts the time in and the effort to understand the base because he is the base."
She added that Trump Jr. "gets out there and actually talks to the real people, the men and women that have been forgotten and left behind in this country — he understands them, he relates." Guilfoyle dubbed him an "incredibly bright" man who was also "hard-working" and carried a "compelling political voice."
It's hard to say what level Trump Jr. and Guilfoyle plan to take their romance and if, at all, marriage is on the horizon. But based on her comments to Breitbart Radio, it seems like Guilfoyle and the president's son might be considering getting hitched after all; she told the right-wing outlet that when it came to Trump Jr., she said she "finally got it right this time." And judging by her Instagram photos from the Tree Lighting ceremony, she's been welcomed by Trump Jr.'s siblings with open arms.