Photos Of The National Tree Lighting Ceremony Will Get You In The Mood For Christmas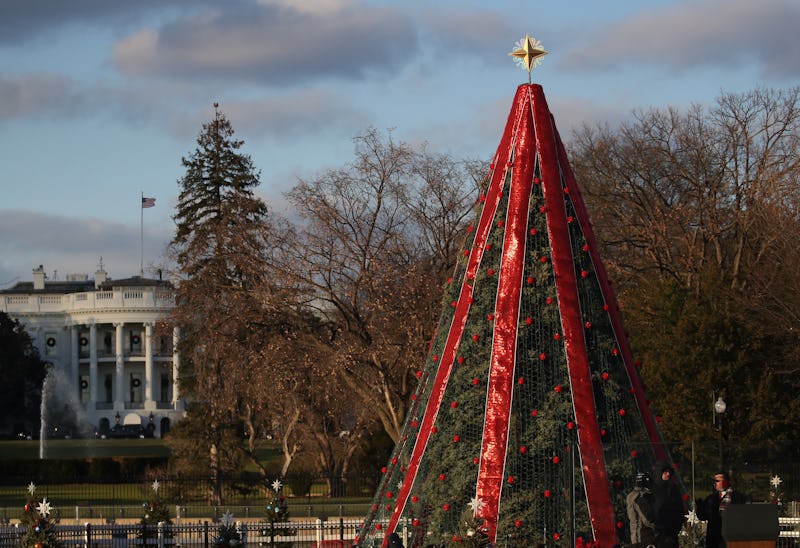 Mark Wilson/Getty Images News/Getty Images
Good ol' Washington, D.C., had a Christmas-y evening on Wednesday. And the photos of the 2018 National Christmas Tree Lighting ceremony show, among other things, President Donald and Melania Trump celebrating the event alongside their family.
The tradition of adorning and lighting the massive tree in a festive event has been going on for the past 96 years. It was first started by the former president Calvin Coolidge in 1923. Plus, here's a little trivia for national history enthusiasts: that year, the 48-foot-tall Christmas tree had 2,500 multicolored lights draped all over it.
Many, many decades later, on an extra-chilly Wednesday evening, the Christmas tree was lit in President's Park in Washington, D.C. The initial few minutes of the event were also live-streamed, albeit briefly, on the White House's official YouTube account.
A variety of musicians were scheduled to perform for the audience of the lighting ceremony, including country music singers, indie artists, the United States Army Band, and others.
The National Park Service announced that cable network REELZ and the channel Ovation would broadcast the ceremony at 10:00 ET on Dec. 2. So if you didn't get to stream it live or be there in person, you still have a chance to see it all happen. For now though, here's a photo of the sparkly Christmas tree from Wednesday.
Making a rare appearance in front of the press, Trump's youngest daughter, Tiffany Trump, was also seen on Wednesday evening. Tiffany was photographed trailing her sister-in-law Lara Trump, Eric Trump's wife.
This year, the people who attended the National Christmas Tree Lighting ceremony also got to see larger-than-life sized Christmas gift boxes in the background. Before the lighting event began, the president said that he along with his viewers would count in reverse. Beginning at 10, amid fanfare and hooting, Trump called on Melania to light the tree up.
Later on, the president and Melania walked past audience members as the United States Army Band played. This year's audience was selected through a now-closed ticket lottery process, similar to the one that took place for the 2017 National Christmas Tree Lighting ceremony.
If you find yourself interested in seeing such an event in person, you should keep an eye on possible ticket lottery announcements here.
This year's Christmas tree, prior to having its ornamental lights turned on, was draped in red banners, decorative red and green lights, and carried a shimmering golden star at the very top. Here's what it looked like in broad daylight.
The official Twitter account for the White House also shared a video of the 2018 National Christmas Tree Lighting ceremony. Here's what it looked like when all of its decorative lights, green and red, were turned on.
If you missed seeing the lighting ceremony on a live-stream or didn't get to go to the capital to witness it in person, you don't need to worry. REELZ and Ovation will broadcast the event on Dec. 2, meaning you can pretend you were there after all.