'Kim's Convenience's Millennial Cast Explains How The Canadian Sitcom Subverts Stereotypes In A Real Way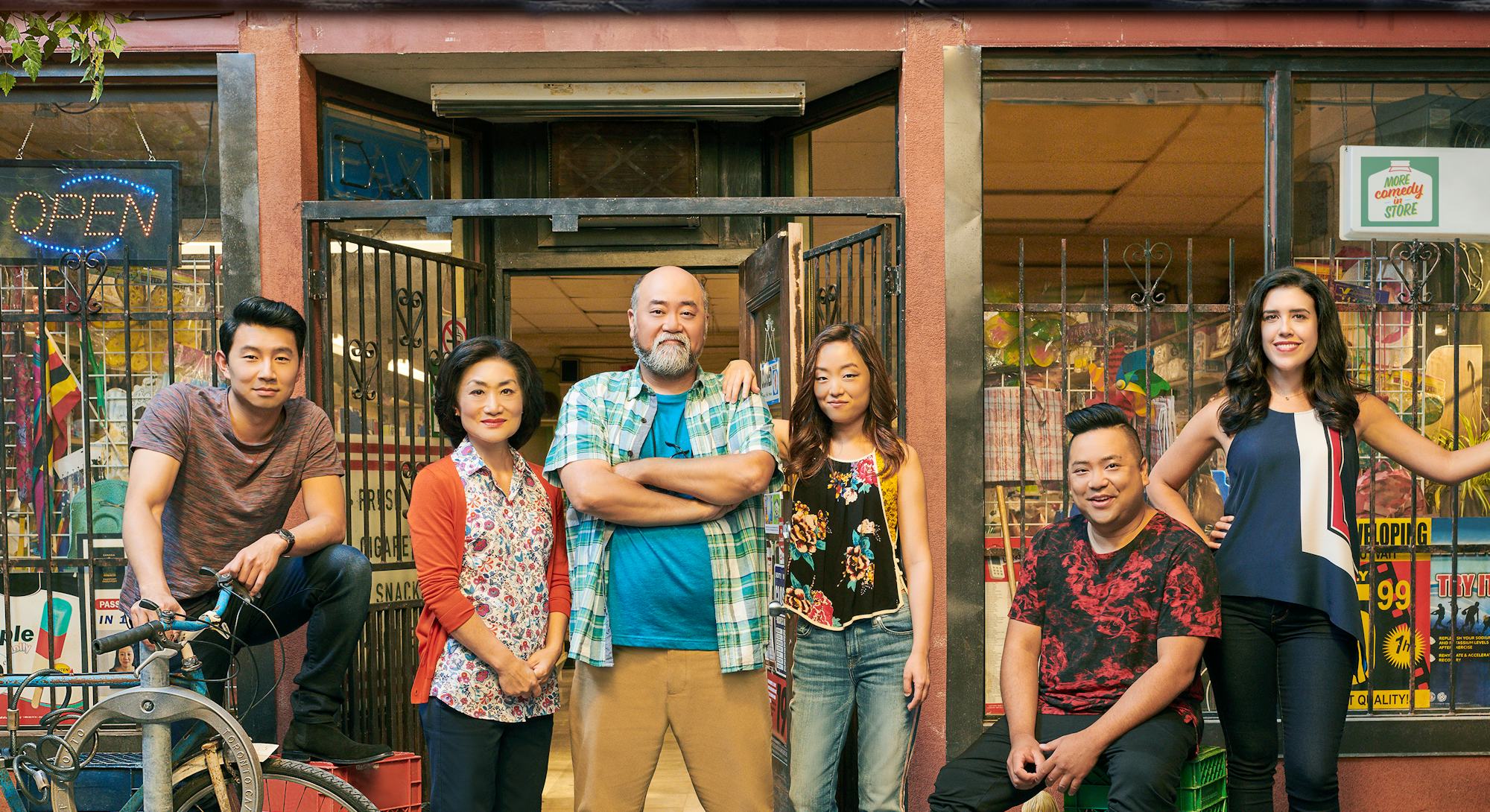 CBC
The hit Canadian sitcom Kim's Convenience premiered internationally on Netflix in July 2018. Initially, the cast didn't expect that the series would get much of a response, and they certainly didn't think they'd ever get recognized in the United States. But a few weeks after the show's streaming premiere, the Kim's Convenience cast found themselves ambushed by a group of fans (or Kimbits, the name of its excited fandom) asking for selfies at an In-N-Out Burger in Los Angeles.
"Multiple people came up [to us] being like, 'Are you Appa?' 'Are you Kimchee?' 'Are you Janet?' And they were freaking out," Andrew Phung, who plays Kimchee, recalls to Bustle. "I always felt like we were worthy of the recognition, but it really came down to the people, because this show is about the people, made by the people."
Kim's Convenience has resonated with audiences not just through the show's humor, but its touching storylines and characters that have shattered many historically hurtful Asian stereotypes and tired sitcom tropes. The story about a Korean Canadian family who owns a Toronto convenience store first became a hit as a 2011 Toronto Fringe play by Ins Choi and then as a CBC sitcom, which debuted in 2016 with Paul Sun-Hyung Lee and Jean Yoon reprising their play roles as Appa and Umma (Korean for Dad and Mom, respectively).
Bustle spoke with the series' millennial cast members Simu Liu (who plays Jung, the Kims' son with a rebellious past), Andrea Bang (who plays the Kims' artist daughter, Janet) and Phung (who plays Jung's best friend and roommate Kimchee) about how Kim's Convenience subverts the stereotypes that they've experienced in real life.
Jung Is The Heartthrob You've Been Looking For
In Season 2's episode "New TV," Kimchee is worried his new girlfriend Lauren will leave him for his handsome roommate and best friend Jung. At first, Jung laughs it off, until Kimchee provides a list of recent examples of women who were no longer interested in him after meeting his best friend.
Jung is far from the scrawny, nerdy, or geeky sidekick that Asian actors are often relegated to portray in TV shows and movies. In addition to his good looks. In the show, the eldest Kim sibling had a criminal past as a teenager, which resulted in him dropping out of high school and also caused a slow-to-be repaired rift with Appa. He rebounded in his 20s by getting his GED and landing a steady job at Handy Car Rental. Yet, Jung knows that women find him attractive, which the show leans into with his co-workers doing various impressions of him in what Kimchee calls "'90s heartthrob poses" (Jung is uncomfortable with the label), and Jung's ongoing, mutual flirtation with his boss Shannon (Nicole Power), who is white.
In many ways, you are not the main character in your own story.
Even though his character bucks stereotypes, Liu has personal experience with how society has consistently telegraphed that Asian men aren't fit to be handsome and desirable leading men — a tide that had begun to change with characters like Josh Chan in Crazy Ex-Girlfriend, and shift majorly with the summer 2018 blockbuster film Crazy Rich Asians, which starred Henry Golding as the movie's romantic lead. "In many ways, you are not the main character in your own story," Liu says regarding the stereotype. "For an entire generation of Asian kids, we internalized stereotypes of inferiority, and we never really felt like we could be truly a part of this society."
The actor had been reluctant to speak about the subject in the past, but his Jan. 16 appearance on The Social, a Canadian talk show, changed that. The audience laughed as the actor talked about the sexual misconceptions Asian men have experienced — and he directly addressed the response on camera and via an Instagram post:
"I went on @TheSocialCTV today to promote our show and talk a wide range of current events and pop culture topics with the wonderful ladies there. At the beginning of the clip we were talking about 'sexual stereotypes' and I was cutting in to offer my opinion as an Asian man. Y'ALL, THE STUDIO AUDIENCE LAUGHED. THEY. LAUGHED. I was stunned; you can see my face as I process what the f**k just happened. I called them out. And the amazing ladies sitting next to me had my back. Because goddamnit people it's 2019 and I'm tired of having to prove to the world that we're not Long Duk Dong from Sixteen Candles. Much love to everyone at #TheSocial for being amazing and allowing me the space to properly educate some people. I will be doubling my shirtless photo quota moving forward. I'm damn proud to be Asian. TAG YOUR SEXY-ASS ASIAN FRIEND. Thank you. *continues drinking boba*."
"It really, really hurt, and so I decided to call it out," Liu tells Bustle. "Once I made that choice for the first time, I realized that I had to continue making that choice, which is to lean into who I am, to be proud of who I am and not let the Western media or whatever society stereotypes rob me of my cultural pride, of my pride in who I am."
And while Jung is the eldest child, he's not the golden child — Liu believes that title belongs to his character's sister.
Janet Is An Artist — With Her Parents' Full Support
Janet Kim is often at odds with her parents about a lot of things on Kim's Convenience, from not wanting to take over the store later in life (like her father wants her to), to Umma's desire for her to date a "cool Christian Korean boy." But Janet's parents are always supportive of her chosen college major: photography.
It's a choice that breaks the rampant stereotype (and meme) that Asian families discourage their children from pursuing careers in the arts in favor of more traditional ones, such as medicine, law, or engineering. In Season 1's "Janet's Photos," Appa sells Janet's artwork meant for an exhibition to his customers at the store without permission. He then reassures her about the sale, saying her art clearly has value in the real world. His approval as a parent of her creativity is a moment so rarely portrayed in Asian culture — on TV or otherwise — that even Janet is taken aback when Appa calls her "a great artist."
Despite their characters having more family support when it comes to career paths, Phung, Liu, and Bang each admit they were encouraged by their families to get "stable jobs" rather than pursue unpredictable acting careers — which, to be fair, is common in both Asian families and non-Asian ones. Phung has a degree in economics and worked as the director of a non-profit organization for a decade before pursuing acting full-time. Liu went to business school and got laid off from his accounting job after eight months, which prompted him to apply and land a role as an extra in the 2013 movie Pacific Rim. Bang graduated with a psychology degree while taking acting lessons on the side. "I never really knew anyone who was pursuing that kind of art," Bang tells Bustle. "I feel like if I knew more people [in acting] growing up, then I would have possibly pursued it earlier on."
"It shows people that being Korean doesn't mean just one thing ... you don't have to be 'too' Korean or 'not enough' Korean."
In addition to Janet's photography studies on Kim's Convenience, the character explores other parts of her identity, including a few interracial relationships with men who are Black and Southeast Asian, finding "cool" hobbies like motorcycle riding, and even struggling with how exactly she should "be" Korean.
In Season 1's "Frank and Nayoung," Janet becomes offended when her friends imply that she isn't "as Korean" as her visiting cousin, Nayoung from South Korea. Later, in Season 3, Janet adopts a Korean name she can barely pronounce to advance her photography website in Google Search results. Her attempts to connect with her Korean heritage aren't always perfect — her family often informs her that the results are awkward and a bit misguided — just like they can be in real life.
Bang relates to both of these storylines as a Korean Canadian who also went through a similar phase of trying to define her own identity by listening to K-pop and wearing Korean-style clothing. She realized that those superficial identity markers aren't what counts — which is exactly what she feels Kim's Convenience conveys to viewers. "I hope through shows like Kim's, it shows people that being Korean doesn't mean just one thing," she says. "It could mean a variety of things and you don't have to be 'too' Korean or 'not enough' Korean."
Beyond the Kim family, Kim's Convenience has given even similar depth to Janet's and Jung's friends.
Kimchee Is More Than Just "The Best Friend"
When Phung was first cast as Kimchee on Kim's Convenience, he expected to receive the usual bare-bones description of his character: "friend, Korean, 25." Instead, he was stunned to receive a fully formed character biography. "Kimchee loves hip-hop," Phung recalls the initial bio saying. "He is extremely loyal, but will challenge Jung on things that he disagrees on. He works at Handy, but loves to goof off while at work."
And much like that detailed biography, Kimchee is defined way beyond just being a sidekick, with Kim's Convenience often delving into the character's emotional side. In the Season 2 episode "Appa's First Text," Kimchee lets Janet know he's very hurt after she ditches him during dim sum and bad mouths him within earshot. His insecurities about his relationship with his mother, his love life, and his promotion to be Handy's Assistant Manager are all Kimchee's plot lines in Season 3 of the series. "I love that with Kimchee, I get to share feelings, I get to share ups and downs," Phung says. "As he grows up, I love that he's grounded in this idea of a millennial twenty-something who's trying to better his life now."
Similarly, Kimchee and Jung's friendship shows an on-screen vulnerability we rarely see between male friends. The BFF duo — who've dubbed themselves "Jungchee" — have confronted awkward living situations, disagreed on how to throw a party, and discussed insecurities in their friendship. "We take a lot of pride in portraying two guys who are not afraid to be vulnerable around each other and that are not afraid to talk about their feelings," Liu says.
Moments like those have helped Kim's Convenience resonate with viewers not just in its home country, and now internationally via Netflix. With humor and emotion, the Canadian series is breaking the traditional sitcom mold by subverting stereotypes — and creating a more realistic on-screen world in the process.
This article was originally published on