Kirsten Dunst & Jesse Plemons Gave Their Son The Most Unique Name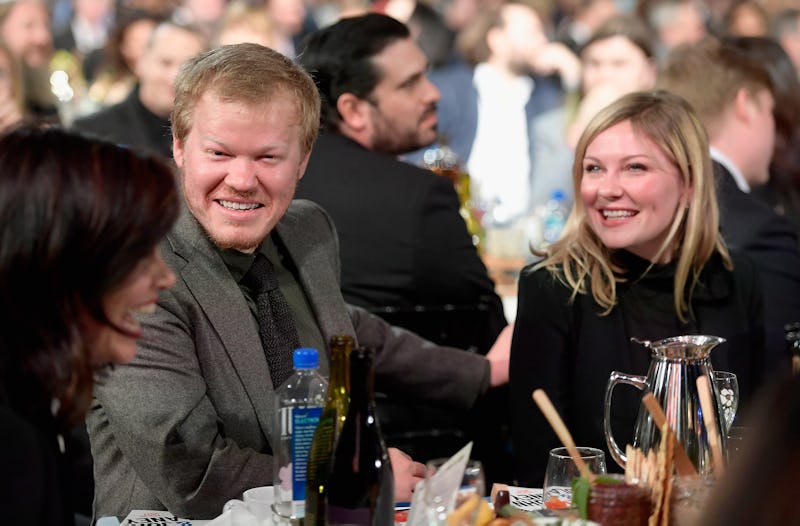 Matt Winkelmeyer/Getty Images Entertainment/Getty Images
The perfect celebrity couple that is Jesse Plemons and Kirsten Dunst welcomed a son in early May. As it turns out, Kirsten Dunst and Jesse Plemons named their son Ennis — a slightly unusual moniker, but also an adorable one. You might be wondering why the proud parents chose such an uncommon name, and while there's no way to know for sure until they comment on their new arrival, the history of the name might offer up some clues.
In case you're just hearing that Dunst and Plemons are together for the first time, don't worry; you're not too far behind the times. The couple met in 2016 on the set of Fargo, and confirmed to Us Weekly that they were together in January 2017. Despite being universally adored, the two tend to fly under the radar, which explains why some people didn't realize they were even together until the pair announced their engagement in October 2017. By January 2018, Dunst revealed she was expecting in a shoot for fashion house Rodarte. While neither Dunst nor Plemons have officially announced their son's name, a TMZ property called The Blast obtained a birth certificate that appears to be for their new baby. Their son's official name is reportedly Ennis Howard Plemons, and it sounds kind of old-timey, doesn't it? In fact, the most high-profile use of the name "Ennis" in recent memory comes from 2005's Brokeback Mountain. And Brokeback Mountain was set in the 1960s.
So, why Ennis Howard Plemons? Let's breakdown what this classic name means.
Plemon's full name is Jesse Lon Plemons. According to Married Biography, he has a sister named Jill, and his dad's name is Jim Bob. Dunst's brother is named Christian, and her father is named Klaus Hermann — yes, she's of German origin — so neither Ennis nor Howard appear to be the names of their immediate family members.
Both Ennis and Howard have lengthy etymologies: Ennis has roots in Gaelic, and Howard appears most prominently in Scandinavian and English history. The website SheKnows has categorized four unique meanings for Howard: Its meaning with the Teutonic peoples, its meaning in America today, a classic English meaning, and its meaning in Scandinavia. Overall, it's thought to translate as "defender," "bold heart," and "noble watchman." It's one of the few names that never made it across the gender spectrum — people use it almost exclusively as a name for men — and it was even the surname of a noble English house. Also, the Teutons are an ancient German people, and they were mentioned by writers from the Greek and Roman empires, so it's pretty much one of the oldest non-biblical names one could conjure. Howard also appears across literature and across multiple religions. And that's just this little guy's middle name.
Dunst and Plemons' son's first name, Ennis, is far less common — and less well-known — than Howard. Ennis is traditionally a name for men, but it's becoming more popular with women over time. According to Baby Names of Ireland, Ennis comes from the word "inis," which means island. The website SheKnows suggests that over time, Ennis evolved to mean "the only choice." When the names are put together, Ennis Howard suggests a brave, noble person, a steadfast person, one who will fight for important things. Whether Dunst and Plemons knew all of that, or just liked how the names sounded together, is not known. Considering their son's first and middle names are uncommon, old-fashioned, and do not appear to honor any family members in particular, bestowing him with such a dignified pairing would be a wonderful coincidence.
Both actors like to keep their relationship low-key, so it's not a surprise that they haven't been spotted with baby Ennis just yet. It might happen soon, though the mystery behind his strong name might linger for a while.