Kit Harington & Rose Leslie Made Their Engagement Official In The Classiest Way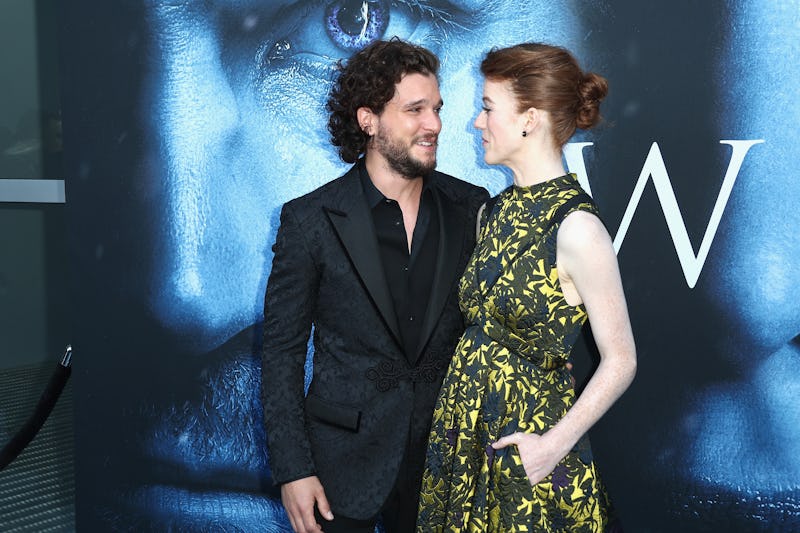 Frederick M. Brown/Getty Images Entertainment/Getty Images
Game of Thrones fans' favorite couple, Kit Harington and Rose Leslie, announced their engagement officially on September 27, giving the world hope in these dark celebrity couple times that love is indeed not dead. The two GoT co-stars have reportedly been dating on-and-off since they began filming together on the show in 2012, but have been notoriously tight-lipped about their relationship, only giving fans fleeting glimpses into their relationship ensuring that we "know nothing" about it (sorry, had to do it). So, it only makes sense that they would officially announce their engagement in the most low-key and on-brand way: a newspaper announcement.
Published in the London Times newspaper, the straightforward and simple engagement announcement reads, according to the BBC:
Mr K.C. Harington and Miss R.E. Leslie. The engagement is announced between Kit, younger son of David and Deborah Harington of Worcestershire, and Rose, middle daughter of Sebastian and Candy Leslie of Aberdeenshire.
It should come as no surprise to fans of the couple that the happy announcement came in such a normal and blasé way, instead of a grand and attention-seeking announcement. The pair don't have any public social media accounts of their own where they post cute, romantic pictures of each other, and they rarely speak about their relationship in public except for special occasions, like when Nicole Kidman is prodding for answers.
In June 2017, Harington and Kidman were both on an episode of The Late Late Show with James Corden and things got a bit personal. After Harington opened up about moving in with his "best friend," aka Leslie, Kidman came out swinging and asked the big question that every fan wanted to know, "Are you going to get married or...?"
After turning a deep shade of red, Harington composed himself and cooly responded with a coy smile, "I've been put on the spot by Nicole Kidman... Well, I mean, it's step-by-step."
This subtle hint about the couple's romantic timeline provides further evidence that when they did finally announce an engagement, it would be an equally subtle way.
One of the rare public admissions of the couple's love that wasn't brought about by Nicole Kidman, happened back in 2016 when Harington sat down with L'Uomo Vogue and gushed about his best memory on the Game of Thrones set, which also just so happened to be the beginning of his relationship with Leslie:
"The three weeks in Iceland when we were shooting the second season. Because the country is beautiful, because the Northern Lights are magical, and because it was there that I fell in love. If you're already attracted to someone, and then they play your love interest in the show, it's becomes very easy to fall in love..."
In an interview with People way back in 2014 before the couple even officially confirmed their relationship, Leslie hinted at the reason why the chemistry between the two characters on-screen was so strong.
"Kit is a lovely and funny man, and a dear friend. We had known each other before we started working together on Game of Thrones," Leslie said. "It was always such a privilege to be working opposite him and such a blessing that we get on in real life because it made our characters more believable."
The couple is known for rare public displays of affection and their subtle admissions of love. And their engagement announcement is just that: subtle. Keeping in line with the couple's history and lifestyle, the newspaper announcement is sweet and a bit nostalgic, and reminds fans of a simpler time when engagements were published in papers, instead of on Instagram.