This Video Of Kourtney Kardashian Ignoring Lisa Vanderpump Is Reality TV Gold
Rich Fury/Getty Images Entertainment/Getty Images
This is going to be some truly hilarious and amazing news to any reality TV fan out there. Keeping Up With the Kardashians star Kourtney Kardashian accidentally ignored Lisa Vanderpump, one of the Real Housewives of Beverly Hills, at a Los Angeles restaurant, as seen in a new Daily Mail video. Kardashian wasn't even looking in Vanderpump's direction and most likely didn't see her at all. Still, the (accidental) snub is pretty hilarious and begs the question: Does the eldest Kardashian sister even know who the Real Housewife is?
In the Daily Mail's video (and in OK! Magazine's video below), you can see Kardashian and her boyfriend, Younes Bendjima, head into a restaurant called The Little Door. Just as they get to the entrance, none other than the RHOBH star is sitting outside with her husband, Ken Todd. It looks as though she is saying something and trying to grab Kardashian's attention but the KUWTK star and her boyfriend breeze right past, snubbing her without even realizing it.
If this was captured for either woman's popular reality show, this "snub" would be the start of a whole dramatic storyline. (It still can be if the reality TV gods create a KUWTK/RHOBH crossover, which would be everything.) Since Kardashian probably didn't mean anything by avoiding Vanderpump, it's likely that all would be forgiven if the two ever do meet up at a later date.
Below, Vanderpump and Todd can be see on the left side of the screen. (It's easier to see what Vanderpump is doing in the less blurry video here.)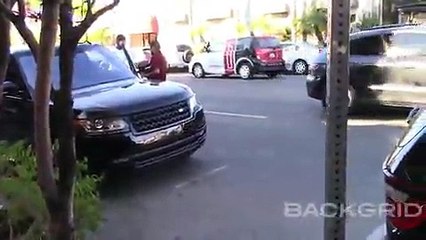 Even if the KUWTK star noticed the Housewife sitting there, would she recognize her enough to stop and chat in front of what seemed like a horde of paparazzi? Does she know who Vanderpump is? Let's investigate!
They May Have Met Before
In a 2012 interview with The Huffington Post, Vanderpump said that she has met some of the Kardashian family members before. When asked whether she was a fan of the famous family, she said, "I would love to say I am — I've met them." (When it comes to the show she said she isn't a fan simply because she doesn't have the time to watch it.) So, even though she doesn't say which Kardashians that she's met, it's possible that the two have met before.
Other than her statement here, there's nothing else that really indicates that they know each other such as photos of them together at an event or some social media snaps.
Vanderpump's In The Same Social Circle As Kris Jenner
It's safe to say that it's way more likely that Vanderpump knows Kardashian's mother, Kris Jenner. The two women run in the same social circle as each other seeing as though they have connections through Kyle Richards, a fellow Beverly Hills Housewife, and Faye Resnick, who has appeared on RHOBH and KUWTK and is a good friend of Jenner's. Who knows whether these connections scored the RHOBH star an invite to one of the fam's parties or events?
Kourtney Probably Doesn't Watch Vanderpump's Shows
One major indication that Kardashian probably doesn't know who Vanderpump is that the KUWTK star probably doesn't watch RHOBH or Vanderpump Rules. Of course, this is pure speculation, but it seems unlikely that she watches either Bravo show and would consequently know who Vanderpump was from those programs. The star wrote on her website about how she limits the use of technology within her household. She said (via StyleCaster), "Now that all my kids are over the age of two, I do allow them limited time to play video games and watch television." She also said, "We want to be able to communicate and have conversations with the kids while eating together — so we try not to have TV or iPads out during breakfast, lunch or dinner."
It's likely that she's not an avid TV watcher because of these strict rules concerning technology in her house. That isn't to say she doesn't watch TV at all obviously, she did post a snap that showed her watching The People v. O.J. Simpson (in which her father Robert Kardashian was portrayed by David Schwimmer). But, it's possible that she doesn't watch too much reality TV (she's living it, after all) and wouldn't be able to recognize Vanderpump from her shows.
Based on all of this information (and my personal opinion as a Kardashian fan and reality TV connoisseur), Kardashian probably doesn't know who Vanderpump is. Sorry, Lisa. If the two reality stars want to prove me wrong following Kardashian's accidental, yet hilarious, snub and post some fun social media snaps together or something, I'd be totally here for it.