Kourtney & Scott Apparently Aren't Back Together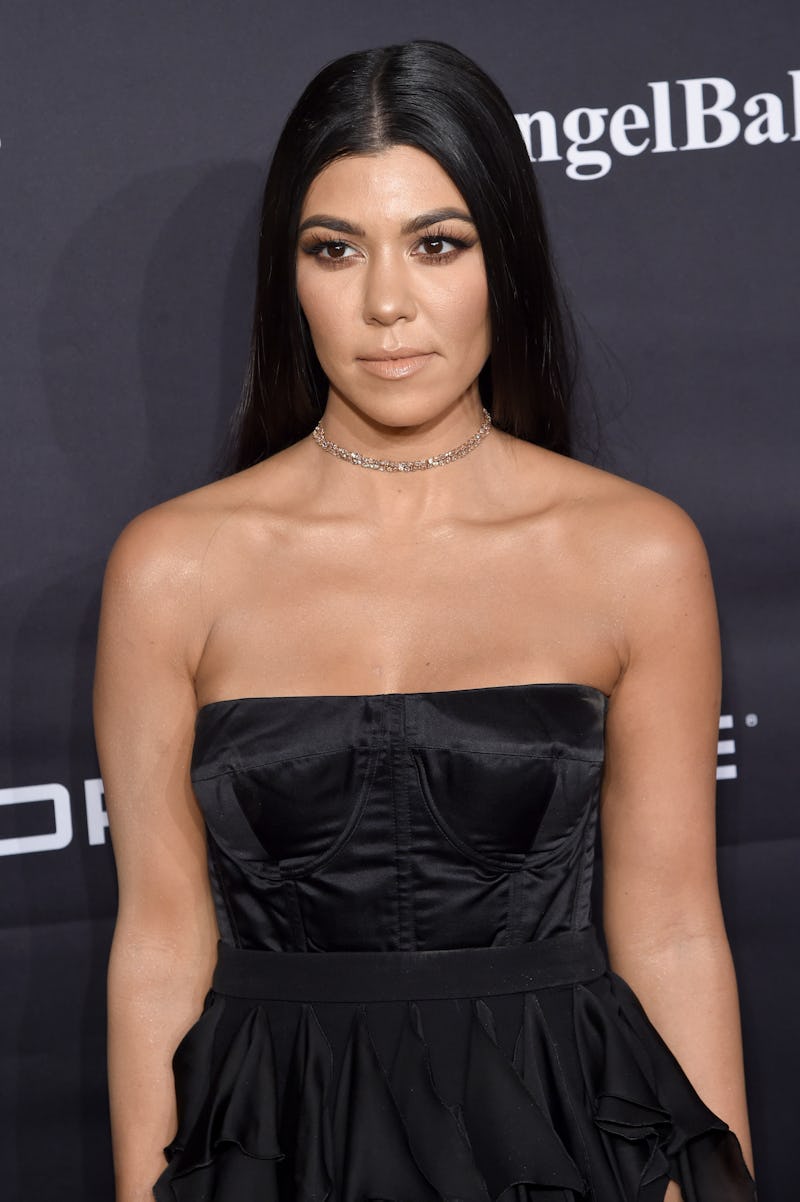 Jamie McCarthy/Getty Images Entertainment/Getty Images
Scott Disick and Kourtney Kardashian seem to be on pretty good terms these days. They often post Insta pics and snaps together with their three kids, Mason, Penelope, and Reign, and everything seems to be great on the parenting front. Disick also accompanied his ex on a vacation to Costa Rica in January, along with the rest of the Kardashian fam. He even Instagrammed a vacation pic of Kardashian and their son on a helicopter, with the caption "Mom". The two seemed so peaceful that rumors had started that the couple might be on-again. That is, until Monday, when Disick was spotted swimming in Miami with model J. Lynne. The incident seemed like it would cause major drama, but according to a new report Kardashian has no cares to give, because, apparently, she and Disick weren't actually back together.
Kardashian and Disick have been broken up since 2015, and despite the occasional bout of rumors, reportedly haven't been together since then. According to a report from E! News, the were never looking to get back together. "They were never 'back on,'" the insider explained. "They don't even live together." ET also reports from a source that Kardashian is enjoying the single life, and isn't bothered by her ex's dating. The source told ET, "Kourtney is happy being single, and Scott still hopes he has a chance to get her back one day — but the chances of that happening are pretty slim."
It certainly doesn't seem like Kardashian is worrying about the past, as she is still posting breezy pics with friends and fam from Costa Rica. On Tuesday, she Instagrammed a poolside photo, and judging by the huge smiles, there is little else on her mind besides vacation and relaxing.
Before Disick took off for Miami, Kardashian shared plenty of moments from the vacation via Snapchat. One snap featured her niece, North West, with Disick and was captioned "Uncle Scott", so there doesn't seem to be any bad blood there. Other shots showed the Kardashians hiking with the kids or getting in a good workout. Kardashian has posted about things like her vacation essentials, and doesn't seem poised to publicly comment on Disick's potential new lady anytime soon.
Most of Kardashian's tweets and Instagrams from the week indicate a healthy and replenishing vacation, and nothing else. Unless pomegranate juice has recently become controversial, no major drama to be found here.
In the meantime, everyone is scrambling to find out more about J. Lynne, the model Disick was spotted with on Monday. Her full name is Jessica Harris, and she might just be a casual acquaintance Disick met poolside. However, in the photos posted of Disick and his mystery lady by the Daily Mail, the two do seem awfully cozy.
Anyway, it seems like even if Disick and Kardashian aren't rekindling their relationship anytime soon, he will continue to be close with the K fam. In a recent interview with the Kyle and Jackie O Show, Kris Jenner described their familial relationship. "I think he's had a bit of a challenging time," Jenner said. "He's one of my kids, what can I say?"
Well, hm. This all has turned out to be a surprisingly uneventful chapter in the Kardashian saga. Does this drama-free exchange mean that Disick and Kardashian are serious about moving on from their past for good? Hard to say, but it looks like Kardashian is definitely shrugging this one off.