Scott Disick & A Mystery Lady Go For A Swim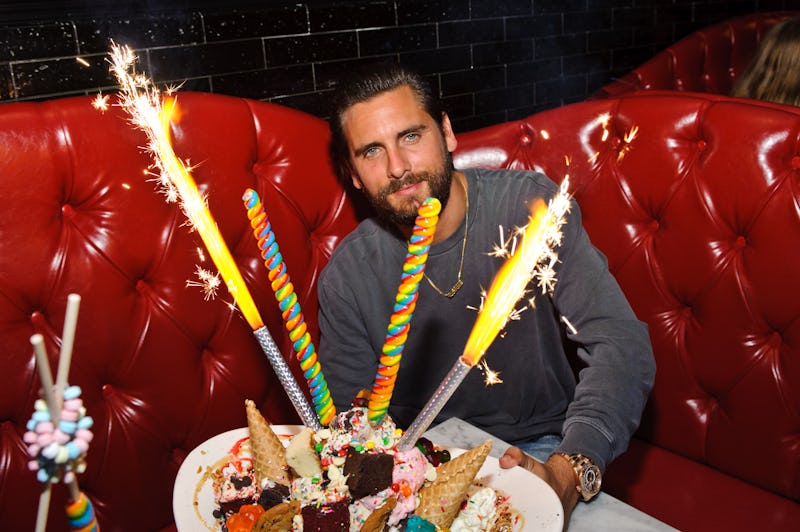 Timothy Hiatt/Getty Images Entertainment/Getty Images
File this under: Kardashian kanoodle news. On Tuesday, The Daily Mail shared some pictures of Scott Disick swimming with a mystery woman. Apparently, Kourtney Kardashian's on-again, off-again boyfriend spent his Monday hanging out with and hugging a young lady named Jessica Harris (aka J. Lynne) in Miami. The reality star reportedly followed up the Kardashian family's Costa Rica vacation with a trip to Florida. And during said trip, he apparently hit the pool with J. Lynne.
According to TMZ, J. Lynne is someone "[Disick] casually met and 'hung out' with for the day ... at least that's what she's telling friends." And as far as the Disick and Kardashian situation is concerned, it sounds like there may not be a situation: A source reportedly told E! News' that Kardashian doesn't kare about what happened in Miami. The source also said she and Disick "were never 'back on.'" Oh. Huh. Well, then. Try as I might, I just kan't keep up.
So, who is this ~mystery woman~? As The Daily Mail reported, J. Lynne is a 25-year-old model/actress who lives in Miami. But what else? Here are some of the things I learned while combing through J. Lynne's Twitter account: She will not date someone who does not like sushi. She appreciates haunted houses. She loves Barack Obama. She fights for equality. She cares about climate change. And she watched the 2016 Victoria's Secret Fashion Show.
Anyway, the pool pics are available below.
Another day, another Kardashian khronicle.