Here's Why The Internet Is Convinced Krispy Kreme Is Going Into The Cookie Business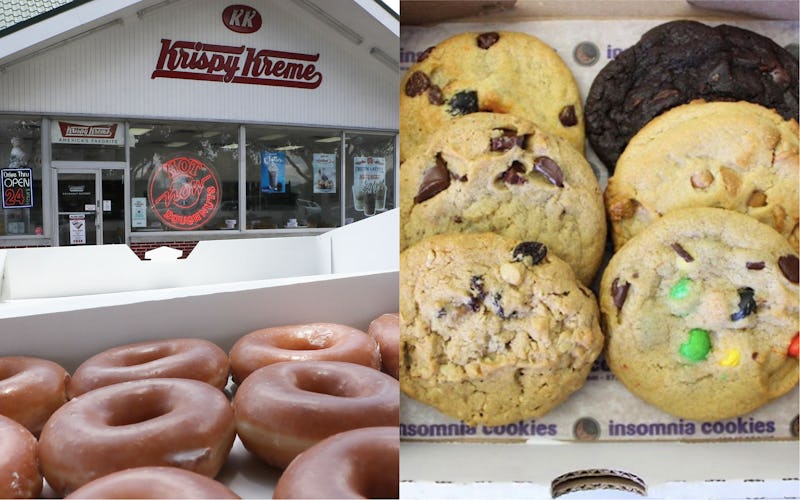 Joe Raedle/Getty Images News/Getty Images; Insomnia Cookies/Instagram
There are few things as glorious in life as a hot-from-the-oven fresh cookie — especially chocolate chip, thank you very much. Except maybe delicious doughnuts. Doughnuts and cookies at the same time, though? That's a major dessert game changer. In a potential move that will delight doughnut and cookie lovers everywhere, CNBC reports that Krispy Kreme might be closing a deal to buy Insomnia Cookies — and who knows? Maybe if the acquisition goes as planned, you might get to snag your favorite double chocolate chunk cookie alongside your beloved glazed cruller at your nearest Krispy Kreme location soon — though according to CNBC, the joining of Krispy Kreme and Insomnia Cookies isn't a sure thing yet.
CNBC reports that Insomnia Cookies was founded in 2003 by Seth Berkowitz, a former student of the University of Pennsylvania, and specializes in fresh cookies delivered to your door until 3 a.m. The 135 Insomnia Cookie locations are typically found on college campuses, and enjoy an avid following of late-night, cookie-loving students. Although acquisition by the mega doughnut chain wouldn't necessarily mean that they'd sell each other's products in different store locations, it is definitely a worthwhile dream to have — the cookie franchise could diversify the Krispy Kreme menu considerably, making fresh cookies available alongside your beloved hot-off-the-conveyor-belt doughnut classics. CNBC further reports that adopting Insomnia Cookies delivery model could also help the doughnut chain expand its customer base.
Insomnia Cookies' menu features such classics as the ever-popular chocolate chip, white chocolate macadamia, and oatmeal raisin, and also boasts totally scrumptious looking ice cream sandwiches — referred to as 'Wiches — cookie cakes, brownies, and selections a la mode (definitely put some ice cream on that cookie, stat), and deluxe cookies like triple chocolate chunk, s'mores, and chocolate peanut butter cup. You can also snag some cold milk as the perfect foil for your snickerdoodle, or some ice cream with toppings and mix-ins like rainbow sprinkles, brownie bites, and cookie dough. And for those who want fresh cookies without budging from the lastest Netflix marathon, or for students up late studying, a variety of delicious delivery packs are available, too.
CNBC further notes that Winston-Salem, North Carolina-based Krispy Kreme is best known for its hot, freshly made doughnuts, and the marriage of the doughnut giant with the up-and-coming cookie chain is pretty much a match made in cookie and doughnut heaven. I mean, can you eat a cookie and a doughnut with some ice cream on top at the same time? And the answer is, of course you can. And if the new partnership pulls through, all your cookie-plus-a-Krispy-Kreme-doughnut dreams will come true in the coming months.
CNBC notes that JAB Holding, the European investment firm that also owns Panera Bread, Peet's Coffee, and Dr. Pepper, acquired Krispy Kreme in 2016, and hopes to seal the deal with Insomnia Cookies soon.
For now, negotiations are reportedly still underway, and aren't a sure thing yet. But with nearly 1,400 locations in 32 countries, Krispy Kreme could majorly up exposure for the campus-driven cookie chain, while revamping its own company-wide delivery system. And the rest of us get one-stop cookies, ice cream, and doughnuts, so win-win-win.