Kristen Bell's PCAs Jumpsuit Is Adorable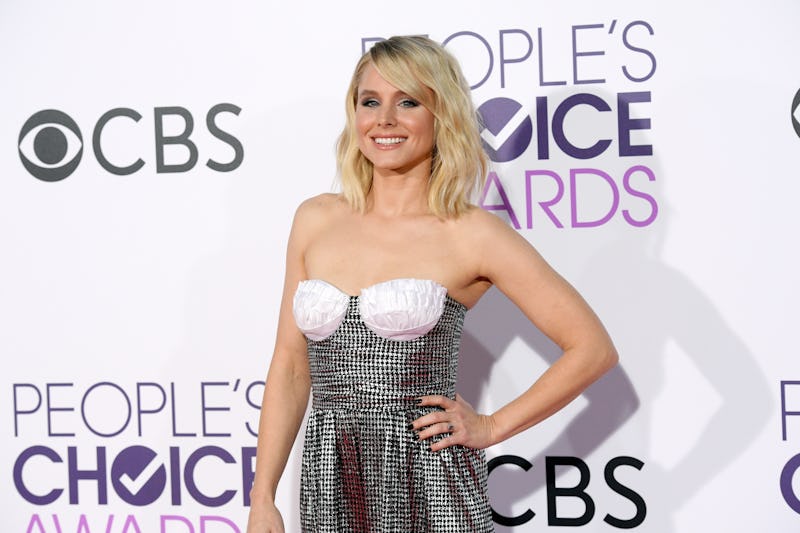 Kevork Djansezian/Getty Images Entertainment/Getty Images
After her gorgeous Golden Globes look, I was extra excited to see Kristen Bell's 2017 People's Choice Awards outfit. The actress is nominated in not one but two categories, for the general Favorite Comedic Movie Actress and for Favorite Actress in a New TV Series for The Good Place, her show on NBC.
Bell and husband Dax Shepard, who I love for their adorable Samsung commercials in addition to their normal acting, are always game for an adorable red carpet appearance, and the 2017 People's Choice Awards were no exception. And after Bell's adorable behind-the-scenes Instagrams and Snapchats from the Golden Globes, I knew that her personal social media platforms were the best place to turn for a dose of reality amidst all the polished looking red carpet photos.
The couple totally came through with their car selfies from before the PCAs. Both Bell and Shepard posted adorable selfies from the backseat of their car on the way to the awards, and judging by what I could see of their outfits, I was excited to see the complete look. Bell topped her jumpsuit off with a kind of unusual jacket as well — a leather one. I for one love the unexpected jacket choice.
You can see a hint of the jacket on Bell's account, but it's more visible in Shepard's version of the picture. So what was the jacket covering up? It was an adorable black and white patterned jumpsuit with white bustier-style accents.
She looks amazing, right? Her blonde lob is the perfect length to work with that strapless neckline.
How great are the wide legs of her jumpsuit? It looks like so much fun to wear.
I'm loving her subtle waves, fluttery lashes and gorgeous pink blush as well. And when you zoom in on the jumpsuit, you can see it has a cool houndstooth pattern. Totally fun and perfect for the PCAs.
The Twitter-famous star of course made an appearance on the official People's Choice Awards Twitter account. And what was she doing? Dancing, of course.
It's no surprise the actress is a fan favorite for her fun personality — we'll see if that wins her a People's Choice Award, though.