Josh Gad's Story About Kristen Bell Saving His Family Will Melt 'Frozen' Fans' Hearts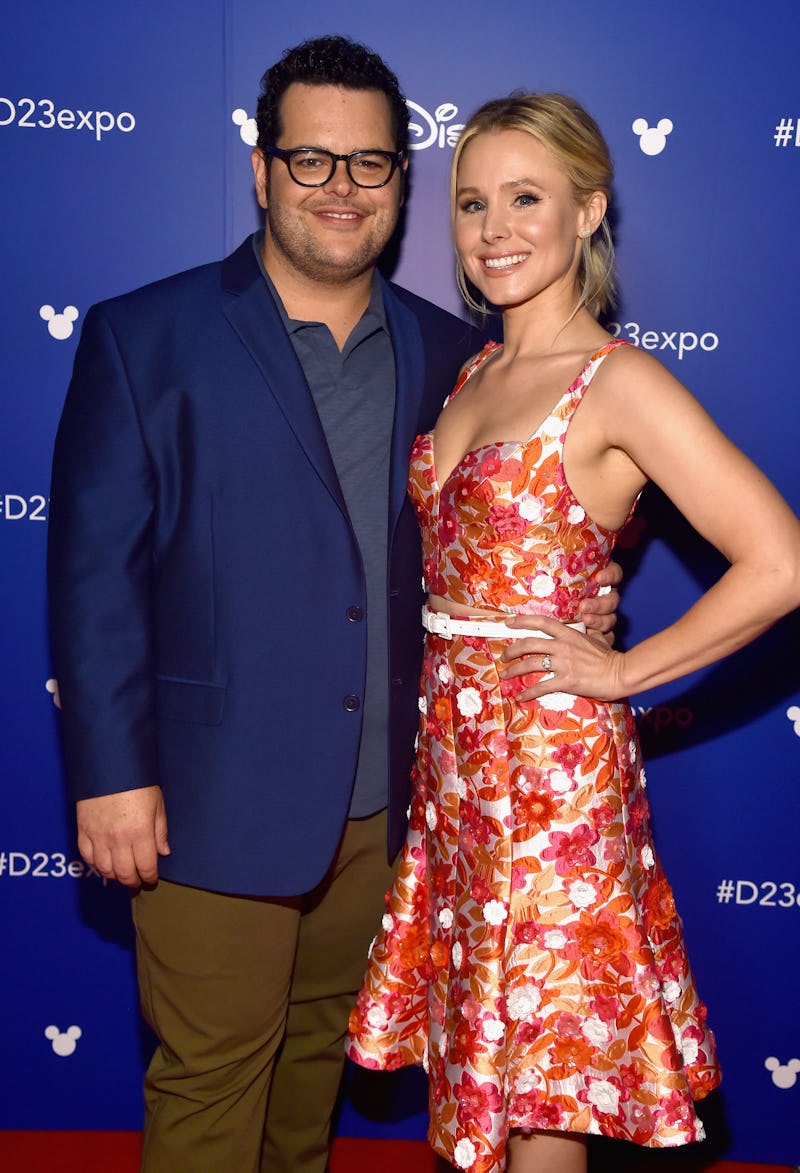 Alberto E. Rodriguez/Getty Images Entertainment/Getty Images
Here's a story that will give you all the feels, especially if you're a Disney fan. The ever-amazing and insanely talented Kristen Bell "literally" saved Josh Gad's family from Hurricane Irma. Gad shared the aww-inducing story about his Frozen co-star on Instagram, explaining how she offered help to his extended family, so that they could stay safe during the storm. It's the type of act that really shows what a kind and selfless person Bell must be.
Along with a photo of Bell and his parents, Gad wrote on Instagram,
"So @kristenanniebell literally saved my parents and my entire family tonight from #hurricaneirma. When they were stranded in Florida, she got them a hotel room at her hotel in Orlando and saved them, my brothers, my sister-in-law and niece and nephew."
As a recap, Hurricane Irma was downgraded to a Category 3 hurricane early on Saturday, Sept. 9, but is expected to regain strength as it approaches Florida, according to USA Today. The National Hurricane Center predicts that the 300-mile wide storm could push up to 12 feet of sea water ashore, and that its 130 MPH winds have the potential to cause "catastrophic damage."
With millions evacuating the state, there have been traffic jams (on Sept. 7, traffic reportedly stretched 780 miles) and gas shortages that have left many Floridians unable to leave. But with so many forced to stay, a number of hurricane shelters are already at max capacity, according to the Miami Herald. Given the severity of the situation, it sounds like Bell really saved the day for Gad's parents. Gad also wrote, "They don't make them like this girl. Thank you Kristin. You are truly an angel sent from above."
Judging from her own Insta behavior, it appears that Bell has been in Florida recently shooting her upcoming film, Like Father. According to The Hollywood Reporter, the Netflix comedy also stars Kelsey Grammer and is being directed by Lauren Miller Rogen.
Additionally, Bell shared a photo to Instagram on Friday, showing the emergency supplies she'd gotten in preparation for the hurricane. "Last run to the store for #irma hurricane holdover prep while bracing down in Orlando," she captioned the photo, "we didn't have the option to leave so here we are. Just doing our best and trying to stay positive but cautious, and trying to help those who need help prepping." During what's likely a scary and anxiety-inducing situation, it's somewhat inspiring to see Bell staying positive and using her platform to uplift others.
In her caption, Bell also shared about what she witnessed while out stocking up on supplies. She wrote,
"Every person I passed today was assisting someone else - #neighborshelpingneighbors - it was beautiful to see. Sad that a hurricane has to bring out the best in everyone - but happy that the community will be holding hands through this."
When times are tough, it really encourages communities to come together. As Bell said, it's sad that it takes a catastrophic storm to bring out the best in people, but it's heartwarming to think about neighbors putting aside their differences to help each other.
Seriously though, stories like this one are refreshing to read. It really does make your heart melt thinking about Bell doing such a selfless thing for the family members of a friend, who were stranded and unable to find somewhere to stay.
And if you want to help Floridians who were unable to evacuate, the best thing to do is to make a donation to a non-profit group supporting those affected by Hurricane Irma — whether that means sending supplies or money. Remember, every bit helps.