Kristin Cavallari & Jay Cutler's Kids Won't Be On 'Very Cavallari' For A Very Relatable Reason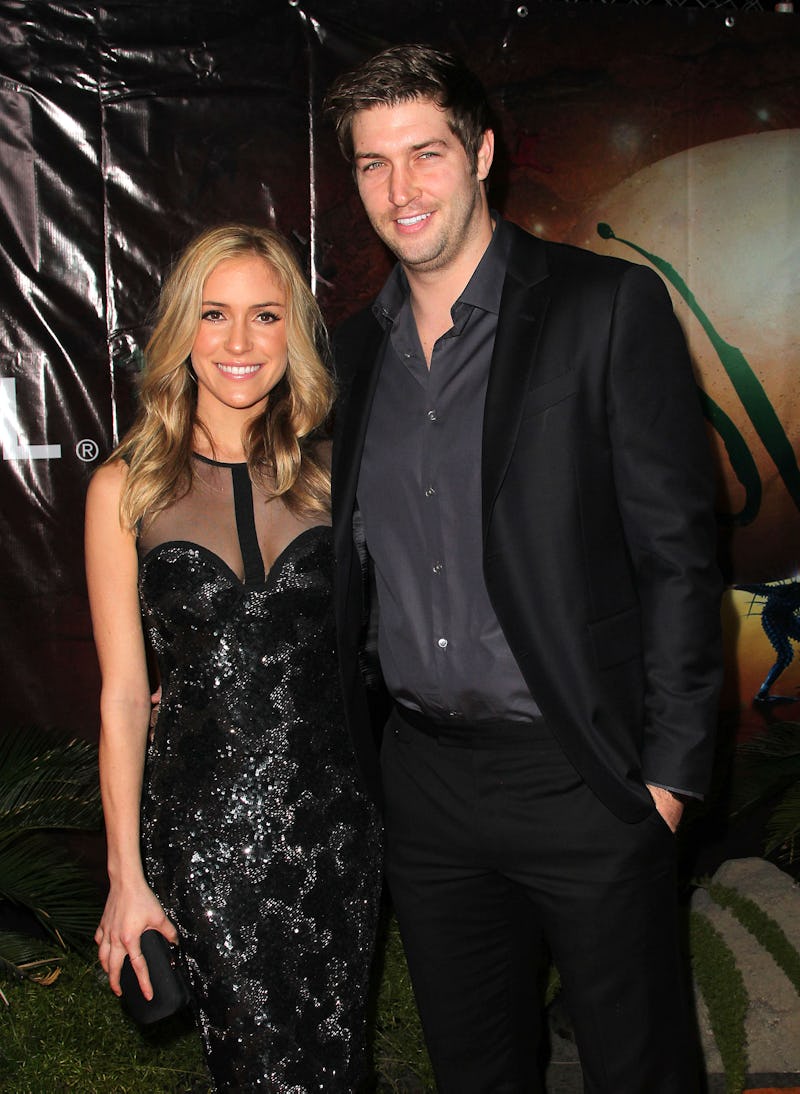 Frederick M. Brown/Getty Images Entertainment/Getty Images
Kristin Cavallari is no stranger to being on television. Since starring in reality staples Laguna Beach and The Hills, Kristin knows how to make good TV. So does her husband, Jay Cutler, albeit in a different way — Jay is a former NFL quarterback who is used to people watching him on TV and screaming at him from their armchairs. Both know what fame is like, so for their new show, Very Cavallari, they're taking a very specific approach to how their family is portrayed. And that means that Very Cavallari won't show Kristin and Jay's children.
According to PEOPLE, Kristin and Jay have three children — Saylor James, who is 2; Jaxon Wyatt, who is 4; and Camden Jack, who is about to be 6. From the beginning of Very Cavallari, it's clear that Kristin and a newly retired Jay (he's all done with football!) dote on their children, taking them to school and generally being very involved in their children's lives. But we won't see it, because, as Kristin says in the Very Cavallari premiere, her kids are too young to agree to be on television, and so she wants them to be able to have a say. She wants her kids to well, be able to be kids.
Of their decision, Kristin told PEOPLE, "They're not on the show at all. They would be around — we were filming sometimes and they would watch the monitors," she said. "They loved being around it, but we want to keep our kids kids. I don't even really show them on social media. If I post them, it's of the back of their head or something to that degree. When they're old enough to decide if they want a camera following them around that's one thing, but they're 5, 3, and 2, and I want to keep them that way."
Honestly, this makes perfect sense. Kristin may not have started on Laguna Beach while she was in elementary school, but she was young enough — just in high school. Jay has been playing football for a long time. The fame that comes with being on television can really change a person, and it's nice that Kristin and Jay don't want to have their kids deal with that at such young ages.
According to Kristin, even Jay needed to be convinced to do Very Cavallari. "It took a lot of convincing on my part," she told PEOPLE. "Yes, he's used to [public attention]. But at the end of the day, he really just wanted to play football and didn't want to deal with the media aspect of it all. So it was an adjustment for him to have cameras in the home… Season 1 was great — a few little hiccups here and there, but overall everyone's happy. Still married!"
It's good to know that for Kristin, the drama is more about the people that live and work around her than her being on a show like The Hills and being smack-dab in the center of the action. "It's the grown-up Kristin, and you get to see me as a boss now, and sort of handing the torch over to everybody else to allow to take the lead on the drama front," Kristin told Us Weekly. "It's not necessarily about my personal drama, which is very nice."
And, happily for their little family, Kristin and Jay are not letting that drama interfere with their children's lives. It's a great thing for them to allow their children to run and play and go to school without being on some E! television show, and perhaps, if and when the kids say that they want to be on TV, Kristin and Jay will oblige.