Kristin Cavallari Is Just As Obsessed With Cheese As You Are — And This One Is Her Fave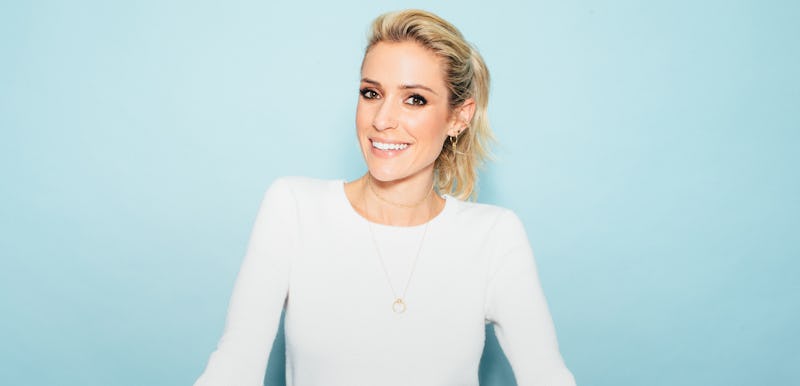 She may have gotten her start as a lead cast member of MTV reality shows Laguna Beach and The Hills, but these days Kristin Cavallari is up to something a little different. Her new cookbook True Roots comes packed with different recipes that don't contain many common allergens like gluten and refined sugar, but are still full of flavor. The one ingredient she says she will never give up? Sheep's milk Manchego cheese.
I just love cheese. I always have. It's one thing that I could never give up — but I have a sensitivity to cow's milk that just makes me feel awful when I eat it. Sheep's milk, though, is easier on the digestive system, and this Manchego cheese is very mild and similar to Parmesan, so it's a great alternative that's really easy to incorporate in so many different ways into so many different dishes. It's very versatile.
I have known about my sensitivity for eight years or so, but I only discovered this cheese three or four years ago. I went to my grocery store and I just tried every single kind of sheep and goat milk cheese that they had to offer, and this was my favorite.
It Helps Me Reconnect With My True Roots
My dad is full Italian, and I grew up with my full Italian grandma always making pizza fritte, the best apple pie on the planet, and just pasta and meatballs — all that really great stuff. Her apple pie recipe is actually in my cookbook. I cooked a lot with both of my parents while I was growing up, too, and my mom made dinner for us every night. I used to bake with my mom a lot too, and I always knew that that was the kind of mom that I wanted to be: I wanted to be the mom that cooked dinner for her children every night.
So, once I had kids, I really just started cooking all the time, and I wanted to cook healthy, but I wanted it to be good, too. I think there's a stigma that eating healthy means being boring and like you're missing out on stuff. I eat everything: I eat pasta, I eat cheese, I eat sweets. And that's why I like the sheep's milk Manchego cheese — it's so versatile, but also healthy.
I'm by no means a chef, I'm just a mom who likes to cook healthy. So, I worked with a private chef, Mike Kubiesa, in Chicago, who helped me with the cookbook — he gave me a ton of private lessons and I truly credit all of my food knowledge to him. He is a food genius, and he really helped me a lot, and helped elevate me as a cook.
It's Versatile
One of my favorite ways to use the sheep's milk Manchego cheese is in the cookbook: It's a cashew ricotta cheese that I make a veal braciole with. While I don't use milk or cream — I make the ricotta with cashews — I do put some of this cheese in there, and it gives it a great flavor. It's so good, I could eat the ricotta with a spoon.
My kids and husband also enjoy it — they eat the same way I do, so the cookbook is a very good representation of how my family eats on a daily basis. I frequently make most of the recipes for them, and they love it.
As told to Associate Lifestyle Editor Tanya Ghahremani.
Bustle's series 'My Favorite Meal' asks famous chefs, bloggers, and tastemakers to describe the one dish, recipe, or ingredient they can't live without — and why.