Krystal Is Already Trying On Gowns, So This 'BiP' Wedding Is Really Happening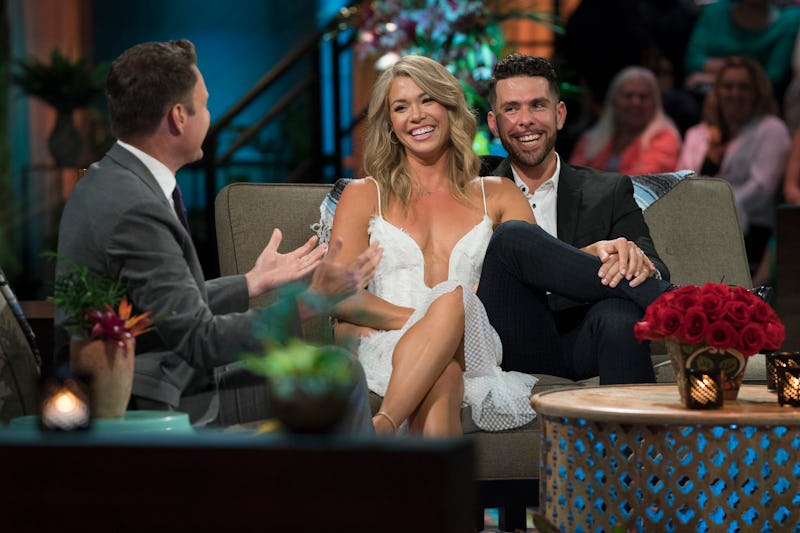 ABC/Paul Hebert
Not every romance formed in Paradise can survive the real world — but Chris Randone and Krystal Nielson's definitely looks like it can. The couple got engaged on the Bachelor in Paradise finale, and their relationship is still going strong. And based on their recent social media activity, these two seem more than ready to tie the knot. Krystal is trying on wedding dresses already, so it looks like she and Chris are moving right along with their wedding planning.
In the picture she posted on Instagram, Krystal is trying on a gown with sheer sleeves and a veil. It's safe to guess this isn't the wedding dress she ended up choosing — she'll probably keep that a surprise until the big day. But the photo proves that she and Chris are serious about tying the knot, and they're moving forward with wedding planning. In Krystal's Instagram caption, she wrote, "Save the date...," but she didn't reveal an actual date for when their wedding will take place.
But when Krystal and Chris' wedding does happen, fans might have a very close look at the ceremony. In an interview with E! News earlier this week, the couple said that they're "not opposed" to having their wedding televised. Could they return to Paradise for a picture-perfect TV wedding? Never say never in Bachelor Nation.
Whenever the wedding does happen, though, Chris and Krystal are ready. He told E! News,
"We're 100 percent getting married, and we're 100 percent making it happen. think as time goes on, we will have a better understanding of when and where that can take place."
For right now, it looks like Krystal and Chris are getting used to life together outside Paradise. On the reunion special during the season 5 finale, Krystal and Chris said that they're moving in together. And based on their Instagram posts, it looks like they might be planning to live together in San Diego, where Krystal has lived since before she went on The Bachelor.
The two have frequently posted photos and video from various California destinations, and Chris seems to be right at home with Krystal and her two dogs. Chris' hometown is Orlando, according to his Bachelorette profile. But based on how happy he and Krystal seem to be, he probably wouldn't mind a cross-country move to be closer to his fiancée.
Fans might not have been sure how long Chris and Krystal's relationship would last after their time on Paradise. During the first few episodes of the show, Krystal went on a date with Kenny, while Chris originally pursued Tia. But for the majority of the show, Chris and Krystal were a couple, and it looks like their love has only deepened since Paradise ended.
The two of them have become arguably the strongest couple to come out of Bachelor in Paradise season 5. Honestly, they might be one of the strongest Bachelor Nation couples, ever. Whenever Chris and Krystal decide to get married, their wedding ceremony is sure to be a beautiful, love-filled affair.