Krystal Broke Down On Her 'Bachelor' Date With Arie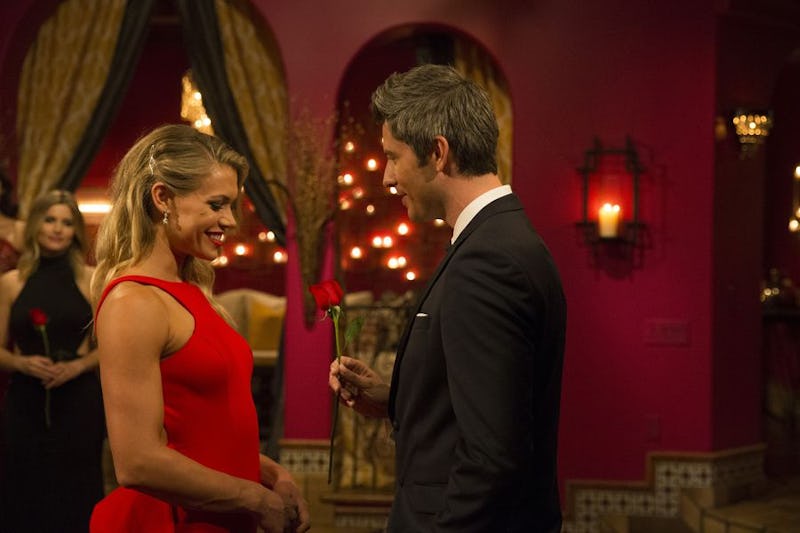 Paul Hebert/ABC
The first date might be a little early to bring someone home, but The Bachelor works in warp speed. And on Monday night's episode, Arie and Krystal's one-on-one date on The Bachelor (editors: Amy Barbour, Debra Light) brought them to his home state of Arizona — via private plane, of course — giving her the chance to meet his family for the first time. And just in case that's not serious enough, they ended the night talking about some pretty heavy stuff, too.
Anyone who hasn't had the chance to find love on a reality dating show (read: most of us) might find it hard to comprehend this timeline, especially on a show like this one, where engagement in a matter of weeks is the end goal. But even by Bachelor standards, the first one-on-one is very early for this kind of thing. After jetting off to where Arie grew up, he showed her around all the key places from his childhood, like where he went to school and where he had his first kiss. They had the chance to watch tons of really embarrassing home videos of tiny Arie, too, who was (unsurprisingly) really cute.
But more important than any of these activities? The fact that they eventually landed at Arie's family house, where his parents and brother were waiting. And to Krystal's credit, she kept her composure pretty well in a situation where a lot of people would have locked up.
Of course, like anyone, Krystal hesitated a bit before she went inside. But fortunately, everything went well. Arie's parents were sweet to Krystal, his brother shared his adoration for his older brother. Everyone sat on the couch, sipping lemonade and singing Arie's praises in a very typical proud parent way. It was, all in all, a really nice date, if not a bit weird... especially since Becca just walked away from her one-on-one date with a brand new pair of Louboutins, which does seem like a lot more fun.
But then, once Arie and Krystal sat down to dinner, the heat was on. Arie went right in there, asking the tough questions, and that led to Krystal telling him about her brother, who is homeless. She led into that part of her life in last week's premiere, but this time, she really got into the details, sharing that although she heard from him and was able to see him, he wasn't ready to accept her help yet. This has led to her trying to help the homeless population any way she can.
It was obviously difficult for her to talk about it, but it did seem to bring her and Arie a bit closer, especially after spending the whole day together with his family. It's hard to imagine what it must be like, knowing a member of your family is living on the street and you're unable to help him. But Krystal obviously has a good heart, and that's something Arie seemed to admire about her.
On one hand, it's really good that they got this stuff out of the way early — the meeting of the parents, that is. If Krystal does indeed make it to the end, she's at least already broken the ice with his family, which could give her a major leg up. Even though things got emotional, having deep, private conversations when you're on The Bachelor can be pretty rare, especially that early, so it's good that they got to have that time together.
But later on, Krystal and Arie definitely need to have the chance to have a date that carries a little less weight and is a little more fun. Maybe she'd also like some clothes from Rachel Zoe?