Kumail Nanjiani Congratulated Emily V. Gordon On Her Oscar Nom With A Sweet New Nickname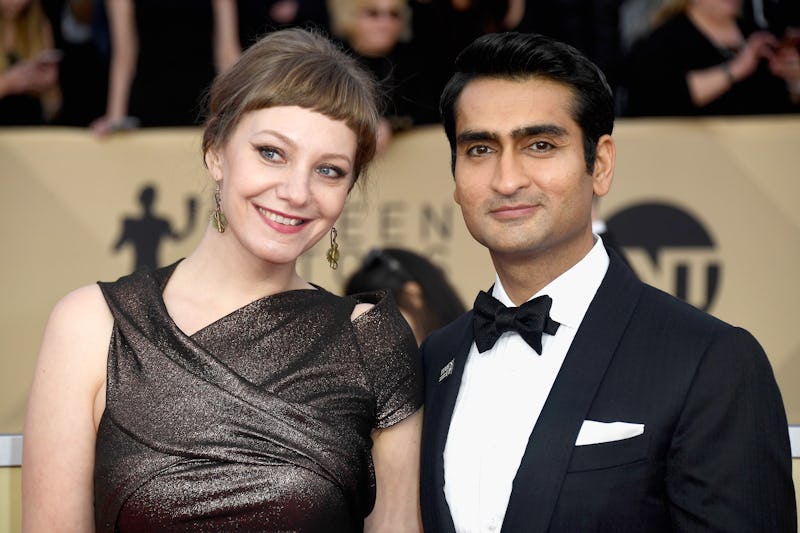 Frazer Harrison/Getty Images Entertainment/Getty Images
What's the first thing you would do if you and your partner got an Oscar nomination for a screenplay the two of you co-wrote together? Instead of popping champagne or passing out from excitement, Kumail Nanjiani congratulated Emily V. Gordon on Twitter, and now Gordon's got a cute, new nickname.
Shortly after it was announced that Nanjiani and Gordon — the husband and wife writing duo behind The Big Sick — had scored an Oscar nod for Best Original Screenplay, Nanjiani took to Twitter with a message for Gordon: "Hey Academy Award nominee @emilyvgordon," he wrote. "[How's] it going?"
Super casual. No big deal. Not a single exclamation point in sight. To be fair, Nanjiani is pretty well-known for his deadpan comedic tone, but if there were ever a time to go all caps-lock crazy on social media, this would have been that time.
Regardless, Gordon's got a new nickname now — "Academy Award nominee" — and I can totally imagine Nanjiani introducing her as such from now until forever, kind of like you might do with a doctor: "Have you met my wife, Academy Award nominee, Emily V. Gordon?" Or, "You can address that invitation to: Academy Award Nominee Emily V. Gordon and Husband." It's pretty endearing that Nanjiani's first move was to credit his wife, though, instead of basking in the spotlight himself.
Nanjiani and Gordon co-wrote The Big Sick together after Nanjiani appeared on a podcast alongside director Judd Apatow, who eventually co-produced the film. The story was loosely based on Nanjiani and Gordon's relationship before they got married in 2007, during which time Gordon (played by Zoe Kazan in the movie) fell into a coma. "This sounds like a movie moment, but it really, really isn't," Nanjiani — who plays himself in the film — told Fresh Air's Terry Gross. "I remember seeing her laying there in the coma for the first time and I remember having the thought, 'If she comes out of this, I'm going to marry her.'"
Nanjiani went on to tell Gross about how revisiting that experience through co-writing the film with Gordon ultimately made the couple closer than ever. "I feel like it really brought us together closer partially because what we were writing about was so personal to us but also because reading someone's writing can be a very intimate experience and reading someone's rough drafts can be a very intimate experience," he said. "And [Gordon's] such a remarkable, wonderful, empathetic writer. I think it just really made me fall in love with her more."
The Big Sick undoubtedly has some tough competition in the Best Original Screenplay category this year, though. The film is nominated alongside Get Out, Lady Bird, The Shape Of Water, andThree Billboards Outside Ebbing, Missouri — all of which received an additional nomination for Best Picture, making The Big Sick the only film in the Best Original Screenplay category that didn't.
Over the last few months, several outlets (including Variety, Forbes, and EW) predicted that The Big Sick could get a Best Picture nomination this year. But, despite getting snubbed in that particular category, Nanjiani and Gordon are still getting a ton of love from fans on Twitter for their Best Original Screenplay nod. Nanjiani's sweet tweet to Gordon already has over 30,000 likes at the time of publication, hundreds of comments, and even garnered a "congratulations" from actor Elijah Wood.
Gordon has remained relatively quiet in the wake of the nomination announcement and Nanjiani's recent tweet, simply opting to retweet the Academy's official Best Original Screenplay post. Super casual. No big deal. Not a single exclamation point in sight. Gordon and Nanjiani were clearly made for each other. Congrats, you guys!