Kushner Says The Trump Campaign Was Too Incompetent To Collude With Russia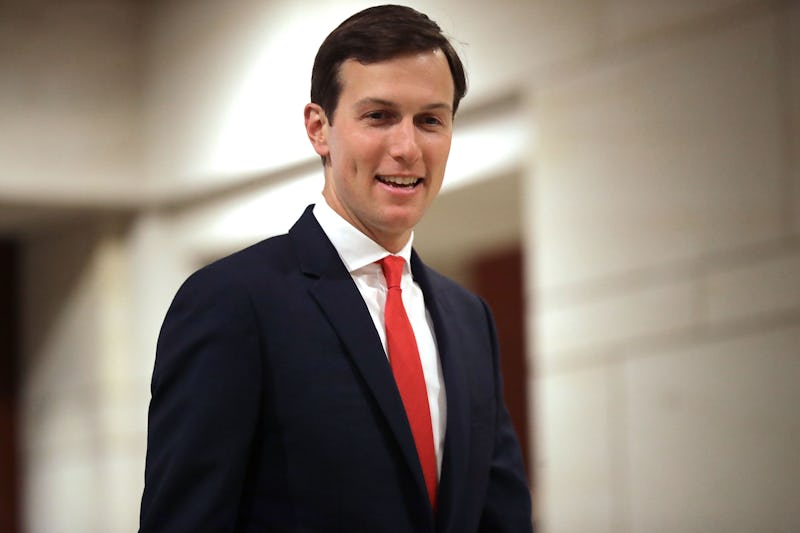 Chip Somodevilla/Getty Images News/Getty Images
In a meeting with congressional interns on Monday, White House advisor and President Donald Trump's son-in-law Jared Kushner told interns Trump's team was too disorganized to collude with Russia during the election, according to notes from the off-record remarks provided to Foreign Policy on Monday. During a chat at the Capital Visitor Center, Kushner reportedly delivered the self-own to the gaggle of interns that there wasn't enough communication throughout their offices for collusion:
They thought we colluded, but we couldn't even collude with our local offices.
While the comment seems like a flip attempt at self-deprecation, it comes a week after he stated "all of my actions were proper" throughout the campaign and insisted that he didn't know anyone else who worked for Trump who would have colluded with Russia during the election. And, added, regarding the investigation run by special council Robert Mueller that "we don't know where it's going."
Kushner also reportedly discussed and down-played the controversy over how he didn't disclose several contacts with foreign officials on his security clearance forms, couching it as a micro-lesson on the bureaucratic part of politics.
"There are 127 pages on the SF-86, but there are only two you guys have to worry about," he said. "Make sure you guys keep track of where you travel."
Two months ago, the initial reports of his failure to disclose led to questions over Kushner's security clearance, particularly from Democrats. At the time, investigators looking into potential collusion were also expected to take interest in meetings that Kushner held with Russian Ambassador Sergey Kislyak and Russian banker Sergey Gorkov during the presidential transition.
Kushner told the interns that he didn't disclose those contacts or track them meticulously because he didn't expect to end up working in politics, echoing a sentiment made during his statement last Monday to congressional committees:
My experience was in business, not politics, and it was not my initial intent to play a large role in my father-in-law's campaign when he decided to run for President. However, as the campaign progressed, I was called on to assist with various tasks and aspects of the campaign, and took on more and more responsibility.
However, as Foreign Policy noted, Kushner had been working on Trump's campaign since early on, giving him plenty of time to consider his role in a major political campaign.
Kushner also reportedly told the group of interns that he was "a lot more comfortable talking to [them] today 'cause there isn't any press."
Prior to the talk, the congressional intern director did say, according to Foreign Policy, that people in attendance weren't allowed to leak contents of the speech as they were off-the-record. However, notes of his statements did eventually get out.