Kyle & Eden Are A Step Closer To Being 'RHOBH' BFF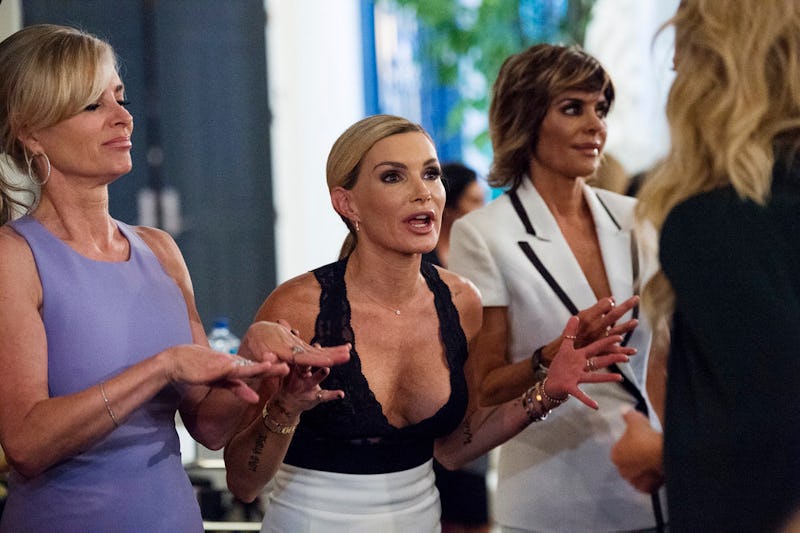 Nicole Weingart/Bravo
It wouldn't be a season of The Real Housewives of Beverly Hills without an episode of the RHOBH ladies doing some charity work, right? On Tuesday, the Housewives volunteered their time for Project Angel Food, where they worked the kitchen service line to prepare meals for people that are too sick to leave their homes. Don't worry, while providing a valuable service, the ladies made sure to inject some of their recent feuds into the experience as an added bonus. Yes, the drama with Eden, Kyle, and Lisa Rinna has carried over to this week and now it seems that it is finally coming to the people that actually need to discuss it.
This whole event was organized by Rinna because she actually received a humanitarian award from the organization, so it is close to her heart. Kyle immediately questioned why Eden showed up, because, if you remember, in Mexico Rinna was furious with her after hearing she had sold her out to the rest of the ladies. Tonight, after being thrown on fish-scooping duty, Kyle was finally transferred to granola-scooping duty right next to Eden. It was nice that these two were finally thrown together because all we have seen is people talking about each of them to the other one. It was about time for them to discuss the issue.
Once they were thrown together, Kyle initiated the discussion by apologizing for coming off as rude to Eden. Raise your hand if you love Kyle. The pair then agreed to get together and discuss their issues, which seems like an adult decision. (Then I remember that I am watching Real Housewives of Beverly Hills and I laugh at that notion.) Luckily, during the awards ceremony, the subject was merely danced around, because, instead of discussing Kim, Kyle actually showed that she cared about Eden by discouraging her new online relationship and acknowledging that Eden seems to need some friendly guidance. Though Kyle said the relationship "sounds like a flippin' disaster," Eden seemed pleased that Kyle cared enough to weigh in at all. Hopefully there's room to grow from there.