Kyle Richards' Vacation Photos Are Out Of Control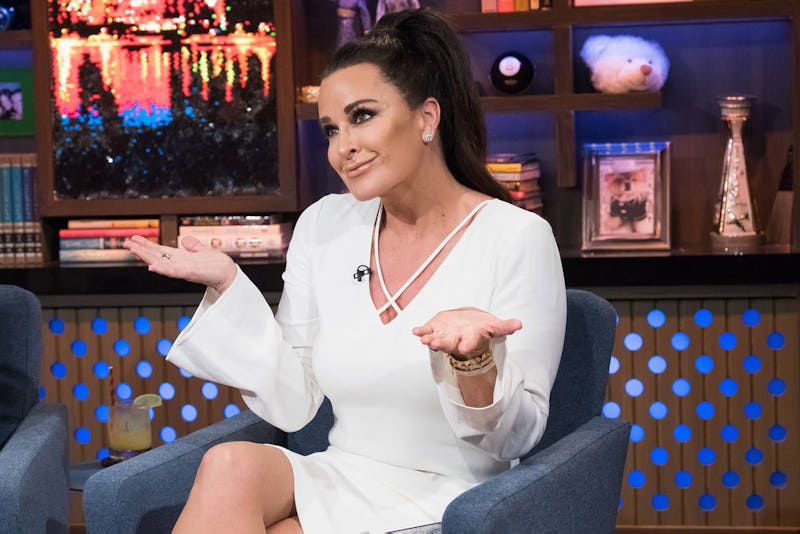 Charles Sykes/Bravo
The Real Housewives of Beverly Hills stars know how to travel. They've showcased their vacationing abilities in each season. Whether they're in Hong Kong, Greece, or Dubai, the women are expert trip planners, which is exactly why you need to look at Kyle Richards' vacation photos. She just went on the most epic trip with her entire family that will make you extremely jealous.
Based on her Instagram, it looks like Kyle and her family, including her husband, Mauricio Umansky, and their daughters, Portia, Alexia, Sophia, and Farrah, headed on a family vacation sometime around July 10. This wasn't your typical getaway, either. Not only were they gone for what appears to be almost two weeks, but they traveled all over the Mediterranean.
They first started out in Croatia. Then, they headed to Mykonos, Greece. Sadly, Erika Jayne did not join Kyle this time around. Of course, they also just had to head over to the South of France, where Kyle spent time with another Bravolebrity and a famous face from Keeping Up With the Kardashians.
Yeah, this isn't your typical vacation. If only we could all be so lucky to bask in luxury — and cash. Now, prepare yourselves for the gorgeous photos you're about to see.
She Is Ready For Croatia
It looks like she's on a beautiful yacht, but too bad it's not Sirocco from Below Deck Mediterranean Season 2.
Time To Explore Dubrovnick
Croatia looks like a blast, doesn't it?
Strike A Pose
This is how most vacay pics look.
Just A Little Family Fun
They really are the cutest.
Hold Up, Time To Model
Can you say gorgeous?
There Are No Words
Who else wants to go to Croatia?
Hugs Are A Must
Their sisterly love is adorable.
Next Stop, Mykonos
Just look at that backdrop.
The Water Is So Blue
It looks so warm.
Beachin' It
Living the glam life.
More Sisterly Love
Too sweet.
They're Feeling Yellow
This is deserving of a frame.
Bye, Mykonos
Definitely bittersweet.
Oh, Hey, Kris Jenner
Nothing like running into your BFF in the South of France.
Wedding Time
The family attended Million Dollar Listing Los Angeles star David Parnes' wedding at the Villa Ephrussi de Rothschild in Saint-Jean-Cap-Ferrat near Nice, France. He also works for The Agency, Mauricio's real estate business.
Portia's Living The Life
Raise your hand if you want to be her.
Taking The Plunge
That looks both terrifying and thrilling.
Perfection
Yet another successful family vacation in the books.
So, Kyle, what's it going to take to join your next family trip?