The Sirocco Is The Priciest 'Below Deck' Yacht Yet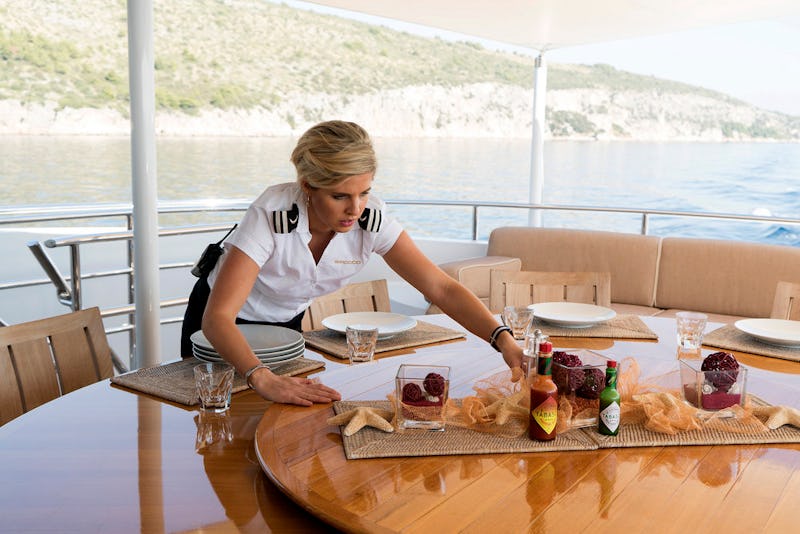 Virginia Sherwood/Bravo
Part of the wonder of watching Below Deck: Mediterranean is witnessing what it might actually be like to set sail to Monaco or Mykonos on a luxury yacht. While watching Below Deck: Mediterranean only costs a cable subscription, the cost of a yacht rental is far more and the cost of actually owning a yacht is astronomical. Anyone who watches Season 2 of this Bravo reality show and wants to purchase the Sirocco for themselves better have a hefty wallet and consider the cost of the Sirocco yacht.
While the Sirocco can be chartered for anywhere from $192,000 to $213,500 according to Yacht Charter Fleet, anyone hoping to own this fine vessel should be willing to put down a whopping 17 million euros, or approximately $18,525,750, according to The Yacht Company. This whopping asking price not only makes it out of most people's price range, it also defines it as the Below Deck franchise's most expensive yacht yet.
There's no shortage of luxury and financial comfort on the Below Deck franchise, but featuring the Sirocco shows that the series is getting access to bigger and better yachts as its popularity grows. When it comes to value, Sirocco splashes past Below Deck yachts out of the water.
Yacht Charter Fleet reports that the yachts from the first three seasons of Below Deck — the Honor, the Ohana, and the Eros — were sold for $15 million, $10.9 million, and $17.9 million respectively. The Honor and the Ohana were each sold after their seasons of Below Deck, while the Eros was actually sold just before the show started filming. The franchise' most recent yacht, Below Deck Season 4's Valor, was priced at just around $12 million.
While the main franchise only has one yacht that comes close to the price of the Sirocco, the Season 1 Below Deck: Mediterranean ship, Ionian Princess, was listed at $17,750,000 as of November 2015 by Worth Avenue Yachts. Perhaps the Mediterranean is home to more luxurious megayachts designed to explore the European countryside, or it could be that once Below Deck managed to feature two yachts that went on to sell for eight-figure amounts, yacht owners started allowing their more expensive and luxurious yachts to be featured on the show for a possible sales bump.
It may seem like a great deal of money, but that massive $18,525,750 price tag attached to the Sirocco isn't without reason. Yacht Charter Fleet lists among the Sirocco's features, six rooms for 12 guests including a master suite, an on-deck jacuzzi, an on-boat gym, air conditioning, wifi, and a multi-media center outfitted with a movie theater along with a nine-person staff to help clean and cook for you while on the Yacht. All of that spread out over 154.20 feet would make for a luxurious building, but now imagine putting all of that on a boat and the $18.5 million price starts to sound a whole lot more reasonable (for millionaires that is). The Sirocco certainly isn't cheap by any metrics, but there's no denying that you get what you pay for.