This Video Of Kylie Jenner Teaching Stormi To Say "Kylie Cosmetics" Is Too Freakin' Cute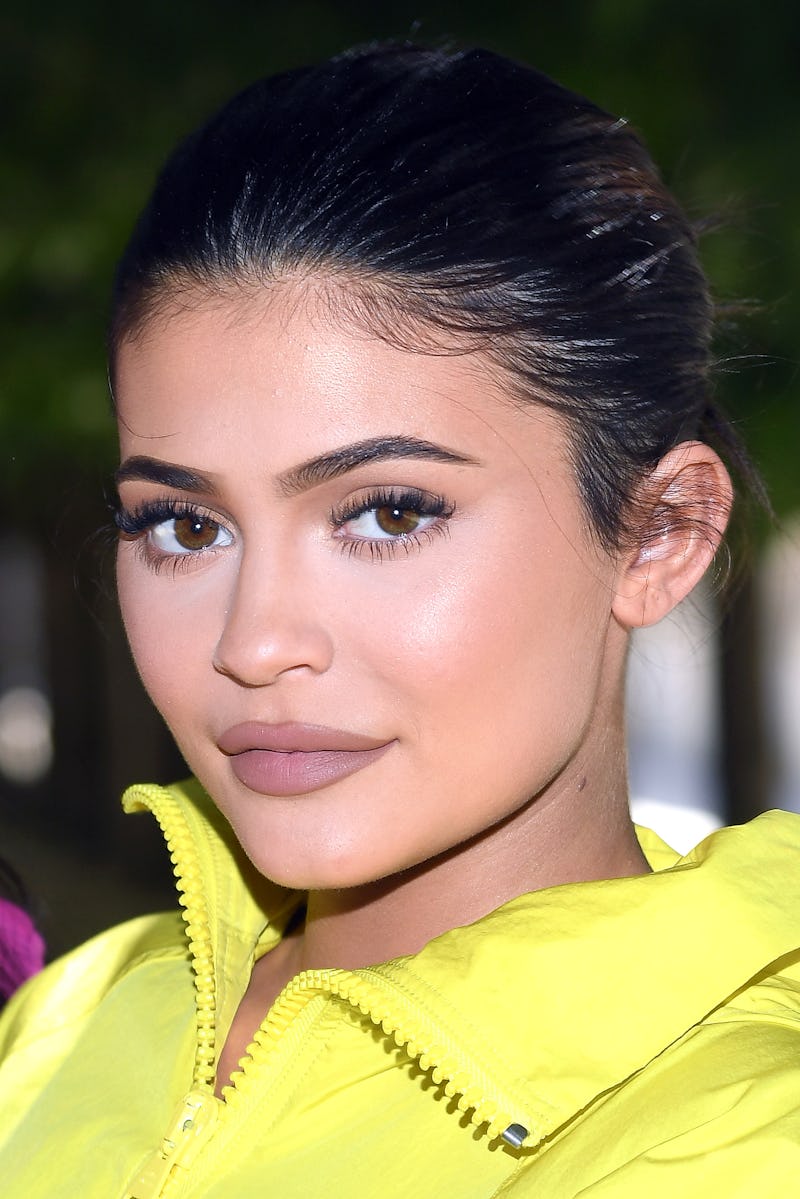 Pascal Le Segretain/Getty Images Entertainment/Getty Images
With a beauty mogul mother, chances are high that Stormi Webster will develop a love for all things involving lip kits and eyeshadow palettes. Especially considering that the 21-year-old entrepreneur is already introducing her daughter to the world of cosmetics, where Kylie Jenner tried to teach Stormi to say "Kylie Cosmetics" during a sweet moment in her bedroom.
The self-made billionaire was hanging out with her daughter at home, where Stormi was sitting on a bed and playing with one of her mom's eyeshadow palettes. Seeing how Stormi is less than a year old, her vocabulary isn't exactly robust, but Jenner was determined to add the words "Kylie Cosmetics" to her daughter's growing word repertoire.
"Trying to teach her some new words," Jenner captioned the Instagram video, and opened up the clip by slowly saying her business's name, followed by Stormi adorably trying to copy the long words with her baby talk. Mom tried one more time, only to have Stormi triumphantly answer back, "Da da!"
Jenner was taken aback hearing Travis Scott mentioned in a conversation that was supposed to be all about mom, and answered back "Da da?!" to which Stormi giggled. It's too cute of a clip, and shows a sweet inside moment from the Jenner-Webster family.
As predicted, followers poured into the comments to discuss how cute Stormi was. "She is just beyond adorable. There just aren't words to describe this level of cuteness😍," one fan posted underneath the video. "Omg she is trying so hard. Adorable!" another commented.
"How about mama sheesh," another fan wrote, having Jenner's back.
Jenner has been posting about her family more and more on Instagram, where just yesterday, on Nov. 18, she posted a mirror selfie with her daughter, writing, "Ugh i love you so much. a living breathing piece of my heart."
It's also not completely out of left field that Jenner is teaching the phrase "Kylie Cosmetics" to her daughter, especially considering how a whole makeup collection is named after her little one. Shortly after giving birth Jenner released the Weather Collection, which consisted of new matte lipsticks, eyeshadow palettes, and liquid glitter eyeshadows.
Jenner unveiled the collection on Instagram stories, and revealed how she worked on the new line all through her pregnancy. "I worked on this pretty much my entire pregnancy," Jenner said in the video. "Right after we chose Stormi's name, her name really inspired me. I spent a lot of time on this collection and put a lot of detail into it."
The packaging brought out the stormy weather theme, where the products were covered with lightning stamps and cloud patterns on bright yellow and silver boxes. The lipstick bullets had lightning bolts carved into them as well, and the eyeshadow hues were dark, electric, and brooding.
The product names also fleshed out the storm theme, where the highlighting powder was called "Lightning Bolt," the shimmer pastel palette was called "Calm Before the Storm," and the dark themed eyeshadow palette was called "Eye of the Storm."
Stormi is already part of her mom's beauty empire — now all she needs to learn is how to pronounce the name!