People Want To Cancel The Super Bowl To Celebrate Kylie's Baby News Instead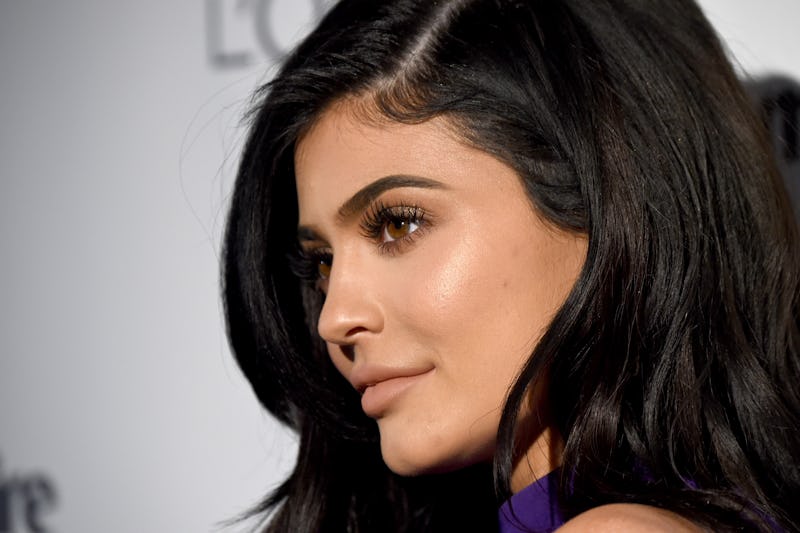 Frazer Harrison/Getty Images Entertainment/Getty Images
A lot of people woke up Sunday morning thinking the biggest news of the day would be the New England Patriots facing off against the Philadelphia Eagles in the 52nd Super Bowl, but they were sorely mistaken. After months of radio silence on social media, Kylie Jenner dropped a video and a statement around 3:30 p.m. on Sunday, announcing that she'd given birth to a baby girl on Feb. 1. Now a lot of people are like, "Super Bowl, who?" Memes & tweets about Kylie's baby vs. the Super Bowl are taking over Twitter as a result. Here are some of the best ones.
While there is likely some overlap between football fans and Kardashian fans, it's hard to tell which group is more excited today. Within minutes of Jenner's announcement, she was out-trending the Super Bowl on Twitter. She went from laying low to literally blowing up the internet. And now none of us will ever be the same. Well, at least until Khloé gives birth.
Some people are canceling their Super Bowl plans, others are just redecorating to turn their viewing party into an impromptu birthday party for Jenner's newborn. Whether you're obsessed with the Kardashians or the Eagles or both, there's no way to avoid the news about Jenner giving birth. Honestly, this announcement has basically had a nine-month tailgate leading up to it anyway, so it's about time.
Sorry, JT
Justin Timberlake may have thought that Sunday night was about him, but he was wrong.
Nothing Else Matters RN
Suddenly the Super Bowl, and everything else happening on Sunday, seems way less important.
Change Of Plans
"I have to now last minute change my Super Bowl party theme to a Kylie Jenner birth theme where we watch 'To Our Daughter' forever until we die," someone tweeted. Kylie posted a heartfelt video on YouTube documenting her pregnancy.
Super Bowl Is Cancelled
The fashion site Man Repeller officially declared the Super Bowl cancelled in light of Jenner's big news.
Seriously, Is It Still Happening?
The players will be upset when they find out that Jenner really did cancel the Super Bowl.
Step Aside, Please
Jenner made her grand return to the internet in the biggest way possible—by stealing the Super Bowl's thunder.
Pay Attention To Me Now
The NFL had plans for Sunday and Jenner just laughed.
The NFL Is Not Happy
How could Jenner do this to them?
Kylie's Baby Is Out-Trending The Super Bowl
The Kardashians are used to breaking the internet.
More People Care About The Baby
It's hard to tell who was more excited on Sunday: Kardashian fans or football fans.
Did Kris Do This?
A lot of people assume momager Kris Jenner is behind this PR move.
This Level Of Extra Is Impressive
Jenner went all out with this announcement. The timing is just too perfect.
She's Here!
Jenner wanted to make sure her daughter's entrance into the world was a good one, and she succeeded.
Forget the Patriots, Kylie Won
Jenner may not have actually cancelled the Super Bowl, but she definitely won it.
Again, Sorry, Justin
Timeberlake's performance will have to be pretty good to somehow overshadow Jenner's baby news. Sorry, "man of the woods"!
While the Super Bowl is still a pretty big deal — the Eagles are underdogs who've never won the championship title going up against the Patriots, who've won five — a lot of people might not be able to tune into the big game because they're too busy weeping over Jenner's "To Our Daughter" video or fighting off their intense baby fever.
Hopefully Jenner enjoys her Super Bowl Sunday, relaxing with her newborn baby girl while scrolling through Twitter and watching the internet implode.