Khloe Kardashian Confirms Her Due Date With A Casual Tweet — When Does Her First Baby Arrive?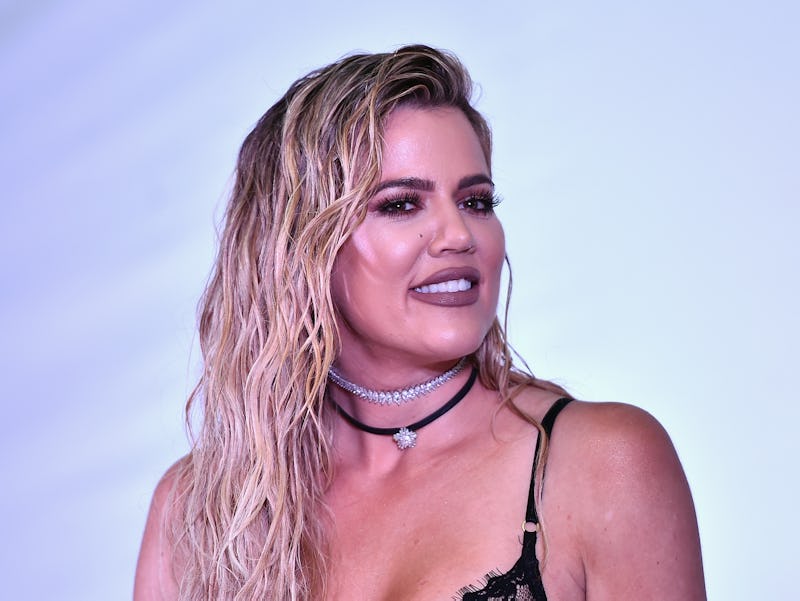 Alberto E. Rodriguez/Getty Images Entertainment/Getty Images
It's a very merry Christmas for the Kardashian clan, and let's all say thanks that we can all celebrate with them on social media. Now that Khloe Kardashian confirmed her pregnancy with NBA basketball player Tristan Thompson, the floodgates have seemingly opened for details on her first child through Instagram, Snapchat and Twitter. First, Khloe confirmed her pregnancy on Instagram on Wednesday, Dec. 20. Then, her sister Kim helped the first time expecting mother show off her baby bump on Snapchat. And now, in a casual tweet, Khloe has revealed her due date to the world.
Khloe celebrated Christmas by sharing a glam photo of herself in a glittery white skintight jumpsuit with a luscious white fur coat on Instagram at the Kardashian Christmas party, holding her baby bump with one hand and even hashtagging the words "baby bump." Then, the excited mom-to-be answered a fan's question on Twitter asking her how many months along she is. Khloe put all questions about her due date to rest, answering in a tweet, "I'll be 6 months next week." She even punctuated her tweet with a pregnant woman emoji. It's all happening!
"Merry Christmas!!" Khloe wrote in her caption. "May you sparkle and shine this festive season, may all of your wishes and dreams come true. I pray that we all may feel this happiness all year round. God bless you! #BabyBump."
If we put on our detective/mathematician hats for a moment, it's easy to figure out when we can all expect the new Kardashian to arrive. If Khloe is six months along now as she says, and the average length of pregnancy is nine months, her baby should arrive by the end of March or early April. It's only been five days since Khloe confirmed her pregnancy and she's already shared so much, so just think of all the amazing photos and updates on social media that have yet to come between now and her due date.
While Khloe's pregnancy was rumored for weeks, it wasn't until she shared an Instagram announcement of her and Thompson's hands hugging her pregnant belly that the rumors were finally confirmed. "My greatest dream realized! We are having a baby!" Khloe wrote in the caption of her announcement photo on Instagram. "I had been waiting and wondering but God had a plan all along. He knew what He was doing. I simply had to trust in Him and be patient. I still at times can't believe that our love created life!"
She then thanked Thompson "for loving me the way that you do," "for treating me like a Queen," "for making me feel beautiful at all stages," and "for making me a MOMMY!!!"
And she even took some time to acknowledge the delay in revealing her happy news to the world. "I know we've been keeping this quiet but we wanted to enjoy this between our family and close friends as long as we could privately," Khloe wrote in the caption. "To enjoy our first precious moments just us. Thank you all for understanding. I am so thankful, excited, nervous, eager, overjoyed and scared all in one! But it's the best bundle of feelings I've ever felt in my life!"
Now if only her younger sister Kylie would take a page out of Khloe's book and reveal her rumored pregnancy. Since the younger sis is missing from all the 2017 Kardashian Christmas card reveals, as Kim took to Instagram on Sunday morning to share the 24th photo of the series showing all the women in the family minus Kylie, many wondered if she would finally confirm the longstanding rumors that she is pregnant as well on Christmas day. What's the hold up, Kylie? Your fans are waiting!