Kylie Jenner Just Surprised Kris With An Early Birthday Gift & Her Reaction Is Priceless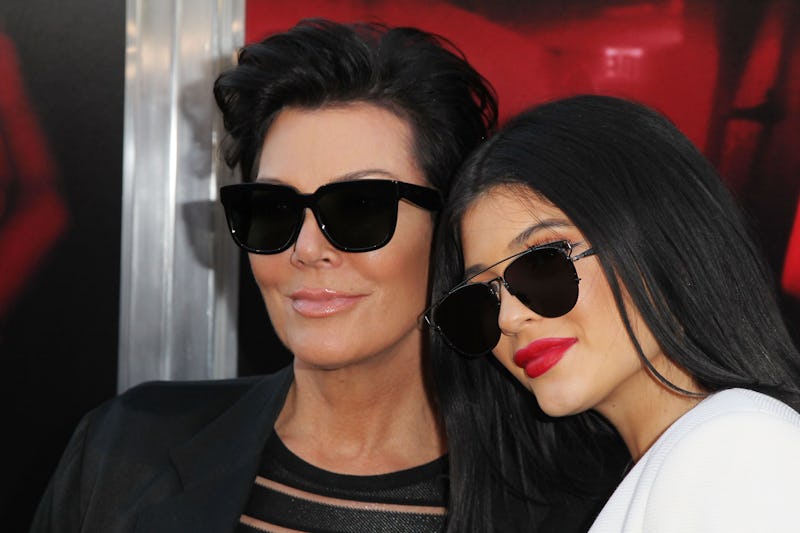 David Buchan/Getty Images Entertainment/Getty Images
Kylie Jenner is definitely in the running for "daughter of the year" after giving her mom one of the most extravagant gifts ever. According to some fun posts on her Instagram on Monday night, Kylie Jenner got Kris Jenner a car as an early birthday present. This wasn't just any old car, though. In true KarJenner luxury fashion, Kylie got the momager a red Ferrari worth $250,000, per People.
The Life of Kylie star decided to give her mom her birthday present a little early (Kris' birthday is on Nov. 5), explaining on her Instagram Story that she was so eager to give her the gift. In a video clip, she said,
"So, I'm on my way to my mom's house to surprise her with her birthday gift. I've had this for the last month and I'm so excited to finally be giving it to her."
Once Kylie got to Kris' house, with the Ferrari in tow, she finally got to reveal the amazing gift, which naturally left the matriarch speechless. She almost couldn't believe the car was really for her, asking Kylie, "Are you kidding me?" before giving her daughter a big hug. Just based on her reaction, it's pretty safe to say that the lip kit mogul really hit it out of the park with her mom's birthday present this year.
Kris was naturally over the moon about her early birthday present, as the photos that Kylie posted to her Instagram Story clearly showcased. Considering the gift, who wouldn't be?
In one of the photos on her Instagram Story, Kylie captioned it with, "488 for the Queen," which is a reference to the specific Ferrari model (and, of course, Queen Kris).
Khloé Kardashian also got in on the fun and commented on Kylie's Instagram post featuring the birthday surprise. Basically, even she knows that her younger sis kind of won the gift game. She wrote, "I guess I'll give her my gift later," along with an emoji with its tongue out. She followed up that comment with another, which simply said, "#SecureTheMomager."
Of course, this isn't the first time that the family has gone above and beyond for Kris' birthday. In 2015, the momager celebrated her 60th birthday in pure style — Great Gatsby style, that is. According to People, the family threw Kris a party to remember in honor of her 60th milestone. A source told the publication, "The girls planned everything from the theme to the music. Kris was completely surprised!" They continued, "She was very emotional. She was so happy."
Not only did the party feature every glamorous thing you could imagine, but it also included a fun surprise from all of the famous sisters. The fam recreated Kris' "I Love My Friends" music video, which featured cameos from — who else? — all of her friends.
The KarJenner crew definitely knows how to celebrate a birthday in style, with some amazing surprises to boot. But Kylie's birthday surprise for Kris this year may very well have taken the cake as the ultimate b-day surprise.