Stormi Wore Louis Vuitton x Supreme To Her First Pumpkin Patch, As One Does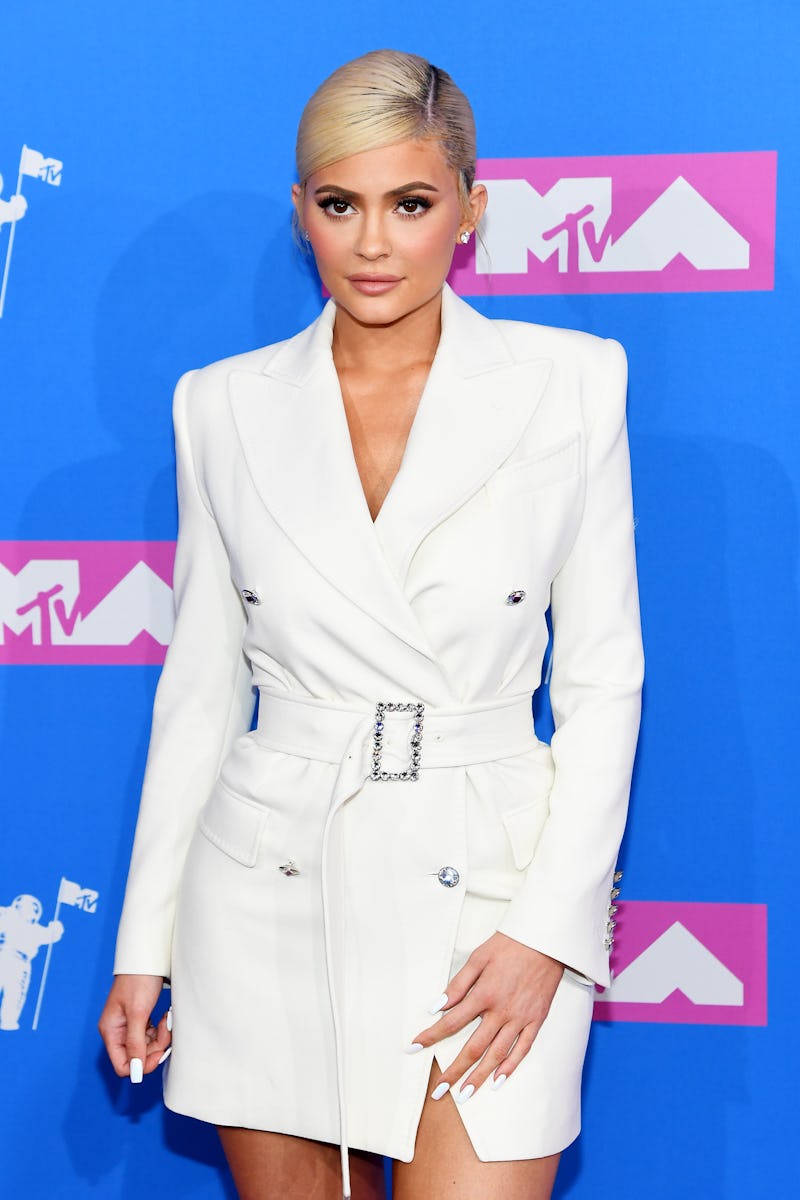 Nicholas Hunt/Getty Images Entertainment/Getty Images
It's hard not to get swept away with fall activities, even if you're a baby. Stormi might be too young to enjoy a pumpkin spice latte, but she can at least check the pumpkin patch off of her fall wishlist. Stormi Webster wore Louis Vuitton x Supreme to her first pumpkin farm, where she proved that picking out a gourd is just as much of a fashion show as it is a classic autumn activity, wearing designer to a farm strewn with haystacks and wagons. The baby Webster was accompanied by her parents, Kylie Jenner and Travis Scott, during the outing, and she proved to have nailed the athleisure look with her high-fashion staples.
Jenner shared snaps of their family outing on Instagram, where she posted a series of photos where Stormi was both sitting in a patch of pumpkins and on a haystack. The little Jenner wore a white Louis Vuitton x Supreme collaboration t-shirt, with their logo emblazoned on the front. The simple tee was paired with a pair of camo print cargo pants, and tied together with a pair of tiny Air Jordan 3 sneakers. She even had a teeny little topknot.
It's no news that Stormi already has an impressive shoe collection at nine months old, where Jenner gave followers a glimpse of her daughter's shoe closet back in July.
In a Snapchat video, Jenner showed fans the rows and rows of shoes that she had amassed for her young daughter, spanning everything from Gucci flats to custom Giuseppe Zanotti sneakers.
Another photo showed what the parents were wearing, and it looked like the family coordinated for their day out together. Scott wore a puffer jacket in the same camo print as his daughter's pants, along with beige cargo pants. Jenner went the athleisure route as her little one did, wearing black and white color block track pants, matched with a black tee that was layered with a pink knit for when the weather got nippy.
You can see closeups of their outfits in the below carousal post.
Of course, this isn't the first time that Jenner coordinated her look with Stormi's. Back when her daughter was just a few months oldshe debuted an all-Fendi look on Instagram, where she wore a Fendi mini bodycon dress, and pushed Stormi in a Fendi-stamped stroller.
The new family seems to be happy and close, where right after posting about the pumpkin patch excursion, Jenner also shared a sparkly tribute for their daughter that she and Scott indulged in. Jenner posted a video of her wrist on Instagram stories, showcasing a tennis bracelet that had letters dangling like diamond charms that spelled out her daughter's name. "Diamonds cut into Stormi," she wrote.
Jenner then showed a closeup of Scott's jewelry, where we see him wearing several layers of diamond necklaces. But if you look closely you will notice that one of the diamond chains spells out "Stormi" in diamonds.
From coordinating family outfits in pumpkin patches to diamond tributes, this new family is as tight knit as they come.