Kylie Showed Off Stormi's Sneaker Collection & It Seriously Looks Like A High-End Baby Foot Locker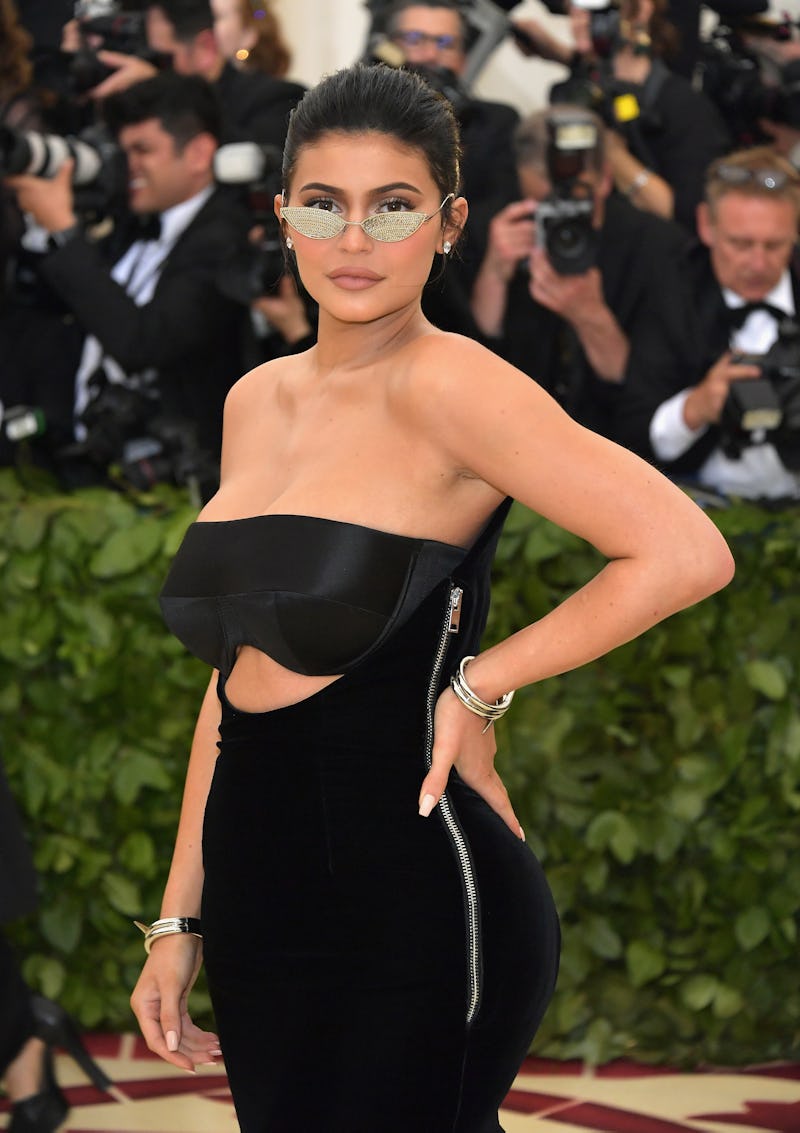 Neilson Barnard/Getty Images Entertainment/Getty Images
It's been a massive year for the Kar-Jenners, and not because of company launches like KKW Beauty or the return of their smash hit reality television show. It's because of babies. Three of the Kar-Jenners now have infants, but it's Kylie Jenner's sneaker collection for Stormi Webster that's making news. Once you see it, you'll definitely understand why. It basically looks like a high-end baby Foot Locker, and it's enough to make you jealous of a baby (as weird as that may be).
In a Snapchat video posted to her account on Thursday, Jenner gives fans a sneek peak at Stormi Webster's shoe closet, because it seems she has a row of shelves just for her shoes and sneakers. In the video, viewers see rows and rows of adorable mini sneakers that will probably make most people's hearts melt until you think about the serious amount of cash that's probably stashed away in those shelves. Then, that melty heart may turn a little green with envy.
According to Jenner, baby Stormi can now fit into her tiny sneakers, so prepare to see the middle-born of the most recent Kar-Jenner kids (she was born after Chicago West but before True Thompson) rocking some seriously stylish kicks in her mom's Instagram photos.
In the video, you can clearly see multiple rows of shoes as well as what looks to be some baby Gucci flats on the top row. Jenner then pulls out a few pair to spot light.
Jenner pulls out an adorable (and so tiny) pair of baby pink sneakers that could honestly be worn by an adult if they were big enough. They're totally stylish.
Jenner then showcased a pair of vintage baby shoes that she explains were given to Stormi by her dad and Jenner's partner, Travis Scott. That's merely a glimpse, though. If you want to see the full video, check out this fan Instagram.
Stormi Webster's burgeoning shoe collection shouldn't really come as a surprise to Jenner's loyal fans. Only a few weeks after Stormi's birth, Jenner took a casual stroll around her neighbor with the baby in tow, but she wasn't in sweats, and Stormi certainly didn't have your average stroller. This mother-daughter duo had matching Fendi, because they're just casual like that.
While you can't see what onesie Stormi has on, it's probably safe to assume it's Fendi. Given that Jenner is rocking a Fendi frock, Fendi fanny pack, and using a Fendi stroller, this infant is probably wearing the same. Not so shocked about that shoe collection now, are you?
Plus, Jenner is not shy about showcasing her own shoe collection. Back in 2016, she took her fans on a tour of her shoe closet via Snapchat, and let's just say that the shoes in that closet could probably pay off your student loans. From heels to sneakers, Jenner has it all in her closet. In fact, she even gave a tour of it on her official app.
While Stormi is obviously not old enough to rock her own pair of Valentino Rock Studs, if she does decide that heels are for her, it's probably a safe bet that Jenner will make a second shoe closet happen for her daughter.
This also isn't the first time that Jenner has shown off Stormi's already impressive closet. Just a few months ago, Jenner took to her social media to thank shoe designer Giuseppe Zanotti for the custom pair of sneakers he made Stormi. Yes, a child of less than a year has custom Guiseppes. Mere mortals shoe closets could never.
Clearly, Jenner and baby Stormi are living the good life, and it's clear that little Webster may just be a mini-Kylie in the making.