Kylie Jenner's New Videos Of Stormi Show She's Already Following In Her Mom's Footsteps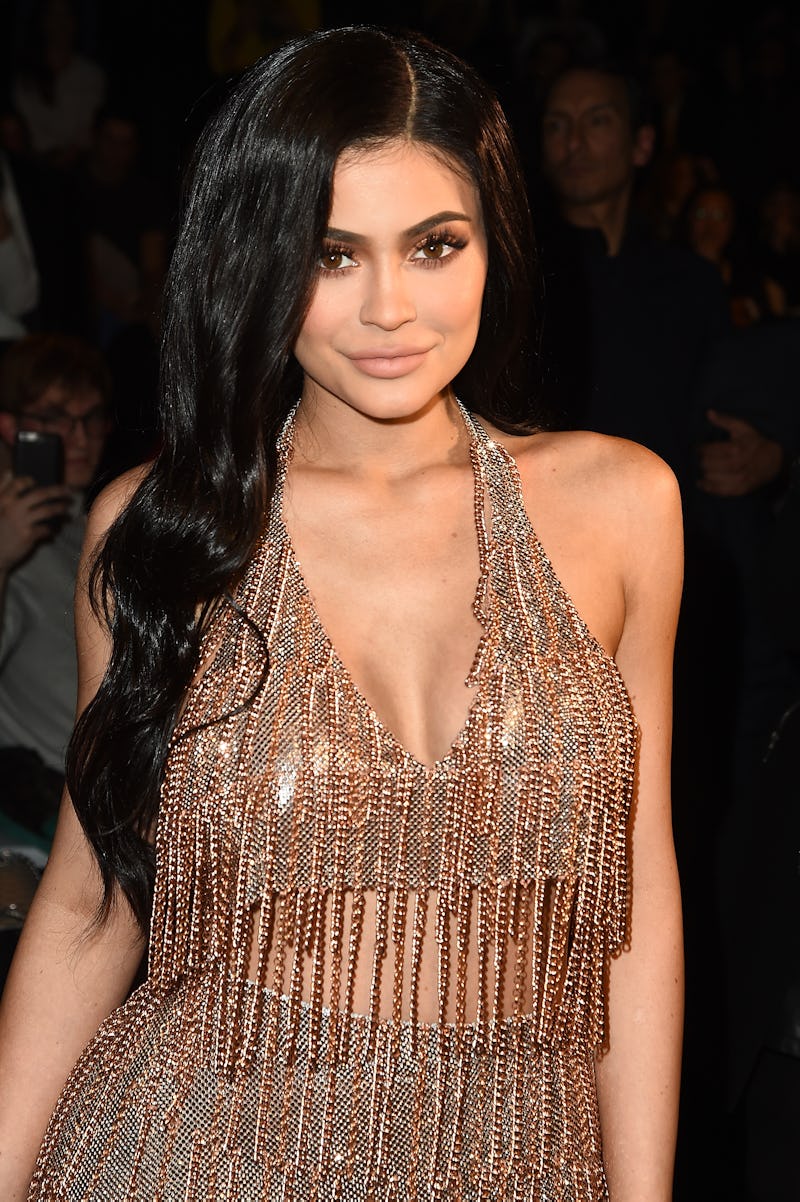 Nicholas Hunt/Getty Images Entertainment/Getty Images
The youngest members of the Kardashian-Jenner family continue to grow up right in front of fans' eyes. Chicago West, True Thompson, and Stormi Webster seriously get bigger each day. Well, just wait until you see Kylie Jenner's latest Instagram videos of Stormi. In no surprise whatsoever, the 6-month-old is beyond adorable and wearing the cutest outfit. However, it's what she's doing in the video that shows how fast she is growing up and how much she's already following in her mom's footsteps.
While visiting her best friend Jordyn Woods on Tuesday, Kylie shared videos of her baby girl on her Instagram Story. The first one shows Kylie holding Stormi in Jordyn's bathroom. She captioned the video, "bugging aunty jordy this morning [heart emoji]." As Kylie films with her phone in one hand, she holds Stormi in the other. Stormi is partially standing on the bathroom counter and bending down reaching for something.
"Girl, you're pushing over her makeup bag," Kylie says to her daughter while laughing. Then, in the second video, Stormi continues to try to reach for the bag. "She wants the makeup bag," Kylie says. "Uh-oh," she declares before showering Stormi with kisses. Jordyn is also heard in the background of the video and comments on Kylie's play-by-play, but it's hard to hear exactly what the model says.
Clearly, Stormi already has a love of makeup, just like her mom. The 21-year-old created Kylie Cosmetics and is, of course, famous for her Kylie Lip Kits. In February, the Keeping Up With the Kardashians star also released a Kylie Cosmetics Weather Collection inspired by Stormi. "I worked on this pretty much my entire pregnancy," she said on her Instagram Story in February, according to Harper's Bazaar. "Right after we chose Stormi's name, her name really inspired me. I spent a lot of time on this collection and put a lot of detail into it."
The reality star has made a huge success out of her cosmetics line. In July, she graced the cover of Forbes magazine, which detailed how she turned her beauty empire into a $900 million fortune in less than three years. In the interview, Kylie also said she wouldn't mind passing her business down to Stormi. She said, "Maybe one day [I'll] pass this on to Stormi, if she's into it."
It's really no surprise Kylie is a huge success, just look at the rest of her family. Plus, Kris Jenner always knew her youngest daughter would make something of herself.
Kris told Us Weekly in August,
"She's an old soul, so Kylie has danced to her own drummer for as long as I can remember. She's always had a very clear vision of where she wants to go and what she's doing and where she wants to be, so that's always been so surprising to me at such a young age. I think now I am so surprised she's going to be 21 because I still feel like she's my little baby, and yet she's like a 35-year-old. So, go figure."
Who knows, maybe Stormi also has an "old soul"? And based on the way Stormi wanted the makeup bag in Kylie's Instagram Story, she just might very well be "into" her mom's business and inherit it one day. Or, you know, Stormi is simply just a baby who likes to grab anything in front of her. Either way, there's always a chance she could follow in her mom's successful footsteps.