Kris Jenner Can't Believe Kylie Is 21, Even Though She Sees Her As An "Old Soul"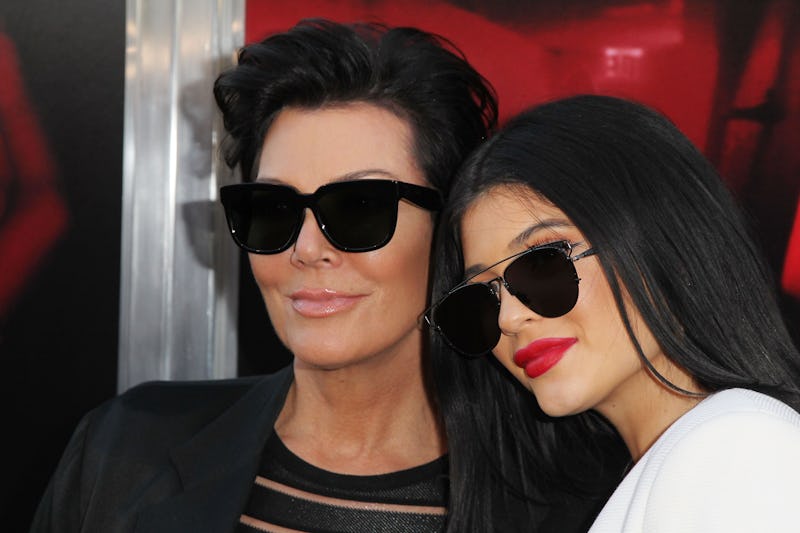 David Buchan/Getty Images Entertainment/Getty Images
In an interview with Us Weekly published on Friday, Aug. 10, Kris Jenner talked about Kylie Jenner turning 21. The reality star's birthday falls on the same day, and it's a big one. In a sense, it's hard to believe Kylie is now 21, because Keeping Up With the Kardashians fans have watched her grow up on the show. She was only 10 when the E! reality series debuted. But on the other hand, Kylie has always seemed older than she is, especially since she is now a mom to Stormi and has a $900 million fortune, according to Forbes.
Kylie as a 21-year-old is even hard for Kris to wrap her mind around, but, then again, the momager has always viewed her youngest child as someone who's always marched to her own beat. Kris told Us Weekly,
"She's an old soul, so Kylie has danced to her own drummer for as long as I can remember. She's always had a very clear vision of where she wants to go and what she's doing and where she wants to be, so that's always been so surprising to me at such a young age. I think now I am so surprised she's going to be 21 because I still feel like she's my little baby, and yet she's like a 35-year-old. So, go figure."
Kris also said how she's always joked that Kylie would get married at a young age. She said, "I used to tease and say, 'Yeah, season, like 20 something, Kylie gets married.' Like, totally joking. I wasn't far away, right?. I mean here she is, 20, almost 21 years old and has a little precious baby girl, so be careful what you put out there in the universe."
Even Kim Kardashian predicted Kylie would be a young mom. In June, E! News reported Kim opened up during a Business of Fashion West panel and said, "We used to say, 'Season 17, Kylie has a baby.' And we all looked at each other and [were] like, 'Oh sh*t! That just happened.'"
Kylie had an epic 21st birthday, of course, and at the party Kris gave the sweetest speech praising her youngest. As seen on Jordyn Woods' Instagram Story (via the Daily Mail), Kris said of Kylie, "I've loved watching her grow up every birthday and give birth to baby Stormi." She added, "We're all celebrating Kylie... 21 years ago almost seems like one minute ago today, I gave birth to Kylie."
Kris also shared a moving message on Instagram for her 21-year-old daughter. Next to a collage of photos, she wrote,
"Happy 21 st birthday to my baby!!!!! You are my youngest, my beautiful angel, and it has been life's greatest reward to watch you grow into an amazing young woman who is the most incredible mom to stormi, business woman, friend and daughter. You are truly a special soul and you have the biggest heart and you are so kind and generous and thoughtful to everyone. I am so proud of you Kylie, and I thank God he chose me to be your mommy. I love you more than you will every [sic] know... mommy xoxo."
Yeah, Kris is just a little bit proud, and as she should be.
In another interview with Us Weekly published on Aug. 1, Kris gushed further about Kylie and the amazing mom she is. "Kylie is more calm than I was," she admitted. "I look at the way she she loves Stormi and takes care of her. She doesn't go anywhere without her."
It's safe to say Kris is overjoyed for Kylie and will forever be proud of the woman she's become.