Kylie Jenner's New Pic Of Stormi Shows She's Living The Dream On Tour With Travis Scott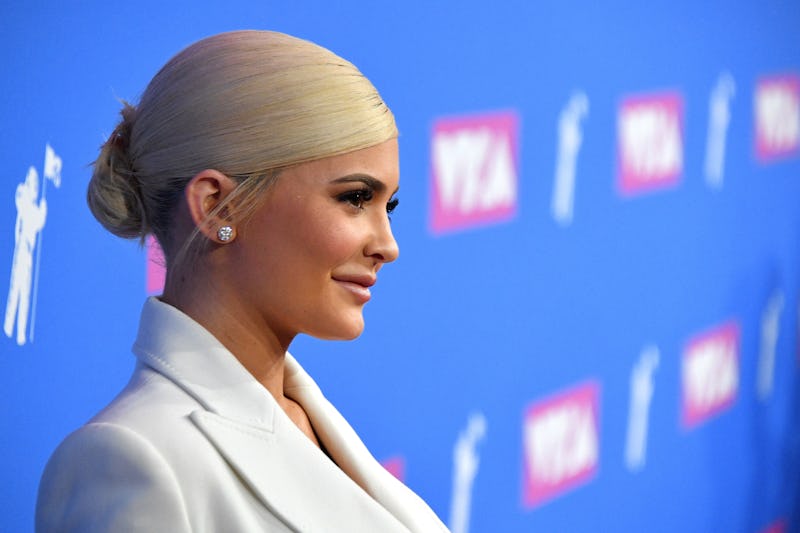 Dia Dipasupil/Getty Images Entertainment/Getty Images
Travis Scott is currently on tour in support of his latest album, Astroworld, and he decided to bring two very special someones along for the ride. On Nov. 27, Scott's girlfriend Kylie Jenner posted a new photo of baby Stormi on her Instagram Story, and it seems like life on the road is actually pretty chill for the trio.
The photo Jenner shared was shot in black and white, and shows little Stormi all snuggled up asleep. She looks super cozy and is surrounded by like, three or four blankets — and a sweet stuffed animal — at the very least. And those cheeks! Just look at those cheeks. Don't they just make you want to reach out and pinch them?
"she comes everywhere with me," Jenner captioned the pic. "the favorite little road dog." The little road dog! *Squeal* Be still, hearts everywhere. The new mom revealed that she and Stormi would be joining Scott out on the road back in August. Since then, Scott has opened up about having a newborn on tour, and let's just say that Stormi is leading a pretty charmed life right now.
While visiting the Children's Healthcare of Atlanta at Egleston hospital on Nov. 13 (as reported by E! News), Scott explained, "I keep Stormi on the road, she's got her own dressing room vibe, got her own bus vibe." Wait a minute. She has her own dressing room? Actually, who cares about that — she has her own bus? That is wildly lavish in a way that's kind of hard to process.
OK, so she probably doesn't have her own bus — not *just* for her, at least. She probably shares a bus with Jenner, and likely her dad, too. After all, those diapers won't change themselves.
Scott told fans at the Children's Hospital that having Stormi and Jenner on the road with him — having them be "a part of what i'm living," the rapper explained — is basically a "life goal" realized. Scott said,
"It's so hard, because I grew up in a different household where I never had a nanny or nothing like that — my parents were never on a tour — so being able to do that and figure it out at 26, it's like hard, but when you're going through it, it's like, 'Oh this is dope.'"
Scott is clearly loving having Jenner and Stormi on tour with him. The rapper even shouted them out while on stage at one of his recent shows. According to Cosmopolitan, he said, "My beautiful wife, she came out, my beautiful daughter, she's here too. I love y'all so much."
Yes, he called Jenner his "wife." Neither of the stars have confirmed that they're married, though, so it's likely just a term of endearment. Still — it's super sweet that he took the time to show some love for his two biggest fans.
Hopefully, Jenner will continue to share more photos of her "little road dog" throughout the remainder of Scott's tour. Perhaps one of Stormi in a teeny-tiny Travis Scott Astroworld merchandise t-shirt? Just a suggestion (but seriously, how cute would that be?).