Kylie Jenner & Travis Scott Engagement Rumors Are Spreading AGAIN, So Let's Investigate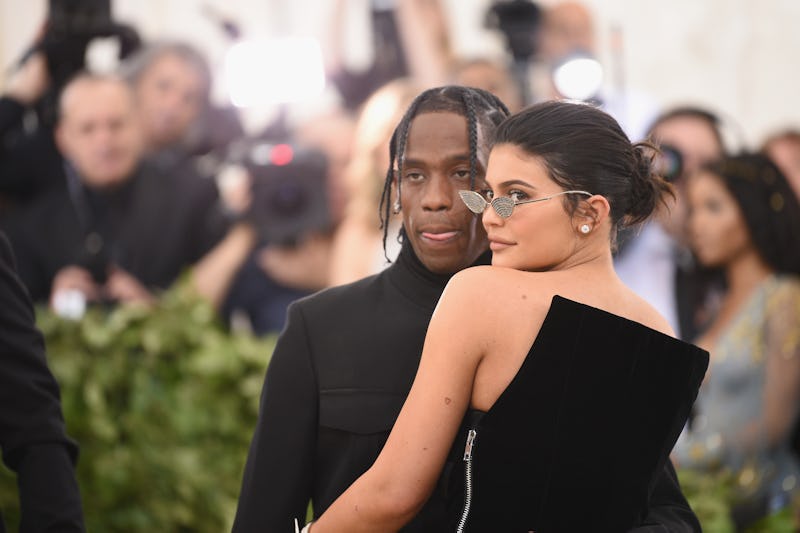 Jason Kempin/Getty Images Entertainment/Getty Images
Here are a few subtle indications of a definitive engagement: Wearing a white dress, using the phrase "I do," walking into a church — and shopping for jewelry in general, apparently. (Please note the sarcasm.) On Aug. 14, Kylie Jenner and Travis Scott engagement rumors spread like wildfire, according to E! News. The site reported the couple visited a jewelry store together. Yep, you read that correctly: They visited a jewelry store together, so people are speculating that they must be engaged, right? Eh, not so fast.
As of right now, Jenner and Scott have not commented or confirmed any engagement rumors. (Bustle reached out to Jenner's agents and Scott's rep for comment, but did not receive an immediate response.) Sure, technically they could be planning to get married at some point, but the fact that they went shopping for jewelry — not even rings specifically, just jewelry in the broadest sense — does not mean they're engaged right now. They haven't even said they're thinking about getting engaged any time soon.
According to a source for E! News, though, Scott was "sweet" with Jenner while they were shopping. "He kept his head down and tried to maintain a low profile but he would hold her hand and just seemed very aware and very attentive," the source claimed. While that's nice to hear, that's also not confirmation of an engagement — the two always seem pretty affectionate in public.
Jumping to conclusions about their relationship status is a little unfair — and it's also not the first time it happened. Back when Jenner released a video announcing Stormi's birth, her ring caught people's eye, yet that wasn't an engagement confirmation either. And this time around, these particular rumors are not based on any concrete facts. It's basically the equivalent of saying something like, "She bought some sneakers, so she must be running a marathon."
So while we don't know whether or not Jenner and Scott are *actually* engaged (they're probably not), there are plenty of things we do know about their relationship. For example, we know that Stormi's parents are very cute together, as evidenced by Instagram photo exhibit A, photo exhibit B, and photo exhibit C.
We also know that Scott lovingly called Jenner "wifey," although that does not mean that she's his wife. To reiterate: "Wifey" is not a synonym for "wife," and him calling her "wifey" does not imply that they're married. Just to clarify.
On Aug. 10, Scott posted a series of photos in honor of Jenner's 21st birthday. "Happy bday wifey I love u mommy u my heart rib toes and all," he captioned the pics. "May GOD continue to bless u and ur spirit. This mark in ur life is the start to more greatness." Aw. Cute.
Another thing: Jenner and Scott are incredibly supportive of each other, and it seems like they're super happy. In a recent interview the couple did with GQ, Jenner told the publication, "I want him to do his own thing. I want him to be him. I don't want it to be Kylie and Trav. If people don't ever see us together, that's okay with me, because we just do our thing."
For the most part, Jenner and Scott tend to keep their private life private. They're not super flashy about their relationship, and they seldom reveal super intimate details. So if and when they do decide to get engaged, they probably won't blow up their own spot by shopping for rings at a jewelry store.