Kylie Jenner Had Such a Low-Key Reaction To Travis Scott's VMAs Performance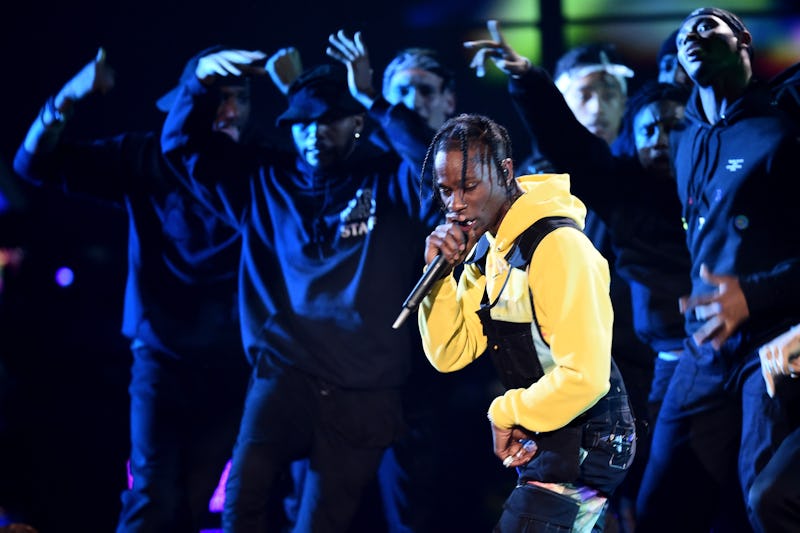 Michael Loccisano/Getty Images Entertainment/Getty Images
There's no doubt that audiences have been looking forward to Travis Scott's performance at the 2018 VMAs since it was announced in early August. What's equally as exciting as watching him take the stage, though, is seeing if his girlfriend Kylie Jenner is in the crowd to support him. Turns out, Kylie was at the VMAs and she was the most chill during her baby daddy's performance.
The 26-year-old rapper performed a medley of his songs from his latest album Astroworld, which was released just a few weeks prior to the VMAs on Aug. 3. He performed songs off the 17-track album (which also includes collaborations with Frank Ocean and The Weeknd).
While chaos ensued on stage, Kylie was in the audience, totally calm, cool, and collected, while watching her man and bopping along. This was a big night for Scott, seeing as how it was his first solo set at the VMAs. (Last year, the rapper surprised the crowd when performing "Butterfly Effect" while Thirty Seconds to Mars played "Walk on Water.") Clearly, they aren't letting the Nicki Minaj drama that unfolded in the last day get the best of either of them as they enjoy their big night out together.
Scott is no stranger to medleys. At the 2018 NBA Awards in June, Scott performed his songs "Watch," "Goosebumps," and "Butterfly Effect." And although Kylie wasn't in the crowd to cheer him on at the NBA event, he had his BFF of the night, James Harden (Khloe Kardashian's ex-boyfriend) who was his biggest fan.
While Kylie walked the VMAs red carpet solo, sporting a simply, sexy shirt dress, she and her beau shared some love inside the show (shown in the video below). They'd occasionally lean over and chat and plant a big one on each other in moments captured by the cameras.
Kylie has many opportunities ahead to cheer her man on as Scott sets out on his Astroworld tour, which starts in the US with Europe with dates to be announced. The tour will kick off in Oakland, California, on Sept. 15. In November, Scott will host his first inaugural Astroworld Festival in Houston, Texas.
Although the new parents have jam-packed schedules, Kylie revealed the two never spent a night apart in a recent interview with Vogue Australia. "We never miss a night with each other. We go back and forth from my Calabasas house and the city home that we actually got together," she told the publication.
They seem to have this whole working-parent thing figured out since they welcomed daughter Stormi in February. "We both experienced this for the first time, so I love learning together and just watching him with her," she said in the interview. "He's so good with her and she's really obsessed with him."
Once Scott is on the road, which Kardashian sis will be on babysitting duty should Kylie need it? And more importantly, will Stormi be rocking a tour shirt on the reg? Fans shall see.