Are Ryan Gosling & Emma Stone The New "It" Couple?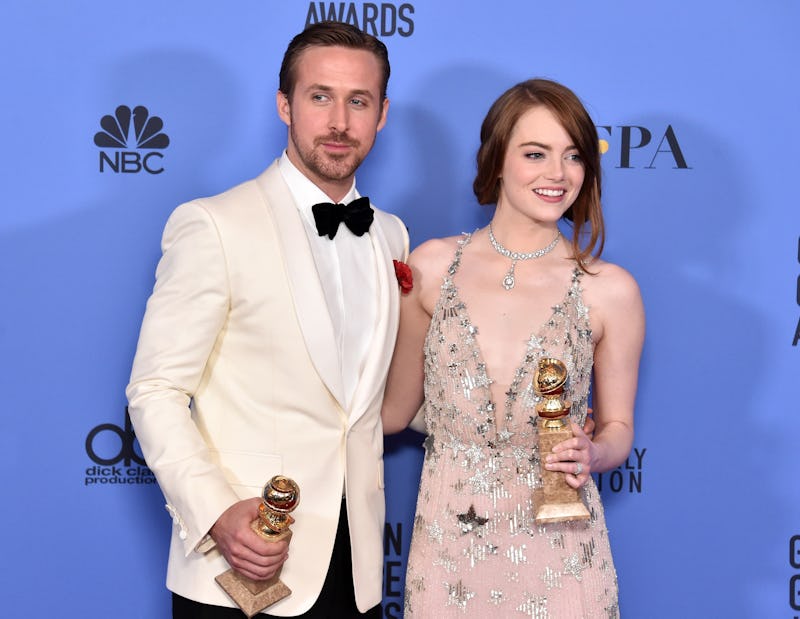 Alberto E. Rodriguez/Getty Images Entertainment/Getty Images
Unsurprisingly, lush Hollywood nostalgia won big at the Academy Award nominations, and I'm not talking about Hail Caesar. This year's biggest hit may not have broken any records, but it does draw comparisons to years past in more ways than one. Specifically, since La La Land tied Titanic for most Oscars nominations, are Ryan Gosling and Emma Stone the new Kate Winslet and Leo DiCaprio?
Sure, in a way. Ryan Gosling is happily married to Eva Mendes with two kids, so there's no chance of me 'shipping him with Emma Stone IRL the way I once wistfully hoped that Kate and Leo would just settle down together.
That said, both pairs of actors have worked with each other multiple times, and enjoyed a friendly partnership on screen and off. Ryan and Emma are almost a reverse Kate and Leo. While the Titanic stars reunited for Revolutionary Road years later, La La Land is a Crazy Stupid Love reunion. All four of them are Oscar nominees at this point.
In order to get that many nominations across so many categories, a film needs critical and popular appeal. Both La La Land and Titanic have that in spades. To be quite honest, neither of these films is my favorite, but I am a known contrarian.
They're definitely not the same film. I'm not sure La La Land is as tragic a romance as Titanic, though it does have kind of a bummer ending. I also think "My Heart Will Go On" is going to endure longer in the popular culture than "City Of Stars."
Of course, the other film in history with fourteen nominations is All About Eve. Which one of those four is the next Bette Davis? I'm guessing Winslet.
We'll have to wait and see if this new on-screen celebrity couple pops in terms of fandom mania. Ryan and Emma went from being gif worthy in Crazy Stupid Love to dancing fools in La La Land, so the chances are pretty high. Chemistry leads to success, and the appeal of La La Land and Titanic definitely proves that.