You Can Buy LaCroix Holiday Ornaments In Your 4 Favorite Flavors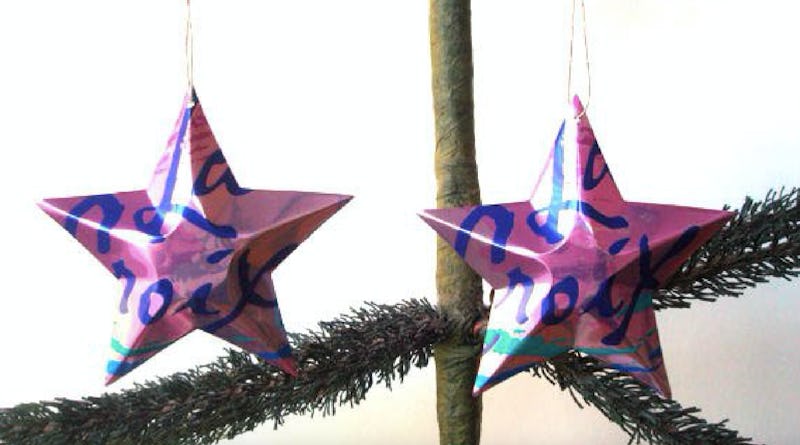 Etsy
Although all the commotion right now is about Halloween, you should really start preparing for the festivities that follow.
One of the perks to growing up is that you have more agency when it comes to holiday decorations. Now, there's nothing wrong with the old Christmas ornaments you made in elementary school that don your parents' tree. But, if you have the opportunity to design your own Christmas tree, save the sentimentality for someone else. Make your Christmas tree a statement. Include all your favorite things. Unsure about where to start? How about these LaCroix Christmas ornaments; they are a festive millennial dream.
The LaCroix Christmas ornaments are the handiwork of one Texas-based artisan who runs an Etsy shop called TexasTieDyeGuy. The trio behind the shop say the ornaments are "created from recycled aluminum cans make one of a kind Christmas ornaments or gift toppers." They further explain, "Before being transformed, the empty cans are thoroughly cleaned and dried — then we recycle them into these one of a kind stars. Each star is die cut with smooth edges and hand shaped one at a time... They are 3 dimensional, with an open back showing the silver interior of the can.Your stars will arrive gift boxed, and each star measures approximately 3 1/4" wide. Great novelty ornament idea for the tea lover in your life. Also make great gift toppers for the unique Christmas gift you'll soon be wrapping ... Because each is hand shaped, the stars you receive may have slight variations from the stars shown."
You can count on TexasTieDyeGuy to keep your ornaments safe, and ship them out promptly. They assure, "Our recycled soda and beer can ornaments are shipped with delivery confirmation, and arrive ready to hang with the attached silver jewelry string. Our stars are made using a process developed and perfected by TexasTieDyeGuy over the past 9 years."
At the time of publishing, ornaments are available in four different LaCroix flavors: Berry, Cran Raspberry, Lemon, and Lime. But there are plenty of other options for what can be transformed into an aluminum can ornament. Classics like Coca Cola and Mountain Dew have been transformed, as have unique fizzy sips like Saranac Ginger Beer, San Pelligrino Pompelmo. Even uncarbonated drinks like High Brew coffee make an appearance.
For an extra buck, TexasTieDyeGuy will also gift wrap any ornaments with either birthday-themed, Christmas-themed, or classic paper.
For something as subtle as minimally-flavored seltzer water, LaCroix's rise to world beverage domination is nothing short of unprecedented. Called "The Drink of Summer" by Refinery29 in 2016, the all-natural sip gained prominence (and a cult following) for its subtle flavor and lack of artificial additives. basically, it appeals to those who want a quality bar mixer and seltzer fans alike. The soft, colorful cans that provoke images like the design of a grandmother's living room have also gained prominence.
Forget eggnog — you know there's only one (non-alcoholic) drink you'll be sipping on as chestnuts roast on an open fire. Commemorate LaCroix with a spot on your tree.