'Lady Bird' Is The Best-Reviewed Movie Of The Year & It's A Bigger Deal Than You Realize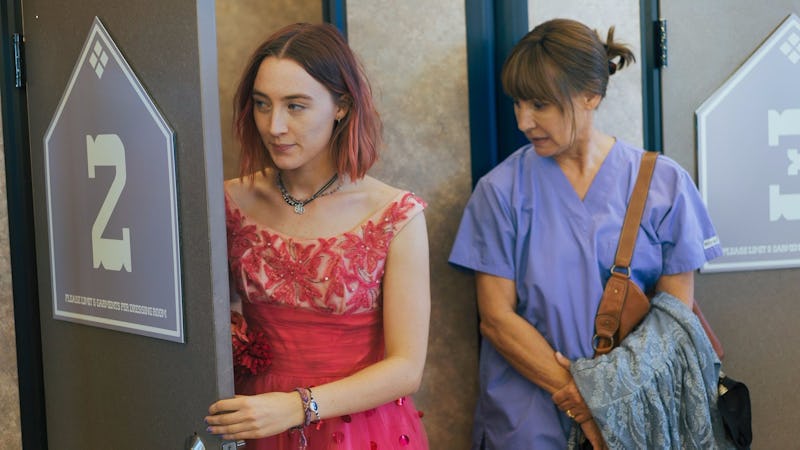 A24
When it was revealed this week that Greta Gerwig's superb Lady Bird had become the best-reviewed movie in Rotten Tomatoes history, I didn't feel excited, or even surprised. What I felt was relieved — that finally, someone understood what I and so many others have known for so long: that movies about teenage girls can be, and often are, excellent. And more than that, they're deserving of attention — not just at the box office, but with critics and at awards shows, too.
For far too long, movies about teenage girls have not been taken nearly as seriously as they should. It doesn't matter that some of the most classic and beloved films of the last few decades have been about adolescent girls, like Heathers, Mean Girls, Easy A, and 10 Things I Hate About You. While those movies earned strong reviews and large followings, they hardly ever received awards attention, with Juno being the only notable exception. Movies about teenage boys haven't done much better, but a few have managed to make the cut, like Boyhood (five Oscar nods and a win in 2015) and Whiplash (about a college student, but still — three Oscar nods and two nominations in 2015).
So many excellent female-led teen films, like The Edge of Seventeen, The Spectacular Now, and The Fault in Our Stars, have been shut out from major awards, despite garnering extensive acclaim. It's a frustrating truth of how Hollywood works — the Oscars, Golden Globes, and more just don't see movies about teenage girls as worthy contenders. The reasons why don't make any sense — if it's a great movie, why does it matter that a film's setting is high school, not the office, or that the protagonist is 16, not 60? But time and time again, the Oscars, Globes, and other prestigious awards shows have carved out little to no space for teen-led films, regardless of their quality.
And Lady Bird easily could've gone the same route as all of its predecessors. The film, which follows its titular heroine (Ronan) through her turbulent senior year of high school, understands what it's like to be a teenage girl better than any movie in recent memory, hitting on every confusing, exciting, and frustrating emotion pitch-perfectly. It has witty, pop culture-heavy dialogue, winning performances by its cast, and a soundtrack impossible not to sing along with. As a result, it has all the makings of a great-but-overlooked teen movie.
But already, Lady Bird is breaking the mold. For one thing, it's earning more attention from smaller awards shows than most of its teen movie predecessors; so far this year, the film has picked up four Independent Spirit Awards nominations and a Best Actress win for Ronan at the Gotham Awards, among other honors. Although there's no guarantee that these nods will lead to further, more prestigious ones, it's a definite possibility, as many other movies that've won prizes at both these shows have indeed gone on to achieve Oscar, Globes, and SAG nominations.
Then there's that Rotten Tomatoes record. It's hard to imagine any movie earning that distinction — best-reviewed movie on the site ever, with a 100 percent score after 170 reviews — and not picking up some major awards gold. The two films that come closest to Lady Bird's record, Toy Story 3 and Man on Wire, are both Oscar winners, as are plenty of others further down the list, ranging from Moonlight to Up to 12 Years a Slave. Lady Bird, it seems, has a serious shot at making it into the awards show big leagues, and it couldn't be more deserved.
It's just a shame it's taken this long for a movie about a teenage girl to make the cut. Yes, Lady Bird is fantastic, but so are so many other coming-of-age films that haven't garnered the same attention. Gerwig's film isn't an anomaly among female teen-led movies. It's just the one that's happened to hit a nerve with Hollywood. So, yes, celebrate Lady Bird's success and root for it to earn those Oscar noms come 2018 — but remember, it's far from the only film of its kind that warrants this kind of love.